The 'Thelma and Louise' star looks worse for wear when stepping out in Los Angeles, marking the first time she's seen in public since it's reported that she has settled her long divorce battle with Dr. Reza Jarrahy.
AceShowbiz –Geena Davis was unrecognizable in a rare public outing. The actress looked worlds away from her usually glamorous looks during official public appearances when she was spotted out and about in Los Angeles last weekend.
In pictures which have circulated online, the Thelma Dickinson of "Thelma & Louise" walked barefoot and went makeup free on Sunday, November 21. She looked worse for wear with untidy hair while wearing a ragged pair of jeans and a pale cat-print sweatshirt.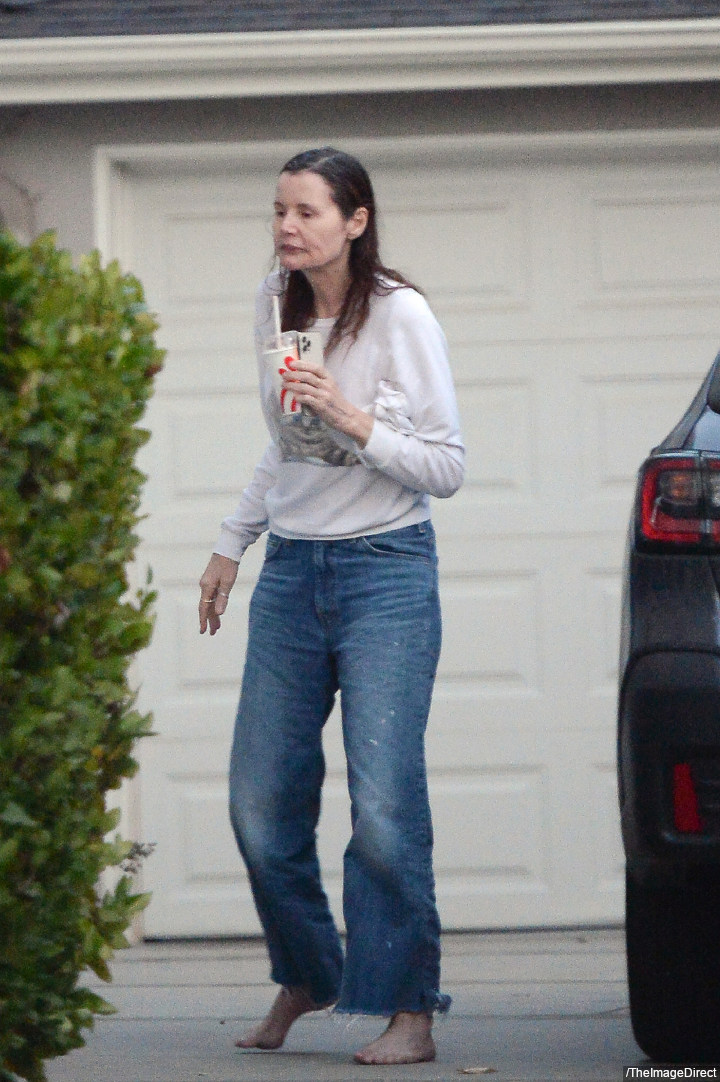 Geena Davis went barefoot and looked unrecognizable in a rare outing.
The 65-year-old sipped on a refreshing beverage and held her phone in the same hand when stepping out of her car. She later donned a blue headscarf, apparently trying to go incognito, when returning into the car. She also put on a black face mask while sitting behind the wheel, with a companion seen sitting on the front passenger seat.
It marks the first time Geena was seen in public since it was reported that she finally had her divorce finalized. In October, Page Six reported that the former "Commander in Chief" star settled her divorce from Dr. Reza Jarrahy after a five-year battle.
According to a source, Reza wanted to end the marriage through mediation, dividing their assets and sharing child custody equally. Geena, however, allegedly told her ex-husband to lawyer up as she argued that they were never actually legally married and thus there would be no division of any of their property.
The terms of the settlement remain confidential, but the source said, "They were very unfavorable to Reza, who agreed to settle just to put this behind him and be free of the nightmare Geena has caused for him."
Blaming Geena's personality for the couple's split, the source added, "Reza has had enough of her narcissism, so he was willing to take a bad deal just to make her go away and refocus on the kids." It's additionally claimed, "This has been devastating for Reza" as "Geena's priorities since day one have been to preserve her lifestyle and wealth above anything else."
Geena is believed to have married Reza, an Iranian-American craniofacial plastic surgeon, in September 2001. Together, they share three children, 19-year-old daughter Alizeh and 17-year-old twins Kaiis and Kian. In May 2018, Reza filed for divorce from the Oscar and Golden Globe Award-winning actress, listing their date of separation as November 15, 2017.
Source: Read Full Article