The 'Dynasty' alum trolls the former 'Good Morning Britain' broadcaster when refusing to answer his question about the Duchess of Sussex as saying, 'Look what happened to you.'
AceShowbiz –Joan Collins is keeping her lips sealed about Meghan Markle. In a new interview with Piers Morgan, the "Dynasty" alum refused to answer the former "Good Morning Britain" newscaster's question about the Duchess of Sussex following his exit from "GMB."
When making an appearance on ITV's "Piers Morgan's Life Stories" on Sunday, June 20, the 88-year-old actress was asked about Meghan by Piers, "What do you make of what's going on with the British royal family now, with Meghan, Harry, the feud with William, Charles?" She then mimed a zipper closing across her lips and said, "My lips are sealed on that subject."
Mocking Piers over his controversial comments on the Duchess, the acting vet jokingly divulged, "I just don't want to go on national TV and say what I think about Meghan and Harry, because look what happened to you." Responding to her statement, the journalist laughed and replied, "Well, exactly, thank you!"
Elsewhere in the interview, Joan reflected on the advice she'd given Princess Diana about intense media scrutiny. "She said, 'Does this always happen?' and I said, 'You just have to get used to it,' " "The Stud" actress recalled. She continued, "She did try to avoid them, didn't she? Tragic life."
Piers decided to exit "Good Morning Britain" after refusing to apologize following his criticism of Meghan and Prince Harry on the show. At the time, he even called the Duchess of Sussex a "liar" due to her bombshell claims during an interview with Oprah Winfrey.
ITV then announced that Piers left the show after the U.K.'s media regulators at Ofcom announced they would be investigating Piers over his offensive remarks regarding the Duchess of Sussex's mental health. "Following discussions with ITV, Piers Morgan has decided now is the time to leave Good Morning Britain. ITV has accepted this decision and has nothing further to add," ITV shared in a statement.
However, since Piers walked off from the show, he has continued to speak out against Meghan. He still stands by his comments about the mother of two and his accusation that she lied about her suicidal thoughts, most recently calling her "Princess Pinocchio" in a tweet on Saturday, June 19.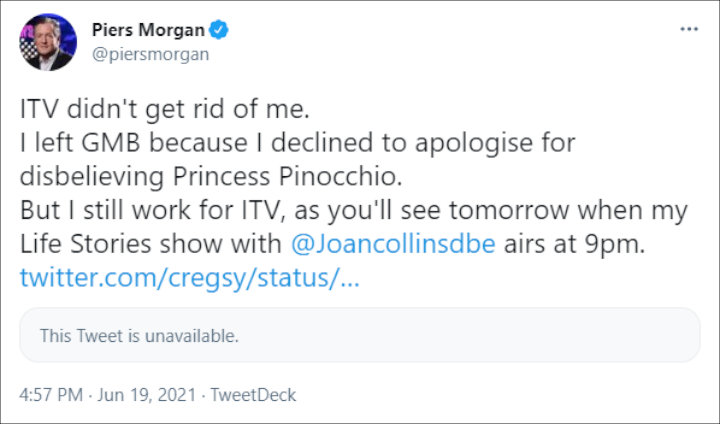 Piers Morgan addressed his 'Good Morning Britain' exit in a new Twitter post.
"ITV didn't get rid of me," Piers wrote in a Twitter post. "I left 'GMB' because I declined to apologise for disbelieving Princess Pinocchio. But I still work for ITV, as you'll see tomorrow when my 'Life Stories' show with @Joancollinsdbe airs at 9pm."
Source: Read Full Article