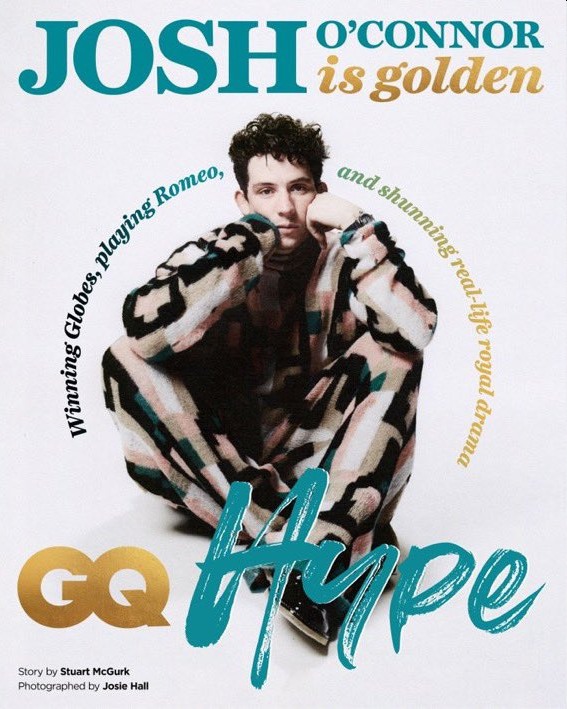 I do love Josh O'Connor. The only thing I've ever seen him in is The Crown, where he played Prince Charles in Seasons 3 & 4. I thought at the time that Josh is actually much too attractive to play Charles and I still feel that way. But as I've watched interviews with Josh, I realize how much work he put into "creating" his version of Charles, how much he studied Charles' speech patterns and physicality and facial expressions. He really did a good job with it, and he really deserved the Golden Globe he won this year for the role. Josh covers the latest issue of GQ Hype. He chatted about winning his Globe via Zoom, his new role in an adaptation of Romeo and Juliet, and how he feels about the Windsors. Some highlights:
Zooming into the Golden Globes from home in London: "To be honest, it suited me quite nicely. I quite like doing things from the comfort of my home."

Working on Romeo & Juliet during the pandemic: The cast had "intimacy windows" determined by Covid testing. "The funniest day was when we were going to do a fight scene. And all the lads were being very laddy, like, 'Yeah, fighting today! We love fighting! Fighting fighting!' And as soon as the negative tests arrived everyone started hugging and giving each other kisses. It was great! It was a gift."

Leaving Prince Charles to be played by Dominic West: "I've been asked about it in the past and I've said it's brilliant I don't have to play him any more, which sometimes implies I didn't enjoy it. And I absolutely loved it. But the reason I wanted to be an actor is to play different people. Playing that character has brought me a lot of joy. But it's lovely to come away and go, 'Great. Now hand it over to Dominic West.'"

Whether he plans to meet with Dominic West: "I don't know! It's so funny, isn't it? But if Dominic West came to me asking me for advice" – and at this point he starts to laugh – "I'd laugh him off. I'd be like, 'Dom! You're Dominic West!'"

Whether he watched the Oprah interview with Harry and Meghan? "I definitely didn't!" he says. But everyone else did! "I feel so…" he starts, before correcting himself. "Actually I don't feel that bad about it, to be honest. My feeling on it is as it was before I did The Crown," he says. Which is? "I think I find it really hard pinning the real royal family to The Crown. They feel so far removed. And basically," he says, almost conspiratorially, "I had no interest in the royal family before I did The Crown. And I have very little interest now!"

But he is fond of Charles: "[I do have] a great fondness for Prince Charles as a person, because of all the research I've done". But beyond that, he says, "I'm afraid I'm the last person who can comment!"

On pandemic loneliness: "I've struggled for sure. We're social beings. And I'm not even that social! I love staying in. But I've had my struggles with it….But I do feel strongly, that pre-pandemic we were isolating. We were contacting each other over the internet and social media, which has its place, but we were being pulled further and further apart. And this pandemic has only accentuated that. And so I have been concerned for my own mental health. But more generally for everyone. And we just have to keep talking about it and finding ways to combat it."
[From British GQ Hype]
"I had no interest in the royal family before I did The Crown. And I have very little interest now." I think that's… healthy? If it's true and he sticks with his royal apathy, I think that's his right and so be it. There's no reason to assume that all of the actors from The Crown are going to be royalists, especially not after Prince Charles waged a completely deranged campaign against the show last year. Emma and Josh got the brunt of that too, alongside Peter Morgan.
I would like to point out a few things though – most actors do play the game of "oh, I love the Queen/Charles/William" because so many of them want the knighthood or the CBE. I would hope that Josh isn't like that, and he seems to have realized that ship has sailed. I also think it's fine to not care about Harry and Meghan's story if you're also actively ignoring the Windsors in general too. That being said, the H&M story is pretty big and I don't get why people are like "why are you still talking about this?!?!" Because it involves race and racism, the media, anti-Americanism, sexism and everything else. People *should* have opinions about it.
Cover courtesy of British GQ, additional photos courtesy of Avalon Red.
Source: Read Full Article