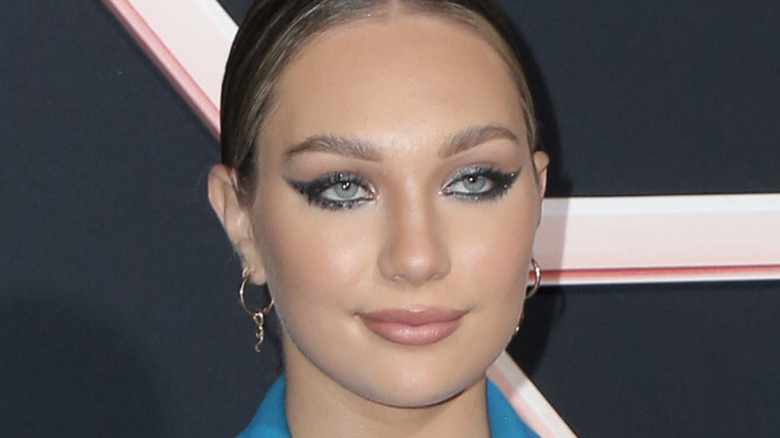 Remember when Sia dropped "Chandelier" and everyone lost their minds? And remember when she released the music video and everyone lost it again over the young dancer who starred in it? Good times. That young dancer was Maddie Ziegler, but the "Chandelier" video wasn't her first moment in the spotlight, nor her last. Ziegler got her start on the TLC hit "Dance Moms" and has since appeared in several other competition shows like "So You Think You Can Dance," "Dancing with the Stars," and "Dancing with the Stars: Junior," as per IMDb. Ziegler has also started a successful acting career, with 35 credits to her name, including the role of Velma in the new "West Side Story" movie.
The talented teen has taken to her fame well, opening up a lot of her private life to the public. But there are still things that many fans don't know about her — like the fact that she has brothers. Who are these mystery siblings? What's the story behind the Ziegler family? Here's the truth about Maddie Ziegler's brothers you never knew about.
Three of Maddie Ziegler's five siblings are brothers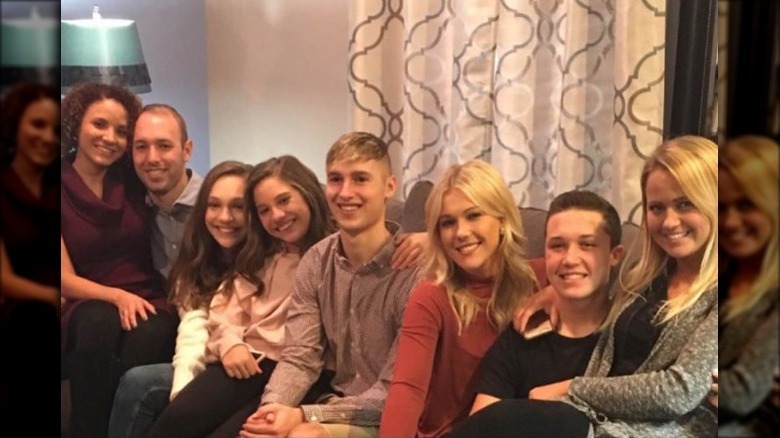 Most Maddie Ziegler fans know that she has a sister, Mackenzie. The younger Ziegler was also a big star on "Dance Moms," and, as noted by Bustle, was often pitted against her sister for solos and features in big dance numbers. However, the dancing siblings have since moved out of each other's shadows, with Maddie making her way into acting and Mackenzie kicking off a career in music with her debut pop album "Mack Z." 
But Mackenzie and Maddie are not the only kids in their family. There are, in fact, six siblings in the Ziegler/Gisoni clan. According to Bustle, Maddie has two half-brothers from her father's first marriage: Ryan Ziegler and Tyler Ziegler. She also has two step-siblings from her stepfather's first marriage: Michele Gisoni and Mathew Gisoni. That's three brothers! While Mathew and his sister seem to lead fairly private lives, Ryan and Tyler — but mostly Tyler — have really leaned into the family fame.
Maddie Ziegler's brother, Ryan Ziegler, has a master's degree in accounting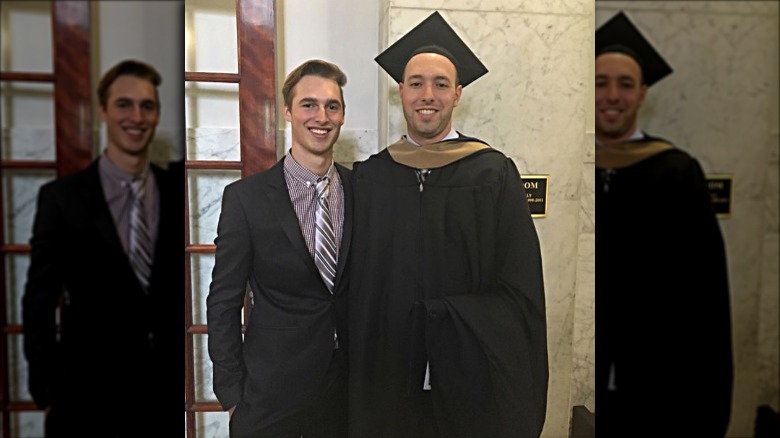 According to Bustle, Ryan Ziegler is Maddie Ziegler's eldest half-brother. They share the same dad, but Ryan is from their father's first marriage. While this particular Ziegler doesn't have his own social media or much of a public presence at all, he has made many cameos on Maddie and his other siblings' Instagram posts, giving fans a touch of insight into his life.
As per an Instagram post from his brother, Tyler Ziegler, Ryan earned a master's degree in accounting from the University of Pittsburgh back in April of 2016. And, if Twitter is to be believed, he's putting that education to good use. In early December of 2018, the CPA firm Maher Duessel tweeted that Ryan began working for them in 2016 after graduating from both the University of Pittsburgh and Miami University of Ohio. What's more, he must be doing great at his job because the tweet also said, "Congratulations to Ryan Ziegler who has been promoted from Experienced Staff to Senior!" Perhaps, Ryan isn't as talented of a dancer as his half-sisters, but he must be one smart dude.
Ryan Ziegler has a son named Elias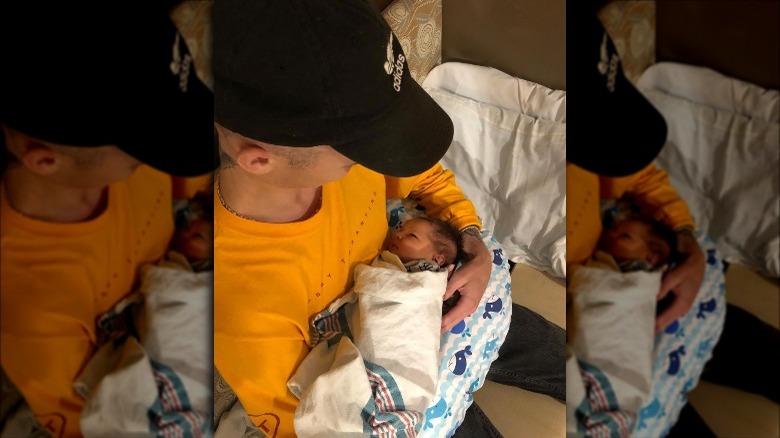 Maddie Ziegler's brother, Ryan Ziegler, isn't just an accomplished and successful CPA, he's also a dad! According to an Instagram post from his brother, Tyler Ziegler, Ryan and his partner, Camille, were expecting a baby boy in the summer of 2019. They celebrated both momma and baby with a baby shower that, as per the post, was attended by family, including Tyler and his girlfriend, as well as their parents. It's not clear on social media or via other reports if Ryan and Camille are married, but they do seem to be incredibly happy together in the photo from the baby shower. 
Baby boy Elias Ziegler made his arrival later that summer, as per another Instagram post from Tyler that appeared on July 16, 2019. "I'm so blessed to be an uncle and I couldn't be happier!" the younger brother wrote. "Welcome to the world Elias." While Maddie Ziegler hasn't made any sort of public post or announcement about her nephew, one can only assume that she's over the moon to be an aunt.
Maddie Ziegler's brother Tyler has a meaningful tattoo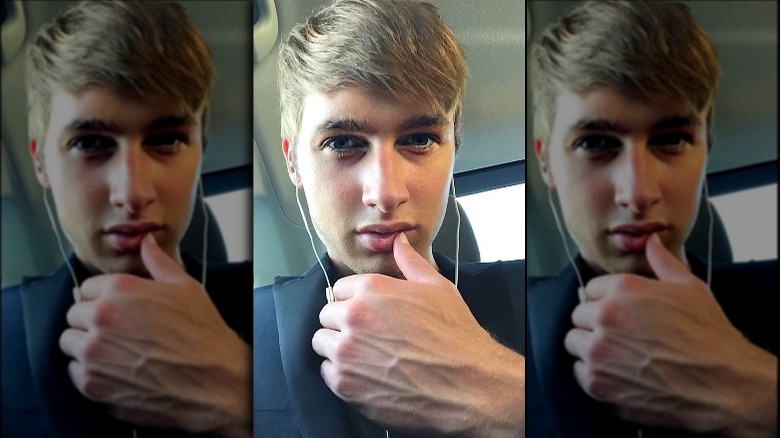 Maddie Ziegler's other half-brother, Tyler Ziegler, is a little more public than Ryan Ziegler. Tyler's Instagram account is full of selfies, professional shots, and videos detailing many aspects of his life, from his gorgeous girlfriend in one post to his deep love for his sisters in another. One particularly interesting fact he revealed on Instagram is that he has a meaningful tattoo on his chest. The photo shows the young man's pec, complete with a series of roman numerals in dark blue ink. The caption reads, "A little something special on me." Eagle-eyed, expert-snooping fans decoded the cryptic message in the comments — it's Maddie's birthday. So sweet. 
Perhaps, Tyler's tat inspired Maddie, as the dancing teen recently got one of her own. She posted a series of photos and videos on her Instagram detailing her recent body art: a swirling print of the word "frances" with the caption, "@thetonyabrewer gave me the best birthday present ever!! thank you @_dr_woo_ for the most perfect first tattoo." Siblings that get tattooed together, stay together, right?
Maddie Ziegler is close with brothers Tyler and Ryan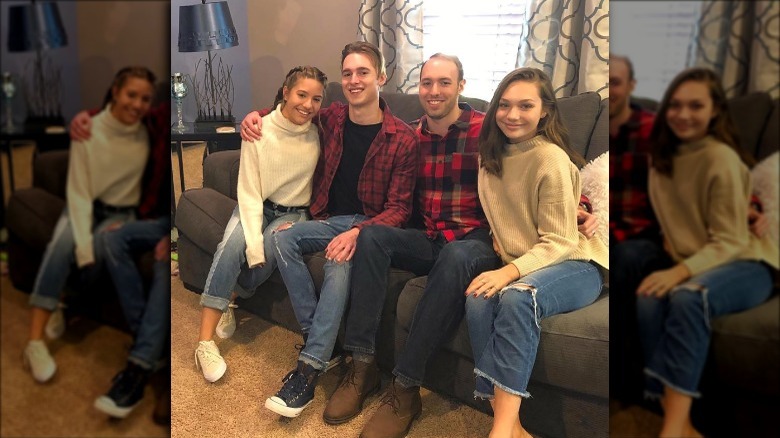 Though fans might not know a ton about Maddie Ziegler's brothers, they do know one thing for certain: Maddie is very close with Tyler, Ryan, and Mackenzie Ziegler. Tyler posts many sweet family photos on his Instagram, complete with captions that are all about family love, such as one from 2016 depicting all the Ziegler kids adorably piled on the couch with their dad. That caption simply reads: "Love." Or another post from 2017 that seems to show the four siblings on the same couch with the caption, "Soooo thankful," sending the message that they are very close and thankful for that closeness. 
But, if Tyler's Instagram is to be believed, the four Ziegler siblings also don't appear to spend lots of time together. He's also posted many pictures and captions that indicate separation, like one from 2017 that reads, "miss and love my sisters," or this 2018 post that might mean they don't live in the same home: "I can't wait to come visit you!" Whether or not they're apart or together, Maddie and her brothers seem to be super close, which is ideal for siblings to be.
Source: Read Full Article