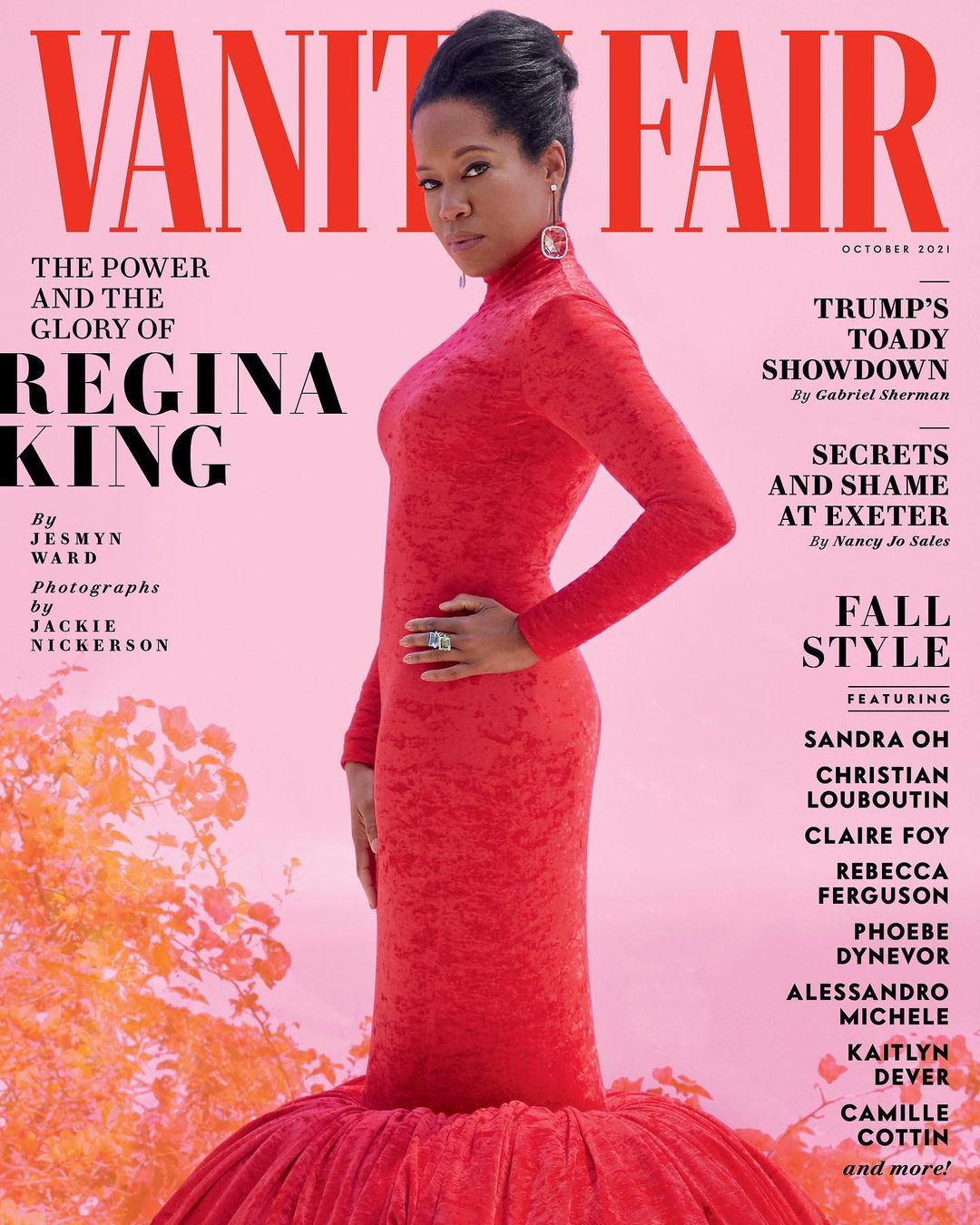 Regina King has been my girl crush since 227. I absolutely love her. Spending the last 20 years watching her career flourish has been a delight. I am enjoying seeing her move from actor to producer/director. Last Night in Miami was excellent and If Beale Street Could Talk was one of my favorite movies that year. Regina has been doing the damn thing by creating beautiful stories celebrating Black people in the arts. Regina covers this month's Vanity Fair. In the conversation, Regina mentions that she wasn't aware of the pay disparity for women in Hollywood until the women became more vocal about it. Regina also talks about how she approaches telling Black stories. Regina says that Black people are not a monolith and that we can embody different characters in stories. Below are a few more highlights from Vanity Fair:
As pay and gender equity have become more common industry conversations, King expanded her ideas. "I have to be completely honest, I never paid attention to the pay difference until some years ago, when the conversations became very public," she says. "I was embarrassed that I hadn't thought about it before. I was just happy that I was making a career out of being an artist. I truly didn't think outside that. I am so glad that women stood up and were vocal. That changed things for me."

King has been involved in many seminal Black projects in front of and behind the camera, all of which have informed my own life, and many of which were, like much Black American art, rooted in reality. Such art helps us confront and explore the realities of our existence; such art helps us navigate it. Her newer work seems to signal a flowering of experience beyond the real and into the surreal. Angela Abar in Watchmen is a superheroine. Erika Murphy's world in The Leftovers is one shot through with mysticism. This, too, is a necessity; venturing into the fantastic enables us to envision what our lives could be.

"We're not a monolith. We are quirky people. We can be the athlete and the nerd; we can be the athlete or the nerd," King says, when I ask if these sorts of roles have been a conscious choice. "I just have a desire to tell stories that speak to me, you know." She continues, "Even if it's a fantastical story. I still feel like the story has to have some bit of heart in it in order to draw people in and keep people there."

King realized early in her career that she didn't land the part if she didn't feel for it, innately. "Somewhere around in between Boyz n the Hood and Poetic Justice, having gone on a few auditions, a light bulb came on in my head and I was like, You know what? If it doesn't speak to me on the page, if I'm not feeling that connection to it, I'm not going to audition," she says. "It's not fair to myself. It's wasting the casting agent's time, the producer's time—and wasting my time, to be quite frank." King wants her projects to have heart, and later I think that her early TV work probably taught her to value those moments of connection. Her favorite scene from 227, she recalls, "was an episode where Brenda has a moment with her dad. She is crying and he is very tender with her, and wipes the streaked makeup she isn't supposed to have on from her face. I don't really remember what it was about, but I know it was a moment that we rarely saw on TV."

Now, as a director—for her feature debut last year, One Night in Miami…, she earned a Golden Globe best director nomination as well as one from the Directors Guild—King applies the same philosophy. "As the director, you're dedicating even more time of your life, and you're involved with every aspect of the filmmaking process, so you need to believe in what you're doing."

King, said Jenkins, is "really intense about taking ownership of the character, which, for me, is a terrific way for an actor to be. I say often to the actors, 'The character is yours now.' Myself or the screenwriter (if it isn't me), once you're cast, our shares in the character are diminished and it's up to you to decide the degree to which you make them yours. Regina's a 'make them mine' kind of actor. Which I love."
[From Vanity Fair]
Regina is one of those people whom I hope to work with one day like Ava Duvernay, Steve McQueen, and Shonda Rhimes. There were so many things that I wish I could cover from the article but this would turn into a three page post and no one wants that. I love her insight on how Black people are quirky and not a monolith. I also love how the writer's reflection on Regina lines up with everything she said about being Black, down to how the writer experienced Regina as Brenda in 227 versus how she later saw Regina in Boyz n the Hood. I was fascinated when Regina discussed owning her roles and creating stories that have heart. Regina always embodies her characters and her performances are nuanced and multifaceted. Regina has never veered from her goal of creating stories with heart. That comes through in everything I have seen from her.
https://www.instagram.com/p/CTmWzUMri2a/
A post shared by Vanity Fair (@vanityfair)
https://www.instagram.com/p/CTmd0r9L2np/
A post shared by Vanity Fair (@vanityfair)
https://www.instagram.com/p/CTnER43Anlo/
A post shared by Vanity Fair (@vanityfair)
Source: Read Full Article