The following article contains references to sexual assault.
Meghan Markle may be the main topic of royal drama nowadays, but, as Sarah Ferguson has been keen to point out, she isn't the first woman to lock horns with The Firm. Popularly known as Fergie, she was beloved by both the press and the public when she first appeared on the scene. While she'd met future husband Prince Andrew as a child, they didn't become reacquainted until Ferguson's friend Diana, Princess of Wales invited her to Royal Ascot in 1985. The Duke of York fell for her and the pair tied the knot at Westminster Abbey the following year.
Ferguson became Sarah, Duchess of York, and would soon have two princesses to care for. She gave birth to first daughter, Beatrice, in 1988, and a little sister, Eugenie, arrived in 1990. By that point, Fergie was already well on her way to becoming a controversial figure in the royal family. It's a tag that stuck with her over the years and still exists to this day. The fact that she compared herself to Meghan Markle, who has been subjected to "an unprecedented amount of hatred and racist attacks," said Cosmopolitan, drew some criticism, but that's just the tip of the iceberg.
From those infamous paparazzi pictures to headline-making interviews, here's our timeline of Sarah Ferguson's most controversial moments.
She left baby Beatrice behind when she visited Australia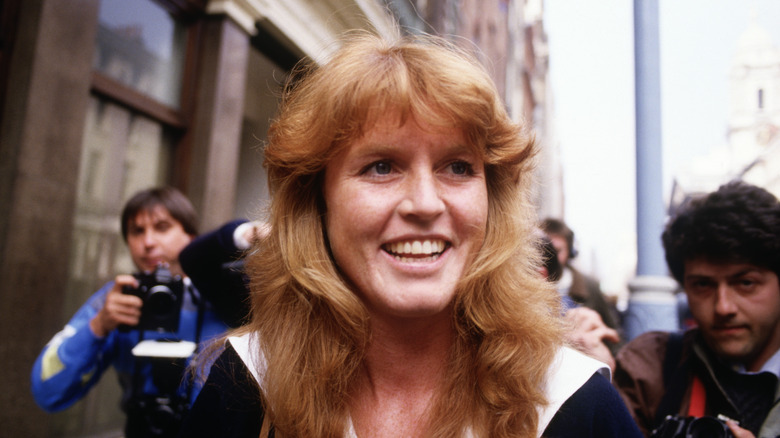 Sarah Ferguson had only been a mother for a matter of weeks when she felt the wrath of the British press. Reporters had learned that she planned to leave baby Beatrice in the U.K. while she joined her husband on a royal tour of Australia, and "the move was widely condemned in the press," according to the Express. The outlet also noted that things got even worse for the redheaded royal when the tabloids began claiming she had left her daughter earlier than necessary to spend some alone time with Prince Andrew prior to the tour commencing. It was also said that she'd extended her time in the Commonwealth country so she could visit her sister.
It wasn't just reporters that were outraged by six-week-old Beatrice being left behind, either. MP Rosie Barnes told the Express that it was an "extraordinary" decision on the part of the duchess, who later attempted to explain the reasoning behind it during an interview with Barbara Walters. Basically, she was making Prince Andrew a priority. "After nine months of looking enormous and big and your poor husband has had to look at you like that… It was his turn. Just to make sure that he knew he was very important," Ferguson said (via the Express). "People might be a bit tired of my putting my husband first."
Rumors bubbled up about Sarah Ferguson while she was pregnant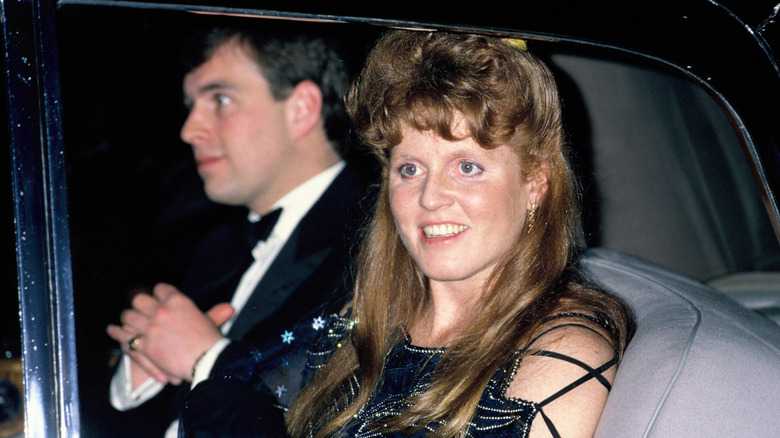 A friend of Sarah Ferguson said that the duchess "just isn't the totally committed mother type" during a 1989 chat with People, yet the following year she was expecting baby number two. As Harper's Bazaar noted, her marriage to Prince Andrew (who was regularly away on duty with the Navy) was already strained when she became pregnant with Eugenie. And according to reports, she had moved on with a new man before the second York princess was born.
David Leigh, co-author of "The Duchess of York uncensored," claimed Fergie fell "head over heels in love" with American millionaire Steve Wyatt when she met him at Houston Grand Opera's British Opera Festival in 1989. He called Wyatt the "main reason for the breakdown of her marriage" in an interview with the Express. "She went to Texas and she met a very handsome and rich Texan who was very attentive and loving and they very quickly fell in love."
The apparent fling hit the headlines when a cleaner discovered over a hundred photographs of Fergie and Wyatt in an apartment formerly occupied by the latter. The snaps (taken on a 1990 vacation to Morocco, per the Los Angeles Times) are said to have infuriated both Prince Andrew and the queen, who reportedly banned Fergie from ever contacting Wyatt. The Sunday Mirror would later claim that the duchess slept with him "when she was five months pregnant with Prince Andrew's second child."
Sarah Ferguson's toe-sucking scandal made her a royal pariah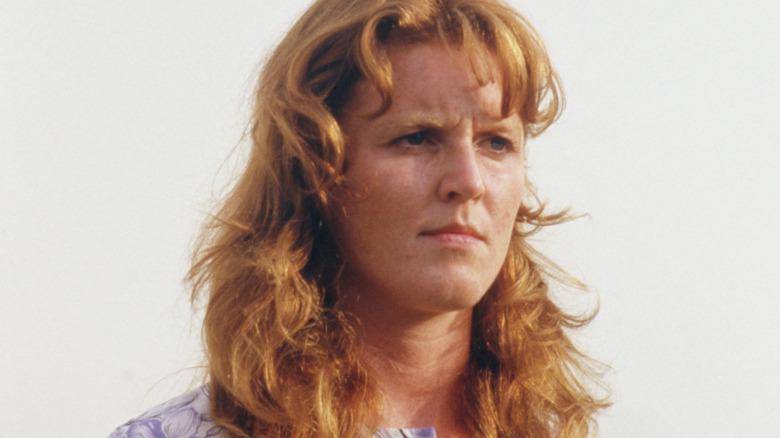 Sarah Ferguson biographer David Leigh told the Express that the duchess was left "totally broken" when things didn't work out for her and Steve Wyatt. "Andrew may have been her best friend, and he probably still is now and probably always will be, but Steve Wyatt was the love of her life," Leigh said. "She dreamt that one day they would be together, hopefully living in America. She was forever making dreams in her head." How did Fergie get over it? Evidently, she hooked up with his friend.
The pictures of Sarah Ferguson and Steve Wyatt holidaying together in Morocco were nothing compared to the ones of her and John Bryan, another Texas millionaire. In 1992, around five months after the Palace revealed that the Duke and Duchess of York intended to separate, the tabloids got hold of some intimate photographs of Fergie and Bryan, and they would mark the beginning of the royal's time in the cold.
The snaps, which were splashed across the cover of the Daily Mirror, appeared to show Bryan sucking the royal's toes as she sunbathed in the French Riviera, though he disputed that: "I wasn't sucking her toes, I was kissing them," he furiously told royal reporter Richard Kay (via the Daily Mail). According to Kay, it was the Princess of Wales that first alerted him to the coming storm. "The redhead's in trouble," Diana reportedly told him, via pager, the night before the bombshell pictures were published.
Sarah Ferguson's breakfast from hell at Balmoral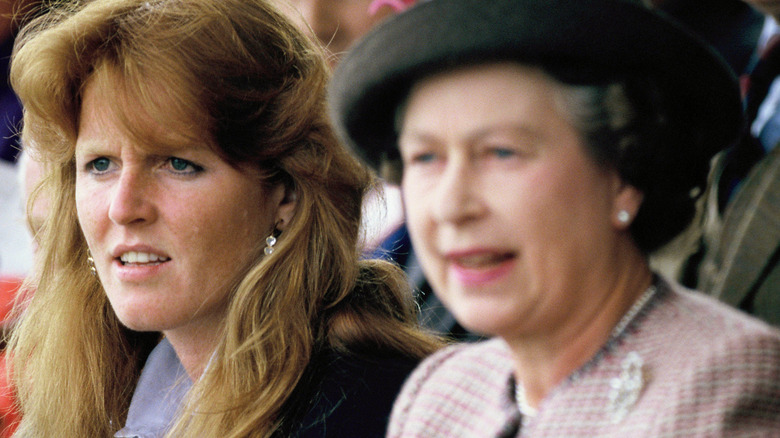 As Richard Kay recalled in the Daily Mail, Sarah Ferguson was staying at Balmoral with the royal family when the press got hold of those intimate pictures of her and John Bryan in Saint-Tropez. The duchess and the American were made aware that they were going to be splashed across the Daily Mirror's front page the night before it happened, though there was nothing they could do to stop it from happening. The royal correspondent said he was present when a panicked Fergie called Bryan for comfort. "Bryan promised her everything would be fine, but I could see in his face that he didn't really believe it," Kay wrote. "In a few short hours, those pictures were going to be on the breakfast room sideboard in the queen's castle."
The scene that unfolded at breakfast the following day is a thing of royal legend. "There were her brothers-in-law turning over the pages and staring at her naked top half of her body," royal correspondent Jennie Bond said in a Channel 5 documentary (via the Mirror). "It was excruciatingly embarrassing and she went to the queen, and the queen was livid. She was absolutely furious with Sarah." According to the Daily Mail, the late Prince Philip was just as angry with his son's ex, who reportedly slipped out quietly and flew back to London with her two kids. "It spelt the end of Fergie's life as a royal," Windsor expert Katie Nicholl said (via the Express).
Sarah Ferguson broke the royal 'code of silence'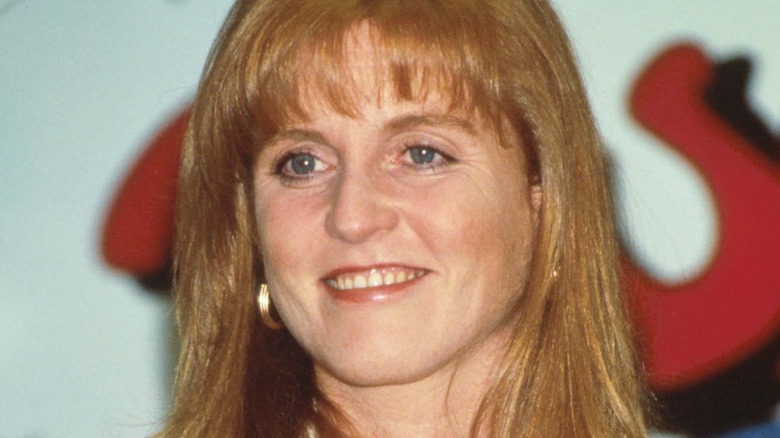 Sarah Ferguson ditched the United Kingdom for the United States after her exit from The Firm, intending to promote the tell-all "My Story" and make her own money, per Maclean's. In a statement obtained by The Guardian, the royals made it clear that she was to be considered "a separate, independent, ordinary person" following her separation from the Duke of York, though that's not to say her activities weren't being watched closely back in London.
Every interview that Fergie gave in America was met with a "sharp intake of breath from Buckingham Palace, where she has been almost persona non grata since her divorce from Prince Andrew," The Guardian reported. "Every time she remarks on her treatment — spending every Christmas at a house on the Sandringham estate while her daughters are invited up to the big house to see the family — the royals fume but can do nothing. She has comprehensively beaten the code of silence."
Releasing a book was controversial enough, but Ferguson even participated in an interview with Oprah Winfrey years before Meghan Markle did the same. She went into detail about what life was like for her inside Buckingham Palace and how it wasn't exactly a magical place to live. "You fell in love and married a man, and then you have to come to terms with the fairytale," she said. "Now, it's not a fairy tale, it's real life in there — well, so to speak. They think it's real life in there."
America's love affair with the 'Duchess of Debt' comes to an end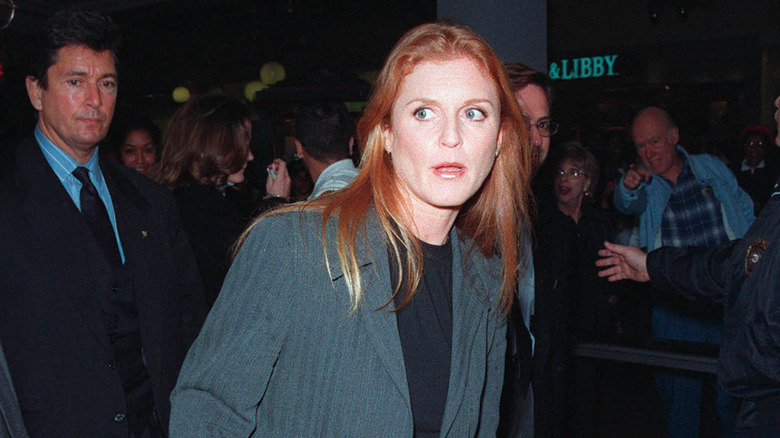 According to The Guardian, Sarah Ferguson was earning over $1.7 million a year as a spokesperson for Weight Watchers at one stage, but things started to go downhill for the duchess when she launched her own lifestyle company. In 2006, the royal opened Hartmoor LLC in New York, her Stateside HQ for all her business ventures, per the Daily Mail. Just three years later, Hartmoor closed down with "significant debts," an insider told the outlet. "I cannot say precisely how much is owed to creditors but it's fair to say it is substantially more than $1 million but less than $2 million," the source claimed. 
The British press had a field day, and reports on the other side of the Atlantic were equally as damning. ABC News dubbed Ferguson the "Duchess of Debt," while the New York Post proclaimed her "down and out" in a damning report. A source told the tabloid: "This company was not run well, there were many problems so the interested parties decided to go their separate ways." Before long, reporters were digging into the finances of the Sarah Ferguson Foundation, and what they found did not paint the duchess in a flattering light.
According to the Post, the foundation's tax return from 2007 revealed that while it managed to raise $508,620, it only paid out $22,600. The vast majority of the money was split between Ferguson's Children in Crisis organization and Pride N Purpose, run by her friend Richard Branson.
An undercover reporter recorded Fergie offering access to Andrew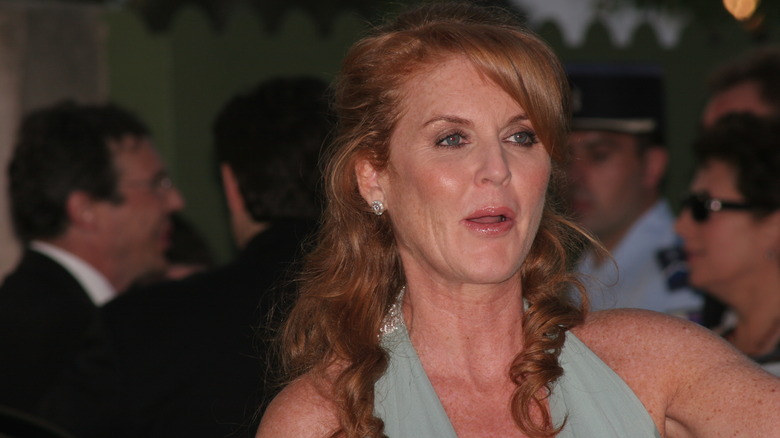 Not long after the collapse of her New York-based lifestyle company, the full extent of Sarah Ferguson's money troubles were laid bare for the world to see. In what The Guardian described as "probably her most personally damaging mistake throughout a somewhat gaffe-strewn career," the duchess was caught in a sting by the now-defunct tabloid the News of the World. Exposé specialist Mazher "Fake Sheik" Mahmood (later jailed for evidence tampering in an unrelated celebrity case) posed as an Indian businessman to obtain a meeting with Ferguson, who was recorded asking for half a million pounds in exchange for access to her ex-husband.
At the time, Prince Andrew was the U.K.'s special representative for Trade and Investment, and per The Guardian, Fergie promised Mahmood that the cash would "open any door you want" during their now infamous meeting. She added: "Look after me and he'll look after you." According to the outlet, the duchess issued a swift apology and made it clear that Andrew had no knowledge of the meeting. "I very deeply regret the situation and the embarrassment caused," she said in a statement, calling it "a serious lapse in judgment."
In a piece of footage that's perhaps just as well known, the duchess stormed out of an interview with "60 Minutes Australia" when questioned about the incident. According to the Daily Mail, Ferguson attempted to claim around $35 million in damages when the so-called Fake Sheik was sent down in 2016.
The time Sarah Ferguson went 'hoodie hunting'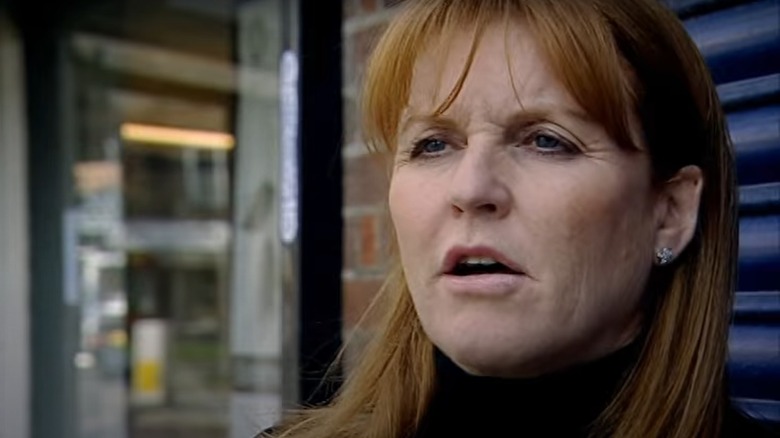 In 2009, Sarah Ferguson took part in an ill-fated documentary called "The Duchess on the Estate," which placed her in the heart of Manchester's Northern Moor. The premise alone was enough to anger residents of Northern Moor (part of an area once considered the largest council estate in Europe), who staged a protest in advance of the premiere. "There is a real sense of community, and it has improved — it is a lot nicer," resident Louise Howarth told the Daily Mail. "The duchess doesn't know what she's talking about."
As the Daily Mail noted, the protests came after a disastrous radio interview in which Fergie was accused of damaging the estate's reputation for her own gain. She was hit with a series of awkward questions when she went on BBC Radio 5 to promote the two-part doc, and she didn't exactly handle the criticism well. "Every time you open your mouth you get shot down," she complained (via the Daily Mail). "I'm just thinking I'd like to go and live in a hole and be quiet." Unsurprisingly, the backlash intensified after the show aired.
Per the Daily Mail, Ferguson boasted about going "hoodie hunting" on the estate, but she apparently didn't look hard enough. Longtime Northern Moor resident and former Lord Mayor of Manchester Glynn Evans told the publication that he "did not see the duchess once" during the shoot, adding: "How can she have given a true reflection of the community when she was only here such a short space of time?"
Jeffrey Epstein helped clear Sarah Ferguson's debt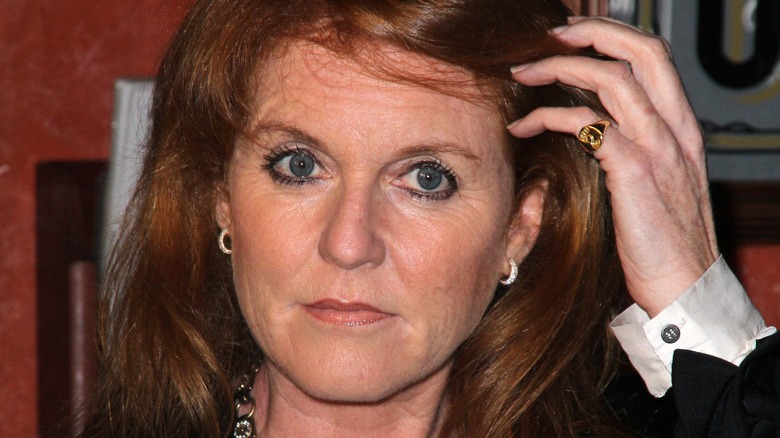 Prince Andrew stepped back from public duties over his association with convicted sex offender Jeffrey Epstein in 2019, though the royal's relationship with the American financier and socialite dates back to the 1990s. As Town & Country noted, the press took another look into the Duke of York's dealings with Epstein after his arrest on sex-trafficking charges (he died by suicide while awaiting trial) and some quotes from Sarah Ferguson soon resurfaced, part of a forgotten article published in The Telegraph in 2011. The article revealed that Fergie also had a financial relationship with Epstein, who is said to have given the duchess thousands of dollars towards "a wider restructuring" of her debt.
Knowledge of Epstein's crimes were not as widespread back then, though, as The Telegraph pointed out in its headline, he was known to be a "convicted pedophile," having pleaded guilty to a felony charge of solicitation of prostitution involving a minor. "I personally, on behalf of myself, deeply regret that Jeffrey Epstein became involved in any way with me," Ferguson told the British broadsheet. "I abhor pedophilia and any sexual abuse of children and know that this was a gigantic error of judgment on my behalf. I am just so contrite I cannot say." She went on to apologize to her ex husband, who she said had arranged the whole thing. "Once again my errors have compounded and rebounded and also inadvertently impacted on the man I admire most in the world, the Duke."
If you or anyone you know has been a victim of sexual assault, help is available. Visit the Rape, Abuse & Incest National Network website or contact RAINN's National Helpline at 1-800-656-HOPE (4673).
If you or someone you know may be the victim of child abuse, please contact the Childhelp National Child Abuse Hotline at 1-800-4-A-Child (1-800-422-4453) or contact their live chat services.
Did Fergie snub the Sussexes on Twitter?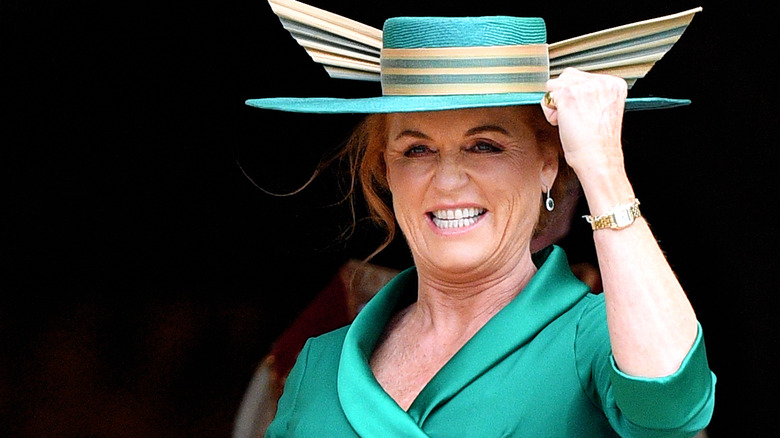 Royal fans the world over rejoiced when Prince Harry and Meghan Markle announced that they were expecting their first child in 2018, though the timing of the announcement apparently didn't go down very well with one member of the family. The Duke and Duchess of Sussex reportedly revealed that they were going to be having a baby during the wedding of Princess Eugenie and Jack Brooksbank, and, as reported by The Sun, the official announcement was followed by a "flurry of pointed tweets" from the mother of the bride, Sarah Ferguson
"Fergie sent out five tweets in five hours, none of which mentioned the baby," said the tabloid. "By choosing the wedding day to share the news with their family, the Duke and Duchess of Sussex will have broken an unwritten rule of sharing big news at a wedding, and possibly taking attention away from the bride." The Duchess of York began tweeting almost immediately after the official Kensington Palace account broke news of the Sussex baby, praising her dress designer and sending several messages of love and support to the newlyweds.
Of course, the Sussexes didn't break any royal rules here, but they were still accused of committing a serious faux pas. "It's really rude to steal the bride's thunder," one Twitter user said, per the Mirror. "No wonder the Yorks feel like second-class royals."
She reportedly supported Piers Morgan during his row with Meghan Markle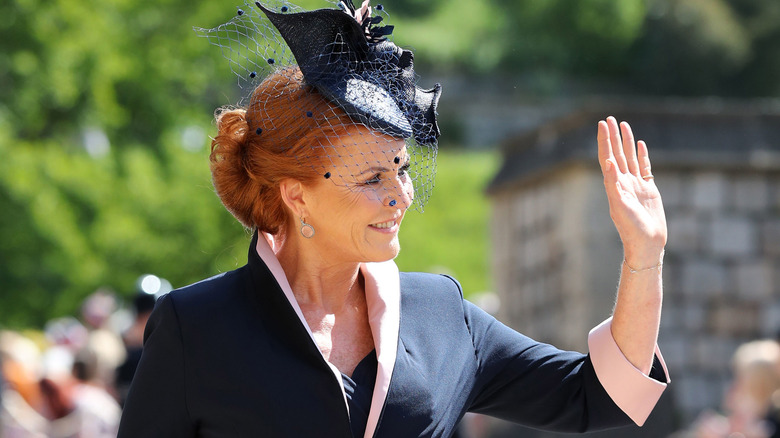 Meghan Markle has had more than her fair share of critics in the British press, but chief among them is Piers Morgan, former co-presenter of ITV's "Good Morning Britain." The journalist and TV personality stormed off the show when challenged by colleague Alex Beresford over his treatment of Markle, whose tell-all interview with Oprah Winfrey was dividing opinion at the time. "Following discussions with ITV, Piers Morgan has decided now is the time to leave 'Good Morning Britain,'" a statement later confirmed (per the BBC). "ITV has accepted this decision and has nothing further to add."
Morgan told Tucker Carlson that the British public was siding with him over the row, and he later claimed that a certain member of the royal family was supporting him, too. "Not all royal duchesses were as thrilled as Meghan 'Pinocchio' Markle to see me leave GMB," Morgan wrote in his Daily Mail column. "'People have said how much they miss your morning joy and humour,' texted Sarah, Duchess of York, 'get back out there!'"
Sarah Ferguson neither confirmed nor denied that she had sent a message of support to Morgan. A few weeks later, it appeared as though an olive branch was extended when Fergie praised Markle for writing her first children's book. "To sit down and work hard to write a book, in any genre, should be supported and respected," she told the Daily Mail.
Fergie's foray into romance novels has raised a lot of eyebrows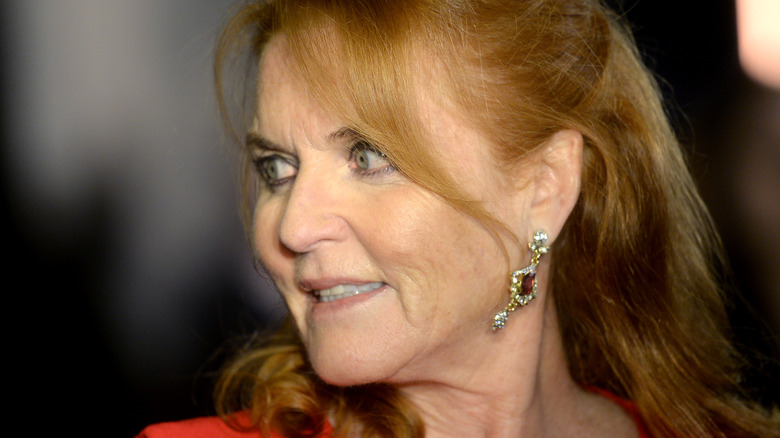 Sarah Ferguson has released dozens of books over the years, the vast majority of them aimed at children (she's the author of a series called "Budgie the Little Helicopter"). In January 2021, it was revealed that the duchess was venturing into a new genre of fiction, inking a deal with "the U.K.'s undisputed market leader in romance fiction publishing," Mills and Boon. Members of the press were left practically speechless when the news broke ("This is quite something," ITV's royal editor Chris Ship tweeted, "I have no other words left to add), particularly because "Her Heart for a Compass" is based, in part, on Fergie's own life experiences.
The main character in "Her Heart for a Compass" is Ferguson's real life great-great-aunt, Lady Margaret Montagu Douglas Scott. "Digging into the history of the Montagu Douglas Scotts, I first came across Lady Margaret, who intrigued me because she shared one of my given names," she told Tatler. "I created a friendship between my heroine and Princess Louise, Queen Victoria's sixth child, and I drew on many parallels from my life for Lady Margaret's journey." According to the Daily Mail, there's an early portrait of Lady Margaret that proves she was also a redhead.
Source: Read Full Article