In a candid social media post, the 'This Is the End' actor details how he was left shocked to see the 'Ant-Man and the Wasp' actor is the one who did the 'entire rest' of the massage.
AceShowbiz –Seth Rogen has shared one of the hilarious moments in his life with his fans and followers. In a social media post, the "Knocked Up" star looked back at the time when Paul Rudd gave him a full massage after failed prank attempts.
On Monday, July 5, the "This Is the End" actor turned to his Twitter account to randomly open up about the funny moment. "Once I was in the spa in a hotel in Vegas getting a massage. When I finished I turned over and to my shock Paul Rudd was massaging me," the 39-year-old actor remembered.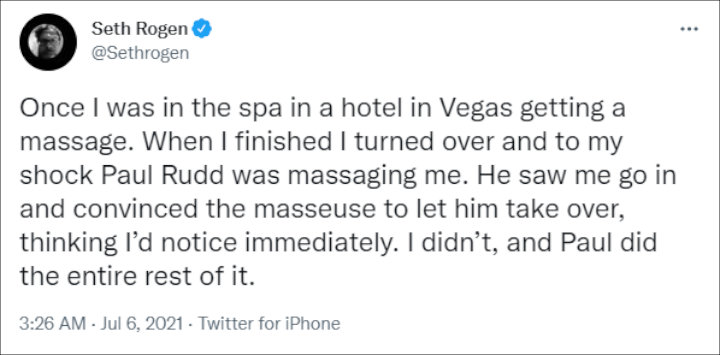 Seth Rogen recalled hilarious moment when Paul Rudd once swapped with his masseuse, hoping he would notice.
"He saw me go in and convinced the masseuse to let him take over, thinking I'd notice immediately. I didn't, and Paul did the entire rest of it," Seth continued. Unclear why the actor suddenly recounted the incident, producer Jeremy Wein tweeted back to the husband of Lauren Miller, "Are we sure this wasn't a weed induced hallucination Seth?" In response, he replied, "I'm sure Paul would confirm it."
Paul is no stranger to doing practical jokes on his pals. On June 21, the "Ant-Man and the Wasp" actor pranked Conan O'Brien to commemorate the final week of his TBS talk show. At the time, the 52-year-old actor interrupted the conversation with the same joke in which he promised to play a clip from his upcoming film only to play a clip from the 1980s sci-fi movie "Mac and Me".
"How many years has it been?" the talk show host asked and laughed. "It's been like 25 years of you coming on the show, and you would always say 'I've got a clip,' and every time for years I was convinced I would see the real clip, because you're such a genuinely nice person. And you would say, 'No, this movie's really important to me.' … And then you pull that every time."
Paul then told Conan he "never really imagined" the bit would last more than two decades. "I just remember thinking the first time [that] it's so artificial to come on and sell your wares and show a clip from your movie," Paul said. "We've never talked about this really, but I thought, 'What if I show a clip from this movie I saw a long time ago that is just really strange?' " Conan responded, "It's absolutely stunning. It's this crazy performance art that lasts forever."
Source: Read Full Article