Nancy Pelosi is one of the most influential (and wealthiest) people in Washington. Throughout her many years in Congress, she's served as house minority leader and Speaker of the House (via Biography). Though she's worked in DC for more than three decades and is currently second in line for the presidency, Pelosi is a fiercely private person. When it comes right down to it, what do most people know about Pelosi? They know she led the impeachment effort against Donald Trump. They know that she has cool sunglasses, loves a flashy coat, and delivers a meme-worthy moment like nobody's business. 
There's so much more to Pelosi than a great wardrobe and sardonic applause, though. She has come a long way since her days in Little Italy. She's gone from housewife to one of the most powerful women in the United States and so much more. So, without further ado, here's everything you need to know about Nancy Pelosi. 
Nancy Pelosi is worth millions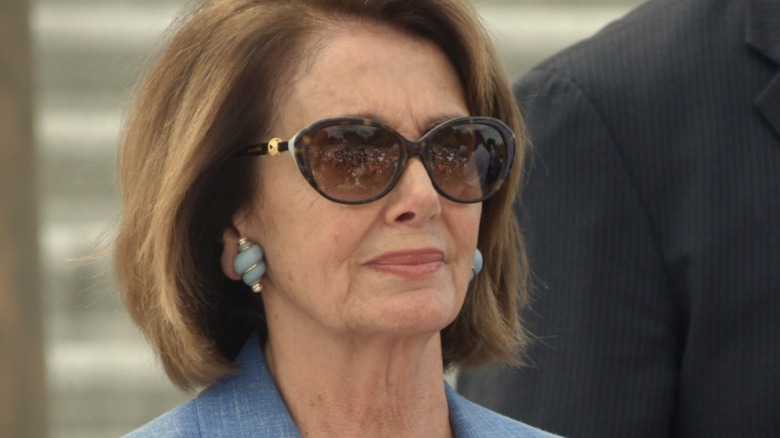 Nancy Pelosi's net worth has long been a topic of debate, with some claiming she's worth hundreds of millions and others much less. So, exactly how much is she worth? Let's break it down.
As Speaker of the House, Pelosi earns an annual salary of $223,500. Pelosi has been in Congress for over 30 years, and her salary has fluctuated over time between $89,000 and more than $200,000 it is today, owing to her changing positions. However, the bulk of Pelosi's wealth doesn't come from her congressional earnings.
Pelosi's husband Paul is extraordinarily wealthy. As a San Francisco-based venture capitalist, he once threw away $12 million to own a football team in a now-defunct league. While a nonfunctioning football team was not a good investment, Pelosi and her husband have been smart about where they put their money. Together they are estimated to own at least $57 million worth of property across the country, including in Washington, D.C., San Francisco, and Napa Valley. So what does all that mean for Pelosi's net worth? All in all, the congresswoman is worth somewhere around $106 million, per USA Today.
Nancy Pelosi has a fancy hobby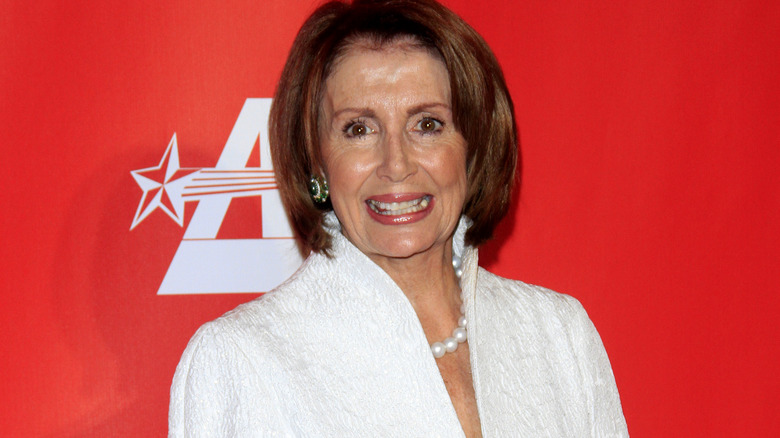 It's safe to assume when you're Nancy Pelosi, you basically never stop working, but even the most powerful woman in D.C. needs to cut loose from time to time. Pelosi likes to retreat to her Napa Valley vineyard, where she grows her own grapes and makes her own wine to blow off steam. After scooping up the property in 2005, Pelosi successfully received permission from the city to operate the winery and host weekly tastings on the property. Interestingly, despite having permission to profit off the property, Pelosi and her husband, Paul, haven't taken advantage of the opportunity. As of this writing, the vineyard still isn't open to the public for tasting or tours, per the Los Angeles Times.
So, exactly what is included in the property (besides lots of wine)? Pelosi's vineyard sits on 16.55 acres and comes with two houses, a pool, and a tennis court, per Velvet Ropes.
Pelosi probably doesn't get out to Napa as often as she'd like, but according to the neighbors, there's no missing her when she's there. "When all the black SUVs are circling around the property — like planes gathering over O'Hare Airport — that is when you know they are here," a neighbor told the Los Angeles Times in 2015.
Nancy Pelosi has a big family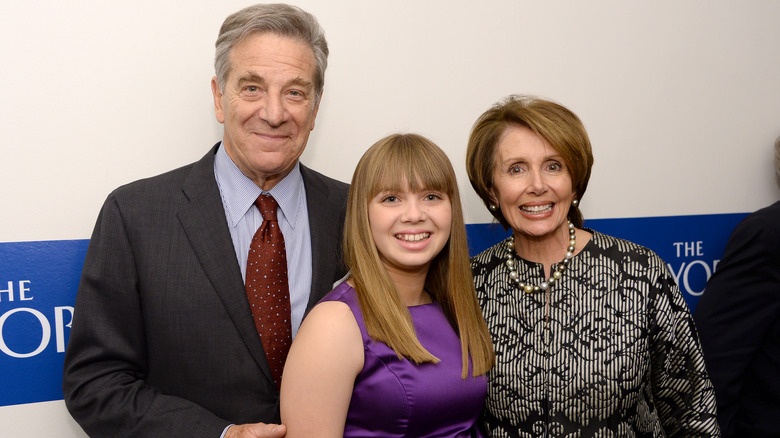 Since Nancy Pelosi comes off as all business, you might not realize that first and foremost she's a mother. Together, Pelosi and her husband Paul share five children, Paul Jr., Christine, Nancy, Jaqueline, and Alexandra. Besides being her mom's namesake, Nancy — whose last name is now Prowda (and goes by her middle name Corrine), further followed in her mother's footsteps by marrying someone just like her dad. Prowda's husband also runs and owns a real estate and venture capital investment firm. 
Meanwhile, Christine works as a political strategist for the Democratic Party and Paul runs an investment firm just like dad, while Alexandra makes politically charged documentaries. Finally, Jaqueline forged her own path and prefers to stay out of politics. Instead of getting into the nitty-gritty of D.C., Jacqueline runs an art studio with her husband Michael, per The Sun.
In addition to the five full-grown kids, Pelosi and Paul have nine grandchildren. Pelosi was able to channel all the energy it took raising such a big family and turn it into a successful political career. "I became so energized and efficient in the use of time and willing to delegate, to the children, responsibilities," she told The Lily. "It really shapes you. There's no question."
She balanced family and politics for years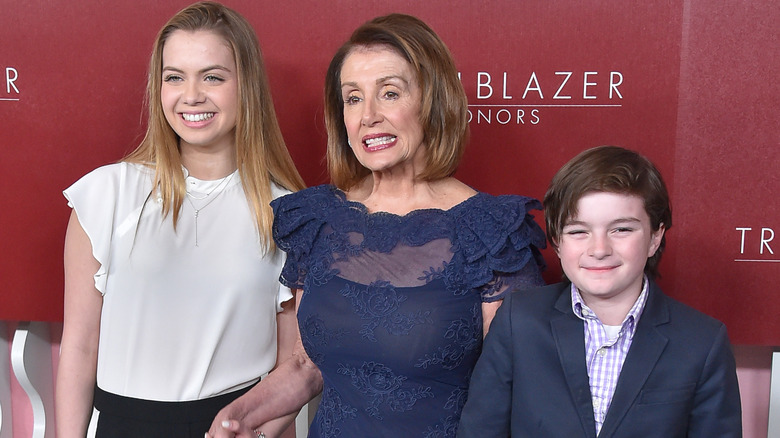 The most surprising thing about Nancy Pelosi is just how late in life she started her career. It seems like Pelosi has been around forever, but she didn't even run for office for the first time until her youngest child was in college. The reason? Pelosi had her hands full at home with five kids to look after. 
Don't think of Pelosi as some kind of overnight success, though. She spent years balancing work and home life and building a name for herself as a force to be reckoned with around San Francisco. The first step in Pelosi's ascension to the top was starting a local democratic club which she ran out of her house while her kids were little. As they got older, she started picking up more responsibility until eventually, a friend suggested she run for Congress, per Business Insider.
As for Pelosi's kids, they never felt neglected by their mom's packed schedule, though they remember her being pretty darn busy. "I remember her throughout my childhood with a telephone glued to her ear," her daughter, Alexandra told Los Angeles Times. "In the name of the Democratic Party, she's been on the phone for 32 years."
Nancy Pelosi is no fan of Donald Trump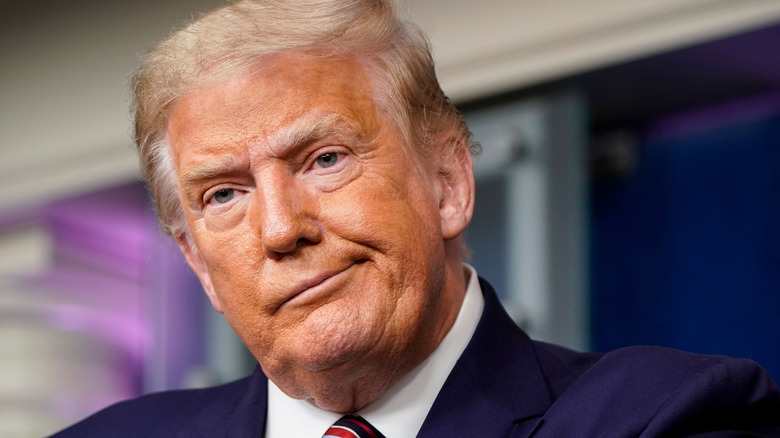 If you know anything about Nancy Pelosi's politics, then you probably already know she doesn't agree with most of what Donald Trump has to say. However, it might come as a surprise to learn that Pelosi doesn't just disagree with Trump. She personally dislikes him. According to Pelosi, her relationship with Trump was much more difficult than any president who's been in power since she's held office. "While we had our differences of opinion — even with President George W. Bush — they believed in governance," she told Vanity Fair in 2019 when talking about her decision to spearhead his first impeachment. "Trump doesn't believe in governance. So, it's very hard to see what would motivate him to do something really good and transformative."
As for Trump's opinion on Pelosi, well, let's just say there's no love lost on his side either. During his 2019 impeachment, Trump struggled to remain polite about his most vocal political adversary. "I think she's a disgrace. I actually don't think she's a talented person," Trump said of Pelosi, per Newsweek. "I've tried to be nice to her because I would have liked to have gotten some deals done," he said at a press conference, per Politico. "She's incapable of doing deals, she's a nasty, vindictive, horrible person."
Nancy Pelosi's father inspired her to get into politics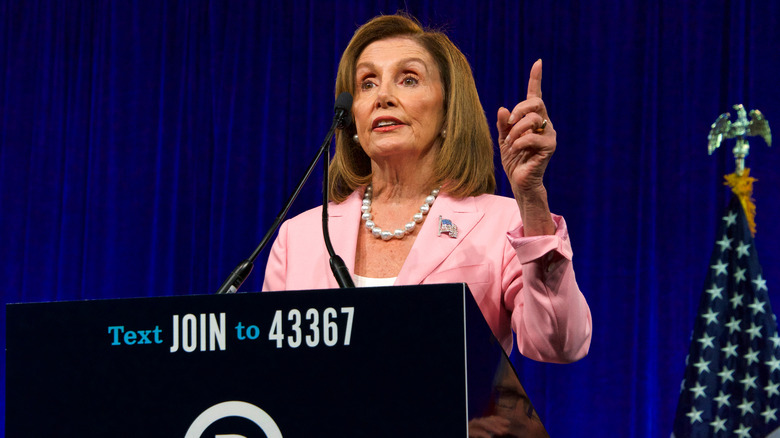 In addition to raising a large family, Nancy Pelosi also grew up in one. The speaker of the house was born far from her NorCal constituents in Baltimore, Maryland where she was one of seven. She can trace her passion for politics directly back to her dad, Thomas "Big Tommy" D'Alesandro Jr. D'Alesandro was a three-time mayor of Baltimore and even served as a congressman, per The Washington Post.
Pelosi wasn't the only one influenced by her father, her brother Thomas D'Alesandro III, followed in his dad's footsteps and became mayor of Baltimore himself. According to Jack Lapides, a politician from the area, the family, who once called Little Italy its home and grew into a political dynasty, owes their success to their Italian roots. "They stayed in Little Italy," Lapides explained when speaking to the Baltimore Sun in 2019. "They were proud of their roots. They didn't move outward. They stuck to the neighborhoods, and they thought the neighborhoods were the most important thing of the city. We've always been a city of neighborhoods, and they were fabulous at recognizing it."
While she might have learned a thing or two about politics from her dad, Pelosi will be the first to tell you he wasn't the reason to got into the biz. "I was really forged by my kids," she told The Washington Post.
Her husband isn't into politics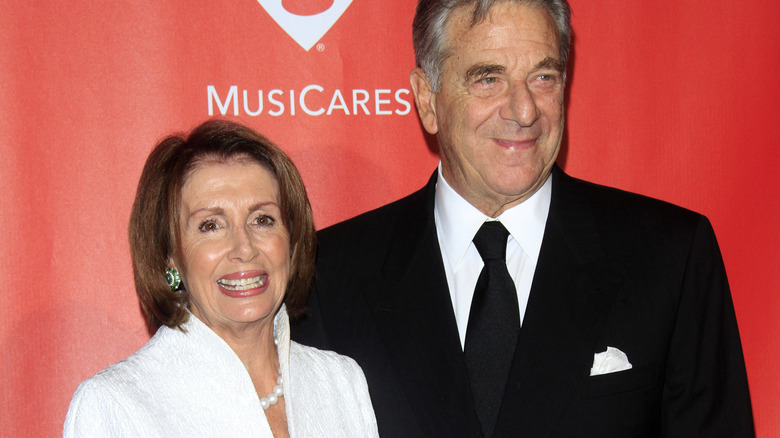 As the old saying goes, behind every powerful man is a more powerful woman. It would stand to reason then, that the reverse must also be true and the man behind Nancy Pelosi is just as powerful, if not more so, than she is. This however couldn't be further from the truth. If you're looking for someone well abreast of D.C. politics, probably don't ask Pelosi's husband, Paul, who is famously disinterested in the power dynamics.
While Nancy is busy getting things done in the capital city, Paul prefers to remain in San Francisco, where he runs a real estate and venture capital investment firm. According to Nancy Pelosi's youngest daughter, Alexandra, the dynamic between her mother and father just works. "They got lucky," she told the Los Angeles Times.
Paul might not enjoy talking politics, but he does love buying his wife new clothes and hanging out with her in their D.C. apartment. When asked about her husband's disinterest in public life and political intrigue, Nancy explained, "He understands politics, but he is not particularly political," she said. "He's a businessman. He likes sports. He plays golf and tennis. He's normal."
She is outspoken about sexism in politics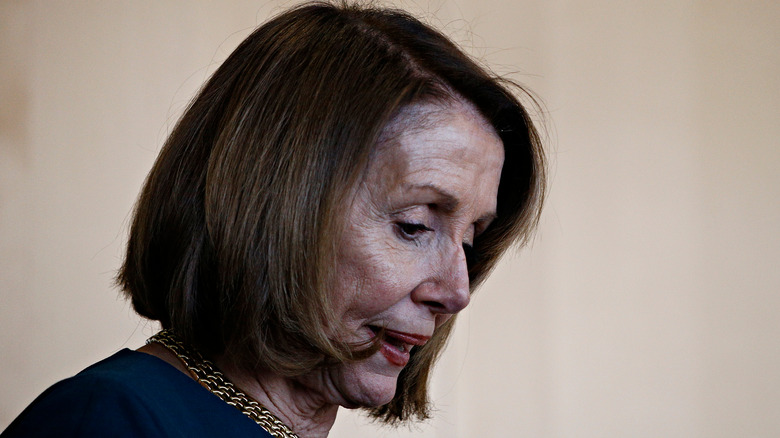 It should come as no surprise that as a powerful woman in a male-dominated field, Nancy Pelosi has faced her fair share of misogyny. A lot could be said about the syntax that has been used to describe Pelosi's looks or attitude over the years.
There are dozens of articles about her clothing, something that's rarely given the same amount of attention when it comes to her male counterparts. Her political rivals have used misogynistic verbiage to paint her in an unfavorable light. However, Pelosi has faced the same amount of sexism from her supporters, as her daughter Alexandra Pelosi told the Los Angeles Times. "I often hear male politicians introduce her, and they always say how charming she is," she said. "They never say how hard-working she is. Well, she's worked harder than anybody else. She's earned it."
Pelosi isn't one to take it lying down though. In 2020, as soon as Elizabeth Warren dropped out of the presidential race, Pelosi spoke up and blamed sexism for the reason Warren struggled so much in the race. "Every time I get introduced as the most powerful woman, I almost cry, because I wish that were not true," Pelosi said at a press conference, per Politico. "I so wish that we had a woman president of the United States, and we came so close to doing that," she continued adding that "I do think there's a certain element of misogyny," to why Warren couldn't pull out a win.
Nancy Pelosi has a complicated relationship with Barack Obama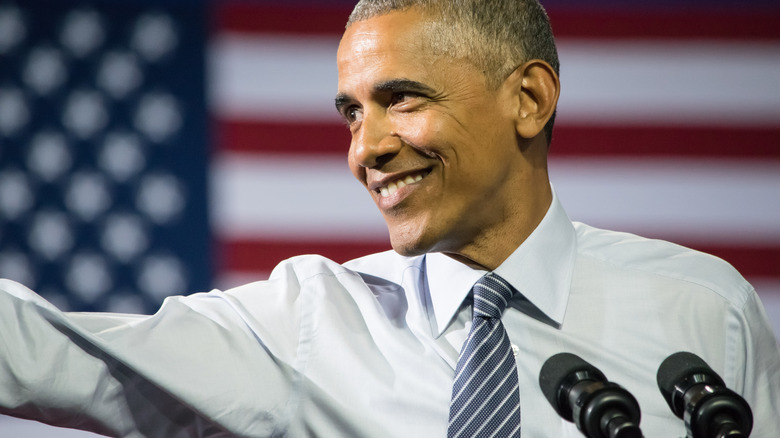 Nancy Pelosi's dislike of Donald Trump is well documented, but what Barack Obama? It would stand to reason that since Pelosi and Trump couldn't see eye to eye, the congresswoman at least got along with his predecessor. However, by the time Obama left office in 2016, things between the formerly close allies were strained.
Things started out on a good note, though. According to those close to the former president, Pelosi was steadfastly loyal to Obama. One source described Pelosi as Obama's closest relationship with anyone on Capitol Hill. "More than anyone else in the United States Congress, House or Senate, Democrat or Republican," an Obama aide told Time in 2018, "she always kept her word to him, and she always delivered."
The relationship became strained in 2012 when Obama reportedly refused to appear at a fundraising event for Pelosi. Something she saw as a slap in the face, given the amount of loyalty she'd shown him over the years.
Nancy Pelosi is a fundraising machine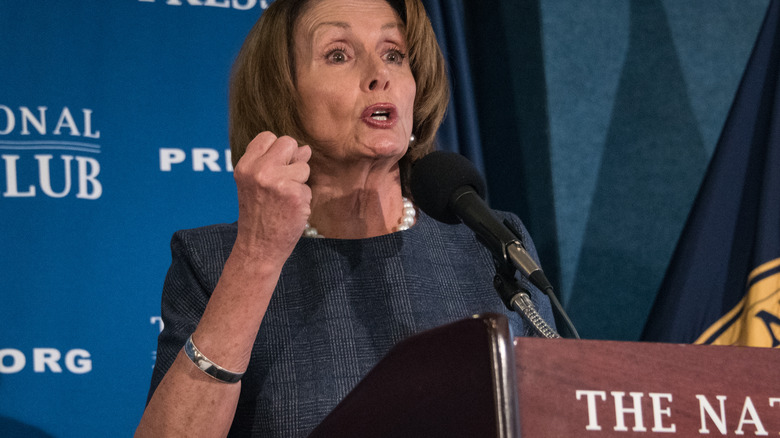 When it comes to raising money, no one does it better than Nancy Pelosi. Case in point, in 2017, she reportedly raised more than $47 million for the Democratic Party. To put that in perspective, that year, the DCCC (Democratic Congressional Campaign Committee) raised a little more than $100 million in total, meaning that Pelosi brought in nearly half of that. Even more impressive, the bulk of that money came from direct donations solicited by Pelosi herself, per The Washington Post.
Pelosi broke that record the next year when fundraising numbers became even more important. She hit the ground running for the 2018 midterms and pulled in a whopping $83 million for her party. To put that in perspective, not only is it nearly double what she did the previous year, it is also double what the next closest democrat brought in that year, per CNN. What about 2019? Well, the upward trend continued in 2019, and according to The Hill, Pelosi "raised more than $87 million for Democratic candidates."
Nancy Pelosi was involved in a COVID-19 scandal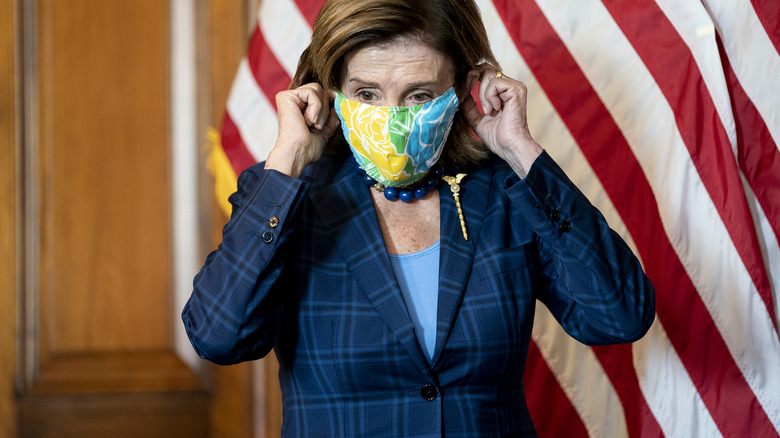 After spending years in the spotlight, Nancy Pelosi is no stranger to scandal. At the height of the COVID-19 pandemic, when the dialogue around whether or not to wear a mask was becoming political, Pelosi was caught on camera visiting a California salon that was supposed to be closed to inside service due to rising infection numbers. She was slammed by her critics as a hypocrite. Pelosi, however, insists that she was set up. "I take responsibility for trusting the word of a neighborhood salon that I've been to over the years many times and that when they said we're able to accommodate people one person at a time and that we could set up that time, I trusted that," Pelosi said at a press conference, per Politico. "As it turns out, it was a set-up."
Pelosi's personal stylist spoke out in her defense and claimed that the salon owner set them both up. He insisted that he had the salon owner's permission to use the business before going through with the appointment. Pelosi refused to apologize for the event and even insisted that the salon, and its owner, owed her an apology.
Her daughter is a famous filmmaker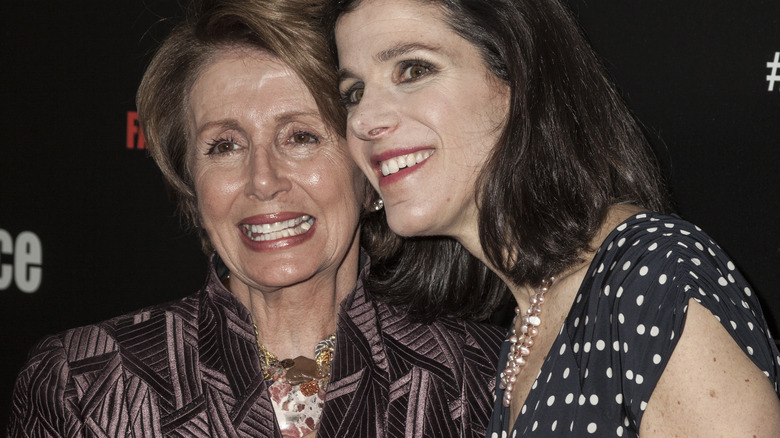 Nancy Pelosi is a mother of five, and we're willing to bet that being Pelosi's kid can feel like some seriously big shoes to fill. But, while most of her kids are busy doing politics or business-related things like mom and dad, one of them, Alexandra Pelosi, is making a name for herself as a filmmaker.
Pelosi's youngest daughter has directed and produced 13 documentaries with a focus on the various social-political issues facing the United States. Some of the topics she's covered include gun control and far-right religious organizations. Her first film, "Journeys with George," captured the final days of the George W. Bush campaign. Her 2020 film, "American Selfie," examines the growing political divide in middle America, which Alexandra believes is related to a global increase in social media use, per The Guardian. "Every single person I talked to, no matter who they were going to vote for or if they weren't going to vote at all or didn't even know who was on the ballot, would say: social media is destroying our mental health," she told the outlet when discussing the film. "It's destroying our conversation."
As of this writing, Alexandra hasn't released a documentary about her mother, but if she does, we're hoping it will include a tour of the Napa Valley vineyard.
She has a major sweet tooth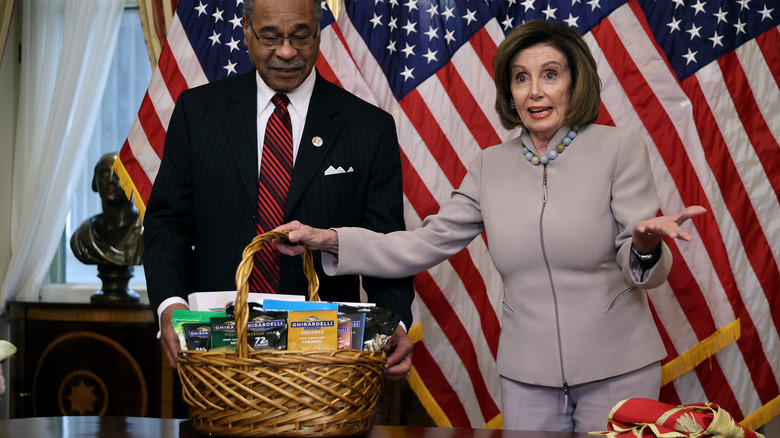 Pelosi, who hails from San Francisco, likes to keep a little bit of her home district in her D.C. office. According to staffers, Pelosi insists on keeping a jar full of Ghirardelli chocolates in her congressional office, per HuffPost.
Pelosi's love of chocolate runs so deep that instead of amping up on coffee every morning, she apparently prefers to have a bowl of chocolate ice cream. "I've been eating dark chocolate ice cream for breakfast for as long as I can remember," she told Food and Wine in 2017. "I don't see it as different from having a cup of coffee. The flavors keep getting darker and darker, which I love."
Translation? She loves chocolate, and you better not forget it. To keep that little tidbit on everyone's mind, Pelosi has been known to dawn a campy sweatshirt emblazoned with the words "Hand Over the Chocolate and Nobody will Get Hurt," although admittedly, she doesn't usually wear it to work, per the Los Angeles Times. Need more proof of Pelosi's love of chocolate? Peep this video of Pelosi blind testing ice cream while on "The Late Show with Stephen Colbert."
Nancy Pelosi's laptop is still missing
Nancy Pelosi is no stranger to bad press, but in 2021 she found herself on the front page for an entirely new reason. During the capital riots in January, thieves broke into Pelosi's office, sat at her desk, riffled through her papers, and most alarmingly, stole her laptop.
Riley June Williams was accused of taking the laptop and trying to sell it to Russia, as it reportedly contained classified information. Williams was identified after an ex saw her on TV and called the FBI, per ABC. "At least one of the insurrectionists may have intended to steal information and give it to a foreign adversary," representative Joaquin Castro told reporters in February, per CNN. "According to charging documents, Riley Williams allegedly helped steal a laptop from Speaker Pelosi's office to 'send the computer device to a friend in Russia, who then planned to sell the device to SVR, Russia's foreign intelligence service,'" Castro said.
It seems unlikely that Williams successfully sold the laptop to Russia (after all, it's not like she has Vladimir Putin on speed dial) but nonetheless, the laptop remains missing.
Source: Read Full Article