No one (read: me) is over royal baby Archie Harrison's christening yesterday, which looked like a family and love-filled event. Not only did Prince Harry and Meghan Markle sneak in a sweet tribute to Harry's mom Princess Diana, but they also shared some adorable pictures from the ceremony.
Harry and Meg kept things private, so it's not totally clear exactly who was at the approximately 25-person event. One person who certainly wasn't invited, though, was Meghan's dad Thomas Markle, who has caused all types of drama for the royal family, including sharing sensitive information with tabloids and publicly insulting Harry. However, that didn't stop Thomas from sharing his ~thoughts~ about the christening with the press, and his statement is…uncharacteristically restrained. He told Daily Mail:
Back in April, it was reported that Meghan miiiight be giving her father a second chance if he could prove that he was trustworthy/keep quiet and not talk to the press. And we haven't heard much from him this summer, so it's possible that he is working on making his way back into his daughter's life, and this statement was just a blip in the process. So, er, at least it's an improvement??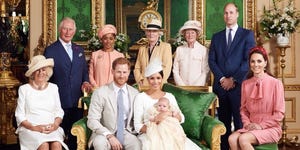 Source: Read Full Article