October and November are times of the year where footwear brands across the board can really delve into the festive mood and flaunt their creativity. You've got the month-long shenanigans of spooky season along with the first couple of days of November where Mexico's annual Día de Muertos holiday is honored. And perhaps what really makes this a time for brands to really dial into the spirit of this Fall period is the infinite amount of reference points they they have to turn film, art, costumes, etc. into products. The laundry list of classic scary movies out there from IT to The Nightmare Before Christmas to The Exorcist goes on and on, and there's a plethora of playful elements related to Halloween whether that be creepy crawlers, sinister witches, ghastly ghosts, jack-o'-lanterns, haunted houses, bloody masks and so on.
Over the years, sportswear brands have decked out their classic silhouettes with frightful design elements. Not all of them have been heavy hitters in terms of hype and resell value, but they certainly do their job in terms of encapsulating the adventurous energy that is deeply associated with Halloween commemorations. The Swoosh has quite the impressive catalog of highly-revered classics, especially under its
Stockx
The Nike SB Dunk catalog is replete with so many iconic colorways, but when it comes to the Fall-related offerings, the skateboarding label's SB Dunk Low "Day of the Dead" from 2006 certainly ranks among the top. Rare is an understatement when it comes to these kicks as they were only released in Mexico and Canada. To celebrate Mexico's annual "Día de Muertos" — a holiday to honor those who have passed — Nike decorated its popular silhouette with snakeskin-covered Swooshes, "Orange Blaze" toe boxes, collars, tongues and quarters as well as playful skeleton graphics that show up on the overlays and inside its translucent outsoles. And if you're thinking about buying a pair today, make sure your wallets are prepared to shell out upwards of $7K USD.
Off-White™ x Nike Blazer 'All Hallows Eve" and "Grim Reaper", 2018
1 of 2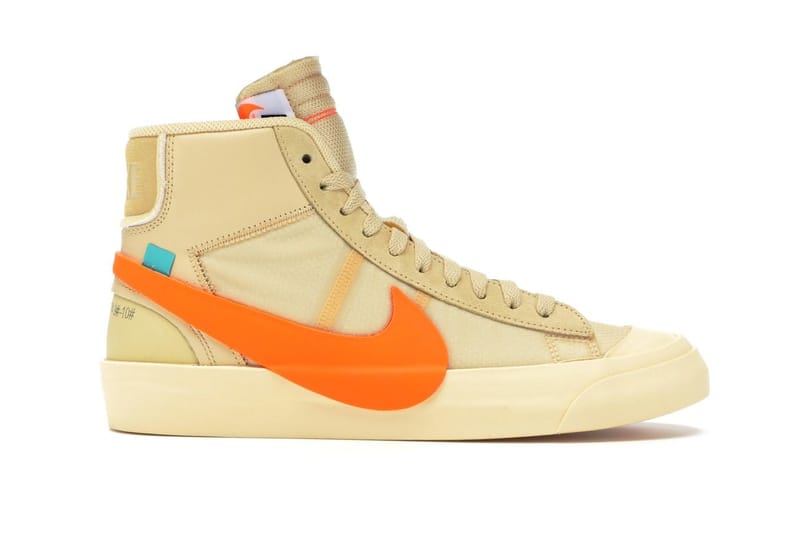 Stockx2 of 2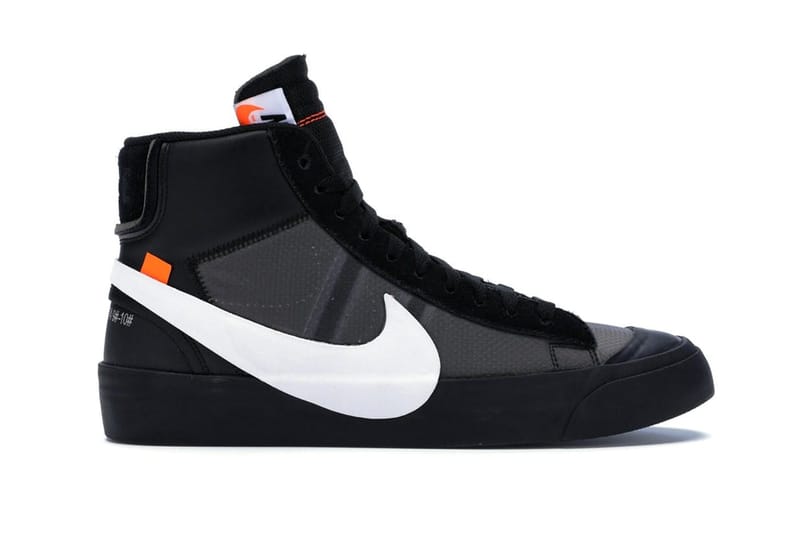 Stockx
Amongst all of the Nike silhouettes that Virgil Abloh revamped under his famed Off-White™ imprint, the Blazer Mid is widely revered as one of the most popular. In October 2018, the popular designer rolled out a two-piece pack that included "All Hallow's Eve" and "Grim Reaper" colorways, the former of which was presented with creamy uppers and pumpkin-colored Swooshes while the latter adhered to a ghouly black and white palette. Depending on colorway and size, the secondary market value for both pairs now ranges from $500-$1000 USD.
Nike SB Dunk Low "Freddy Krueger", 2007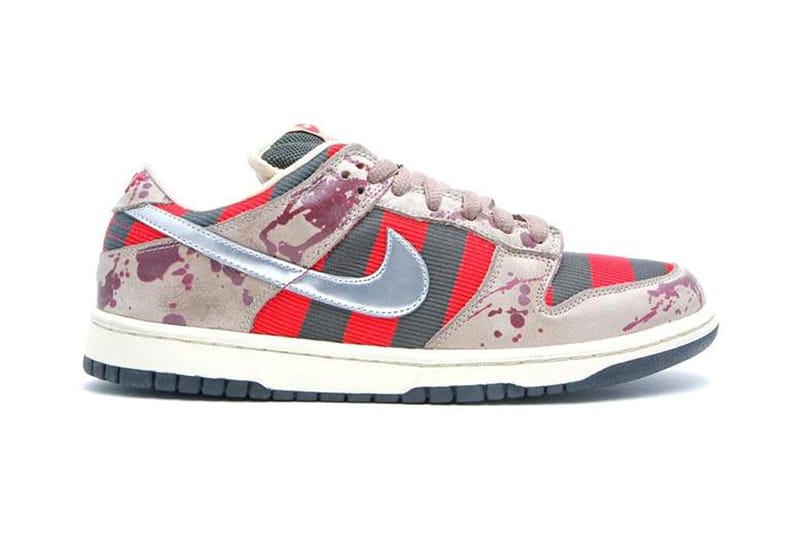 Stockx
When writing out a list of the most classic scary movie franchises of all-time it perhaps doesn't get any better than the A Nightmare on Elm Street franchise. Wes Craven's extra creepy film creations will forever be praised for the introduction of Freddy Krueger — a fictional killer that is equipped with a gloved hand with razors that is known for murdering his victims while they are dreaming. And to honor this ruthless villain, Nike SB crafted a special Dunk Low "Freddy Krueger" colorway in 2007. The kicks are designed with striped quarters, collars and toe boxes to mimic his sweater while faux blood stains land on the overlays to symbolize his killed victims. Good luck finding a pair for a decent price as these were extremely rare and resellers have these now listed in the five figure range.
BAIT x Reebok Ex-O-Fit Clean Hi "Stranger Things", 2017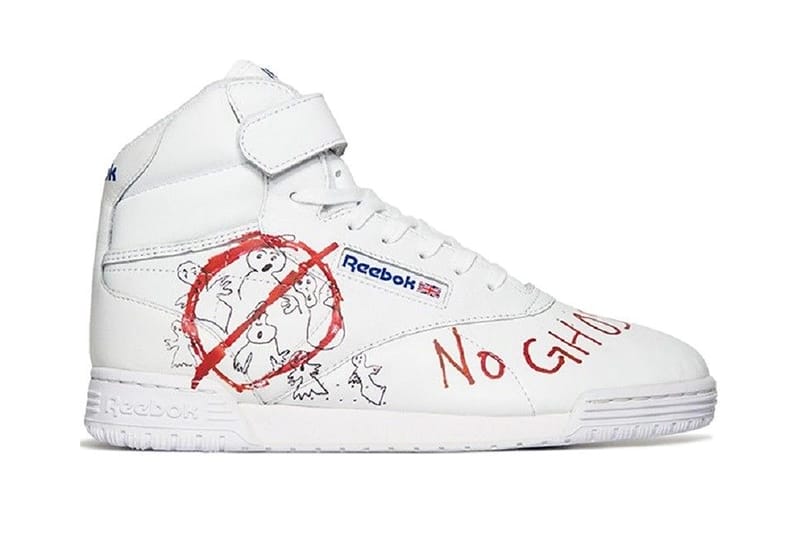 Stockx
In alignment with season 2 of Netflix's popular show Stranger Things, BAIT and Reebok joined forces to engineer the Ex-O-Fit Clean Hi "Stranger Things" makeup. In the show, Dustin's favorite film is Ghostbusters, and he doodles images from the movie onto his sneakers. These Ex-O-Fit Clean His essentially bring that his shoes in the series to life along with recognizable Ghostbuster elements like Slimer and the team's logo. This is certainly a fun pair to bust out or cop on for resell as prices aren't too astronomical for Halloween, especially if you're hyped for the show's fourth season to drop in 2022.
Nike Air Force 1 "Skeleton", 2018-2021
1 of 4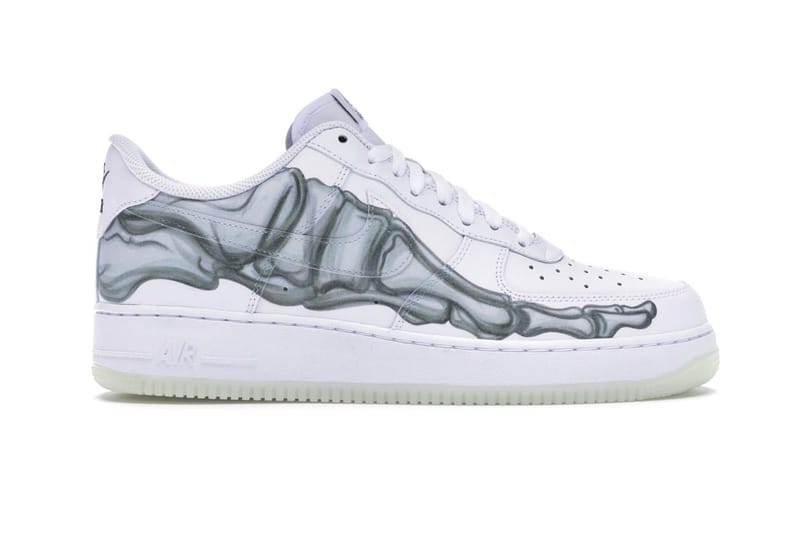 Stockx2 of 4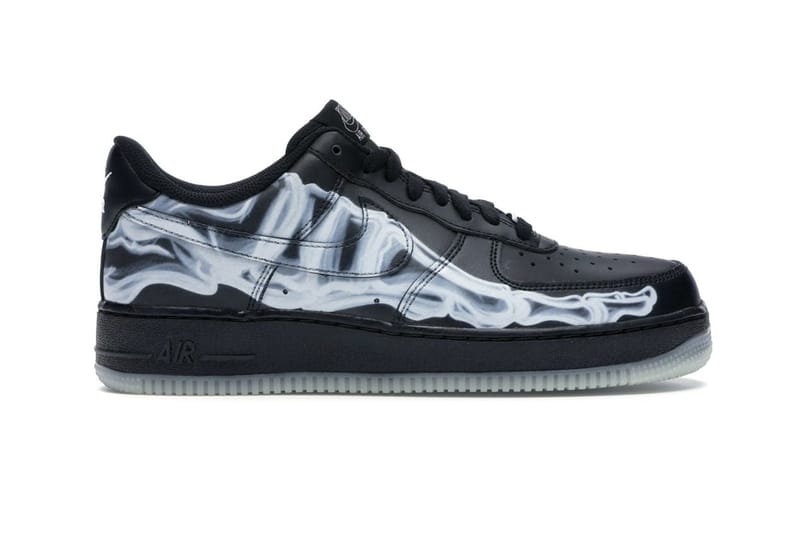 Stockx3 of 4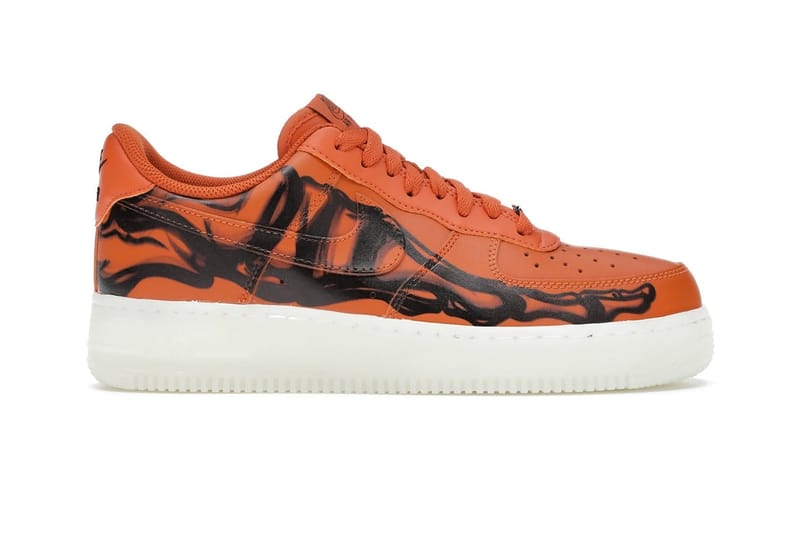 Stockx4 of 4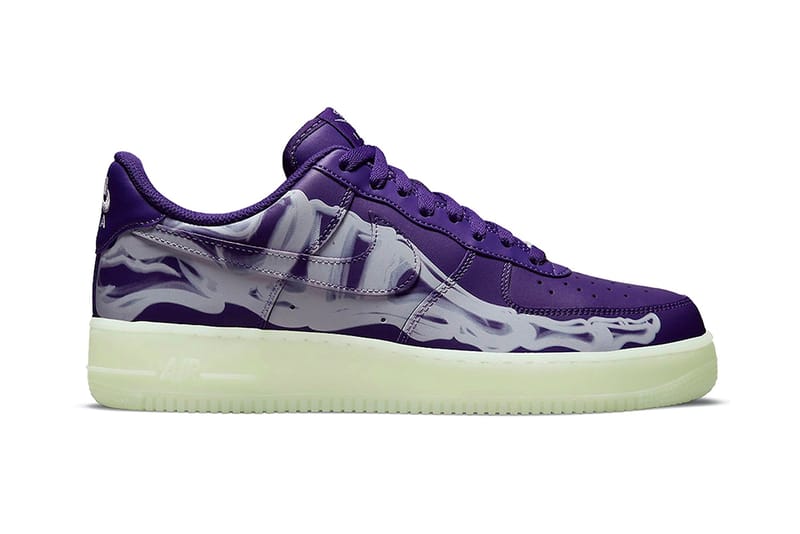 Stockx
In 2018, Nike kicked off what is now known as a tradition by releasing the first Air Force 1 "Skeleton" in white. It was engineered to align with the Halloween season as it came dressed with x-ray like bone graphics that were plastered across the lateral and medial walls. Since this drop, black and orange makeups launched in 2019 and 2020, and 2021 is rolling right along with the tradition with the arrival of a new purple colorway. Additionally, each pair is supplied with glow-in-the-dark outsoles to further echo its holiday-inspired theme.
Brain Dead x

Brain Dead

Leave it to Brain Dead to show no fear when it comes to crafting animated footwear collaborations. And for its second team-up with ASICS, the Kyle Ng-lead streetwear imprint reworked the TRABUCO MAX with a chaotic makeover. Uppers are done up with an extraterrestrial-esque all-over pattern and sit adjacent to shoe laces that are covered in a slimy green hue. Outsoles are done up with an extra loud marbled pattern as well for more monstrous flair.

adidas Forum Low "Funny Clown"/"Dark Witch" and adidas Superstar "Mummy", 2020

1 of 3

Stockx2 of 3

Stockx3 of 3

Stockx

Despite the fact that in 2020's Halloween celebrations couldn't involve in-person trick-or-treating and wild house parties (at least you definitely shouldn't have been throwing them considering COVID-19) adidas still managed to get into the holiday spirit with a three-piece footwear pack. Two Forums were involved in this capsule including the "Dark Witch" and the "Funny Clown" colorways, the former of which was outfitted with a textured black upper and removable cat tails to channel a black cat-inspired look while the latter is done up with fang-like graphics around the forefoot, blots of blood-esque patterns and spooky eyes to call out Pennywise from the famed IT series. Elsewhere in the range is the adidas Superstar "Mummy" makeup that was styled with glow-in-the-dark bandage materials that covered the lateral and medial walls.

ALIFE x ASICS GEL-LYTE III "Monster" Pack, 2007

1 of 2

Stockx2 of 2

Stockx

Back in 2007, when NY-based streetwear label ALIFE was at the height of its wave, it had the opportunity to collaborate with ASICS on a two-piece GEL-LYTE III "Monster" Pack capsule. Both the "Black/Red" and the "Green/Red pairs were released just ahead of Halloween, and were highlighted for the monster-like and oversized googly eyes that dangled just next to the throat. The midsoles also added some aggressive flair as they were decorated with zig-zag lines to channel the look of a monster's sharp teeth.

AMIRI Skel Top, 2020

Stockx

If designer shoes and Halloween are your thing, then there's potentially no better marriage of the two moods than AMIRI's Skel Top model. It first debuted in 2020 in a high top, and immediately sparked buzz around the sneaker community for its comparisons to the Air Jordan 1 as many of its first colorways were closely resemblant of the iconic retro silhouette. Uppers are designed in similar fashion to Jordan Brand's popular offering, but instead of Swooshes on the mid-foot, the luxury imprint slaps on bone-shaped overlays to supply these with an anatomical element fit for an October 31st celebration.

'The Nightmare Before Christmas' x Vans, 2019

Vans

It's around the Fall/Winter season when the weather starts to get chillier and you'd much rather spend your time cozied up on the couch watching vintage movies. But in case you wanted to also step out of the house and play into the festive spirit, Vans teamed up with the iconic The Nightmare Before Christmas movie for a spooky sneaker collection. For this team-up, four of Vans' staple models including the ComfyCushion Authentic, Old Skool, Sk8-Hi, and Classic Slip-On were brought to the table, all of which were treated with colorful graphics. Frightful scenes and imagery from the movie including pumpkins, psychedelics, and of course, the main characters such as Zero, Evil Brat 3, Sally, and Jack Skellington were slapped onto the kicks.
Source: Read Full Article