1.
Wimbledon is actually at Wimbledon.
I know this might sound extremely stupid, but as I was getting ready to leave my house I suddenly started thinking "where am I going?!", "Is Wimbledon actually at Wimbledon station?". Turns out yes, it is. You can either go to Southfields station and walk 15 minutes, or you can go to Wimbledon and get a shuttle to the courts.
2.
Most people wear blue or white.
I spent the weekend before STRESSED about what I was going to wear, and it was between a yellow dress or a white one. I chose yellow and this was a mistake. I stuck out like an absolute doughnut because it's seemed that there was a unwritten rule to wear white or blue – and no decided had filled me in.
3.
And people really dress up.
Wimbledon fashion is undefeated and I was living for it. There's also nothing I love more than an older couple in their best garms, and Wimbledon was full of them – it was so wholesome, my heart was full.
4.
Wimbledon has its own museum.
I didn't go in, but if you fancied a behind-the-scenes look at the world's most famous tennis club, you can actually purchase a ticket and take a tour!
5.
The queues are long, but it's almost enjoyable.
I was kindly invited to Wimbledon by Evian, but even with this invite I had to queue for an hour to get into the grounds. To be honest, I wouldn't have had it any other way because I get tickled by queue drama. Watching two elderly couples go head-to-head about queue jumping is the British drama I live for, Emmerdale could never. No matter how important you think you are, you simply cannot skip the queue. Luckily it was a beautiful day, so the dramatics were keeping me entertained enough to help forget that I didn't eat in the morning and I was close to dying of hunger.
6.
The Evian suite is super adorable.
Let's just say they really know how to cater for the 'gram. Also watching Leomie Anderson play table tennis with her boyfriend Lancey Foux, was the injection of black love I needed.
7.
Drinking starts early.
The second I got inside I was offered a drink. My favourite thing about British culture is finding a very loose excuse to drink in the morning. Before I even got a crumb of food, I got a fresh glass of Pimm's – which was more than okay with me.
8.
Strawberries and cream is a proper thing and you need to have it at Wimbledon.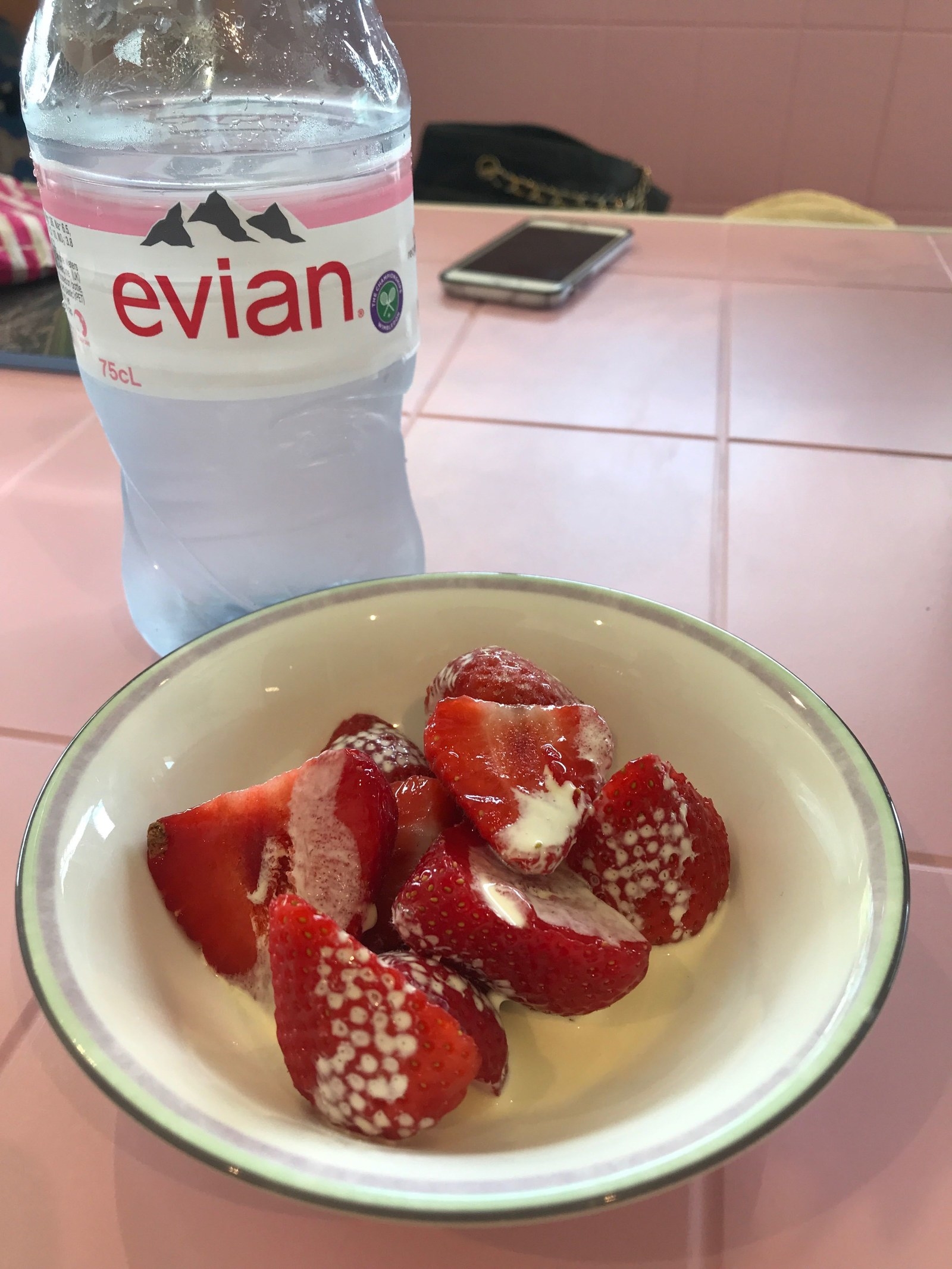 Even my lactose-intolerant self could not pass up on having strawberries and cream here. That's like going to Turkey and not having a kebab.
9.
Tennis is a very quiet sport.
https://instagram.com/p/Bzh624FDYUE/
If you think you can reach down into your packet of sweets and people won't stare at you, you're wrong. If you make a noise, you will get shushed for sure.
10.
You will see celebrities everywhere.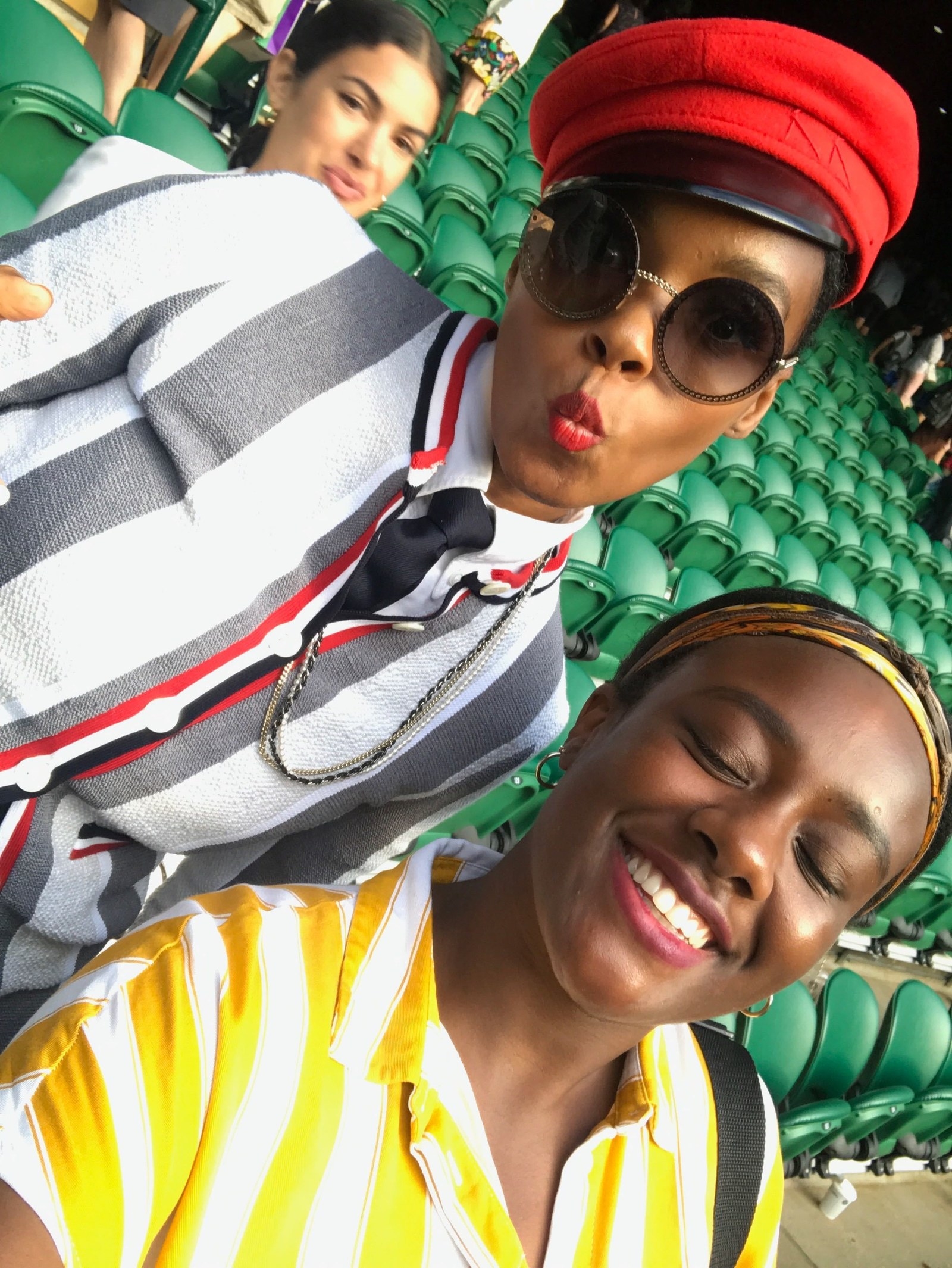 Depending on what court you manage to get tickets on, you may just end up spending your day celebrity-spotting. There isn't really a divide in terms of seats, so you might even end up sitting next to one. *Takes deep breath* I SPENT MY DAY SITTING NEXT TO JANELLE MONAE!!!! Are we best friends now? Yes. Well, we shared a packet of Haribo strawbs, which in my book is basically means we're besties.
11.
Ball boys are everything.
Honestly I spent half the match watching them flap their arms around, they're SO adorable and the way they run is HILARIOUS.
12.
You will get emotional.
I grew up playing and watching tennis and I was fortunate enough to watch the Venus Williams vs Cori Gauff match. Seeing someone you were compared to your whole life, play who is rumoured to be the next Serena Williams, is a surreal experience. There was a moment where everyone acknowledged that we were witnessing a moment in history and my chest was TIGHT. I now STAN Cori Gauff and only want amazing things for her.
13.
It is one million percent worth going to, and an unforgettable experience.
It's unapologetically British and I LOVED every minute of it! Next year I will 100% go and watch the matches on the hill, because I truly had the time of my life – even though I'm currently suffering from tennis neck as I type this.
Source: Read Full Article