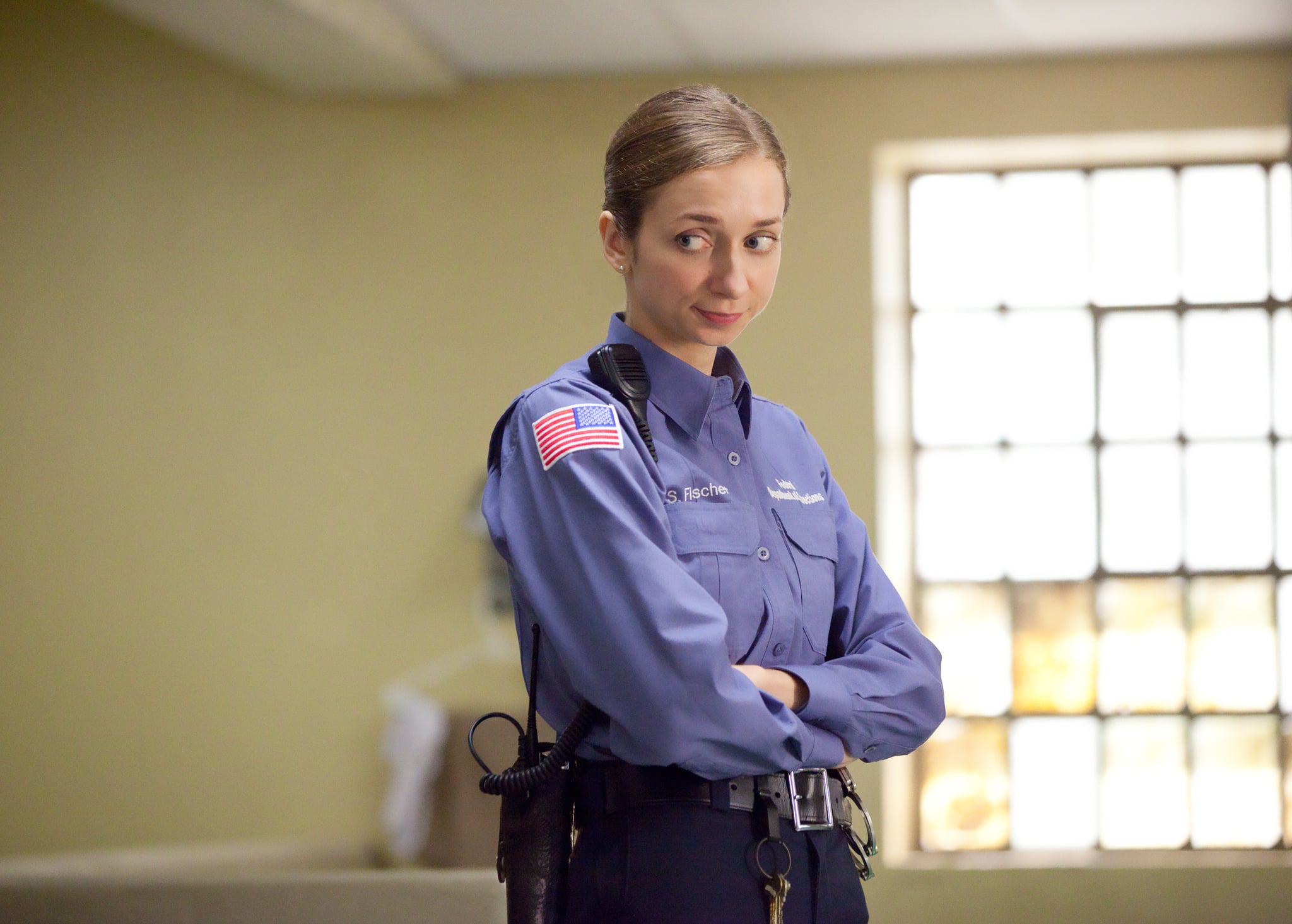 Susan Fischer (Lauren Lapkus) may have been one of Litchfield's most gullible guards on Orange Is the New Black, making her an easy target around the prison. When she isn't listening in on the inmates' phone calls, she's fighting off office advances, both from co-workers and from the prisoners alike. Her ongoing dating chronicles became a forefront in her character's storyline, especially with one of her biggest admirers: warden Joe Caputo (Nick Sandow).
Fischer, innocent as she is, often gets hazed by her fellow correctional officers as the newest member and one of the only women on the team. Interestingly enough, Caputo seems to be at the head of the hazing. Fischer is often encouraged to be tougher on the women, strictly referring to them as "inmates." This conflicts with her deeper belief that they are all equal, all human, all with the right to be treated with respect.
It becomes clear that Caputo has developed a bit of crush on Fischer. It's not entirely clear though if this is why he seems to be a little tougher on her than the other officers, or if it's from the pressure he's getting from the higher-ups at Litchfield. Regardless, Fischer definitely feels the heat and even steps out of her shell to be stricter with the women, in effort to please her boss. The waters only get murkier for these two.
Poor Caputo's chances come crashing down when Fischer brings her boyfriend, Stephen, to the prison's Christmas Pageant. It's OK, Caputo, this also shoots down any chance for inmates Nicky (Natasha Lyonne) and Big Boo (Lea DeLaria), both with crushes of their own on Litchfield's most gullible guard.
Season two, however, brings some new excitement to the Caputo-Fischer saga. Fischer returns to work, single and ready to mingle. Unfortunately for Caputo and her other admirers though, Litchfield's newest bachelorette finds a new interest in Joel Luschek (Matt Peters) from the electrical department. Caputo doesn't give up though. Hoping to secure a date, he invites her to his band's performance at a local bar. She accepts, but turns the night into an office outing with their co-workers, rejecting Caputo once again.
The second season also brought out new pressure as the warden inflicts a higher shot quota, pushing the guards to cite the inmates for poor behavior. The officers don't take the pressure too lightly. The additional citations bring on mounds of additional paperwork and appear to be unfair to the inmates. Always one to stand up for all the women's rights, Fischer steps in. It all comes to blows when she challenges Caputo for his unfair policy, creating a more tense work environment for all the guards. Caputo retaliates and immediately fires her, terminating any chance they ever had. If there ever was one?
Fischer is sent packing with one final scene alongside Nicky, turning her cheek for the last time at yet another one's of Nicky's rule-breaking antics. And off she drifts, without a Caputo in sight . . .
Source: Read Full Article