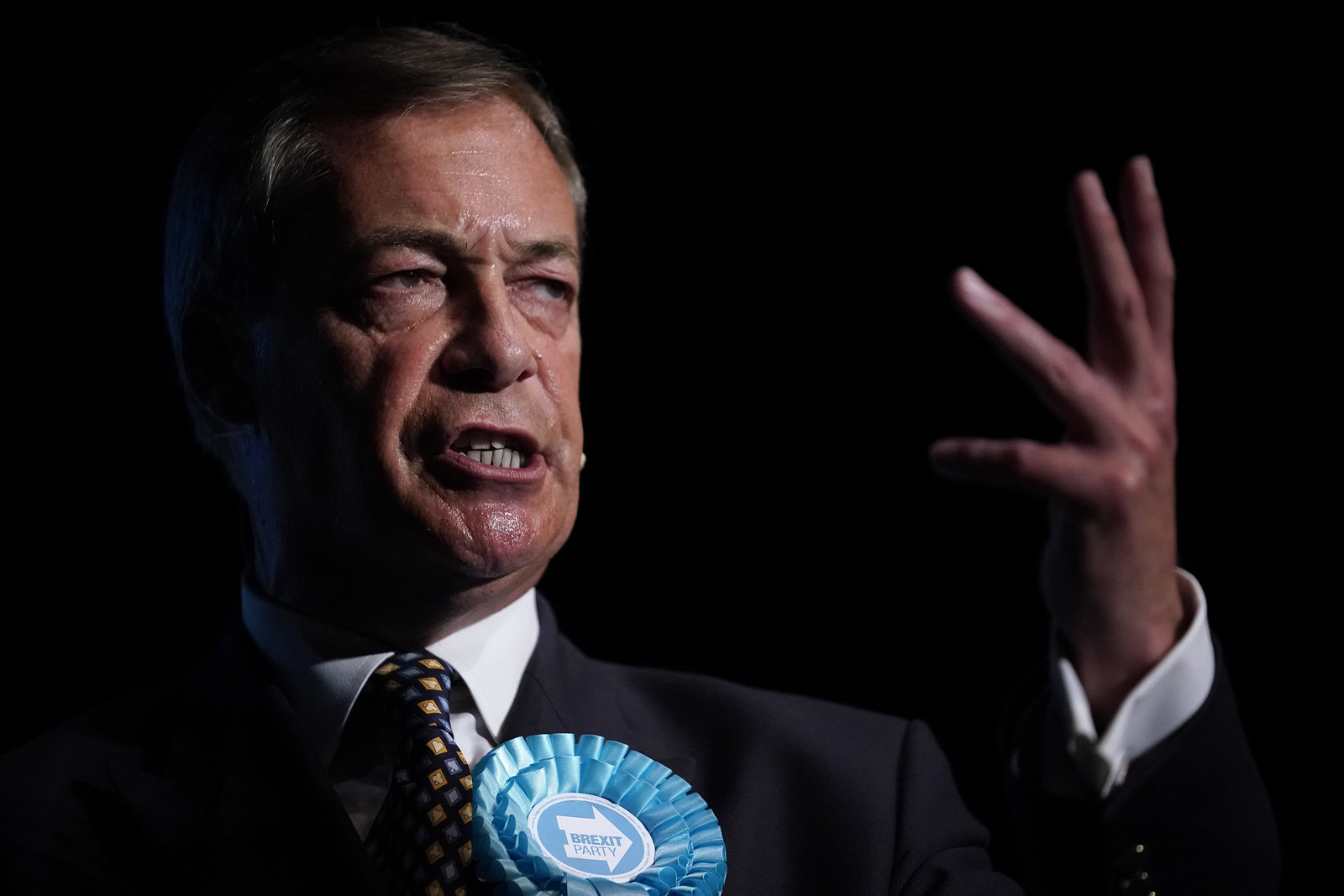 Nigel Farage has hired a new media staffer who published hundreds of articles that focused on whipping up anti-immigration hysteria in Europe while he was writing for the right-wing Breitbart website.
During his three years at Breitbart London between 2015 and 2018, Liam Deacon churned out an extraordinary number of sensationalist stories about migrant crime, while promoting the activities of far-right, anti-Islam figures like Tommy Robinson and Anne Marie Waters, and attacking familiar targets of the European far-right like Angela Merkel and Sadiq Khan.
After leaving the publication, Deacon worked briefly for the Daily Star before joining the Brexit Party as a press officer in June.
More than 2,600 articles on the far-right site carry Deacon's by-line. He started regularly writing for the website in April, 2015 as the European migrant crisis was rapidly escalating.
Some of his output involved mundane, tabloid news – Deacon's by-line appears on the story about the man who officially changed his name to Buzz Lightyear, and the boat that was named "Boaty McBoatface" – or stories which touched on traditional right-wing culture war issues.
But mainly, Deacon wrote pieces which focused on Muslims, crime and immigration.
Between April 2015 and the Brexit vote in June 2016, he published nearly 800 stories for the website, of which 450 were about immigration, the migrant crisis or Islam. Many of his stories were filed under the website's tags like "Sweden migrants", "migrant benefits", "Sharia in Britain" and "Muslim rape gangs". It represents a significant body of work, which pushed anti-immigration European narratives.
These stories were often taken from mainstream news outlets — many used the Mail Online as the source material — then re-written with amplified anti-immigration themes and headlines.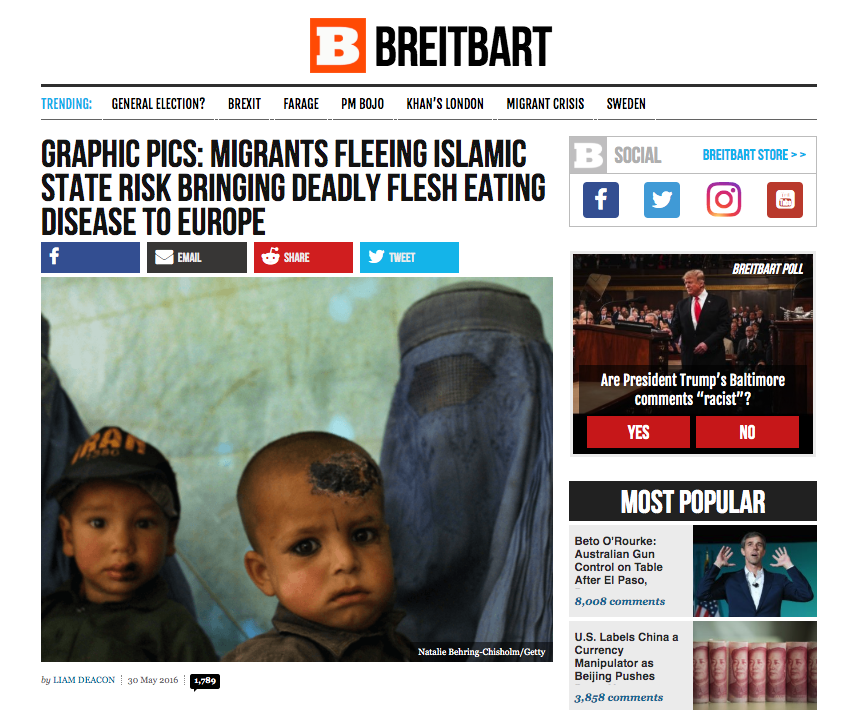 For example, in 2016 the Mail Online published a story about a "disfiguring tropical bug spread across Syria" with two Getty photos showing people with the disease. It was taken, re-written and put on Breitbart under Deacon's by-line with the headline: "Graphic Pics: Migrants Fleeing Islamic State Risk Bringing Deadly Flesh Eating Disease To Europe".. His version ran five more Getty photos and repeated Mail Online's suggestion it could come to Europe.
But a search of the Getty archive shows the extremely graphic pictures published in the Mail Online and Deacon's Breitbart story were were not from Syria at all, nor were they recent. In fact, they came from either 2002 or 2010 and the people were photographed in hospitals in Afghanistan.
Deacon closely covered Tommy Robinson for Breitbart's readers, including the far-right, anti-Islam activist's efforts to set-up a UK-branch of the anti-Muslim PEGIDA, which stands for the Patriotic Europeans Against the Islamisation of the West. Sometimes he'd claim an "EXCLUSIVE" on Robinson, including comments from him in the story.
Deacon was also part of Breitbart's coverage of the white nationalist, anti-immigration Generation Identity group in Europe. In 2016, he wrote about a Paris protest by the group under the headline "'The French Have Been Silent For Too Long': Identitarians March Through Paris". The story described them as a "hipster right" group, and "notably a youthful movement of anti-mass migration activists who engage in direct action". The same year, he used the same phrase to describe "anti-mass migration" Austrian "identitarians" interrupting a play in Vienna.
He also wrote dozens of stories about LGBT issues for the website; with headlines like, "One In 12 Adoptions To Same Sex Couples. Numbers Consistently Rising" and "Transgender Fad Rapidly Spreading in Primary Schools, 'Clusters' Emerging as Children Copy Friends" (which received more than 7,000 comments on the website).
A Brexit Party spokesperson described Deacon as a "wholehearted believer in democracy and free speech" and said he was hired because "he is used to producing copy at short notice".
"Journalists produce copy, as I am sure you are aware, to suit the tenor of their employer and the broad interests of their readership," the spokesperson said. "We will come to a pretty pass when somebody who wrote for the Sun, couldn't go on to write at the Mirror, or vice versa."
He said Deacon has previously written for Huffington Post and Vice, adding "you can trust me, I don't approve of the general editorial line of those publications either".
The spokesperson also pointed out that some high-profile journalists had previously written for Breitbart, including BuzzFeed News political correspondent Alex Wickham, LBC presenter Iain Dale and Talk Radio's Julia Hartley-Brewer.
Deacon declined to comment.
More on this
The Brexit Party Is Stepping Up Its Fight Against Boris Johnson

Emily Ashton · July 29, 2019

Researchers Say Many Of The Brexit Party's Twitter Followers Aren't Behaving Like Genuine Voters

Alex Spence · May 18, 2019

The Founder Of Nigel Farage's New Brexit Party Has A History Of Anti-Muslim Comments

Alex Wickham · Feb. 11, 2019
Mark Di Stefano is a media and politics correspondent for BuzzFeed News and is based in London.
Contact Mark Di Stefano at [email protected]
Got a confidential tip? Submit it here.
Source: Read Full Article