I wish I had a show like Gentefied when I was growing up. As someone who is Mexican and grew up in a neighborhood similar to Boyle Heights, I can't think of any other show where I've connected so much to the characters' struggles and stories like I have with the popular Netflix series. Listening to Pop (Joaquín Cosío) talk about Mama Fina's heirloom recipes takes me back to my childhood days when I would watch my own grandmother cook in the kitchen and listen to her stories about how each recipe was passed down from generation to generation. Chris's (Carlos Santos) struggle with always being told he's not "Mexican enough" is also one I know all too well.
And the cast feels a similar connection. "When we had the first table read, it felt really special because we knew that we were trying to tackle something very important," Santos told POPSUGAR. "At the beginning, we set out to say that we were good enough as a community, that we were good enough to tell our own stories, and that's what we're accomplishing. I think that it's important to touch on these bigger topics, but it's also important to say, 'Hey, we're more than that,' in terms of the way that we are viewed in media. The second season, specifically, is tackling that. There are all these ideas of validation, of being good enough, of believing that we are and that we should be allowed to exist in this world without having to justify our existence."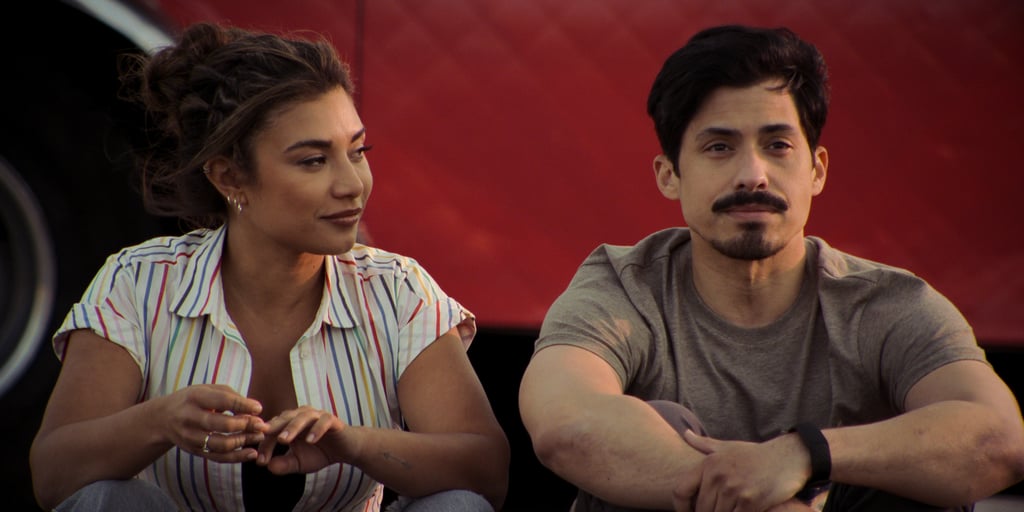 The Netflix series centers on three Mexican American cousins: Ana (Karrie Martin), Chris (Santos), and Erik (J.J. Soria). They juggle chasing their dreams while saving their grandfather's taco shop as gentrification starts taking over their Los Angeles neighborhood of Boyle Heights. In its first season, which premiered in February 2020, Gentefied tackled a wide array of social issues, including identity, immigration, LGBTQ+ discrimination, and of course, gentrification, but the second season hones in on the Morales cousins fighting tooth and nail to keep their grandfather in the country as he faces deportation.
In season two, we start to see Chris come into his own — he finally accepts that he is "Mexican enough" and doesn't need to continue trying to prove it to everyone else. He also reunites with his father and even begins a relationship with up-and-coming chef Sarai (Ivana Rojas). "It's just a lovely, lovely character arc that I've gotten to witness and be a part of," Santos said. "He is really coming into his own. The problems don't really go away, but they're just different. It's a different kind of having to prove himself now. It's not necessarily about his identity, but [more so] with love and his ultimate passion . . . you get to see a character really grow in front of your very eyes."
As for Martin's character, Ana, the second season is quite the roller coaster ride. She's reeling from her breakup from Yessika (Julissa Calderon) and starting a new job, all while dealing with Pop's deportation and the family losing the taco shop. "What I enjoyed most about this season was all the emotions that Ana allowed herself to feel. She really didn't hold back," Martin noted. "We all know she's very unapologetically herself, but I feel like in the first season, she was holding it together for everyone, and in this season, she just really let herself surrender to every situation."
For Martin, in particular, the Thanksgiving scene in episode six was the hardest and most emotional to film. As the Morales family sits down for what they assume would be a peaceful dinner, things get quickly ruined when Chris tells his dad that he isn't moving to Paris. To make matters worse, Beatriz (Laura Patalano) starts teasing Erik and Lidia (Annie Gonzalez) for going to couples therapy. "The Thanksgiving episode was so raw and surreal because I have never had a family holiday like that, but I think the Morales family almost needed that release as a whole," Martin said. "It was hard. It was awful. It was messy. It was beautiful. It was cathartic."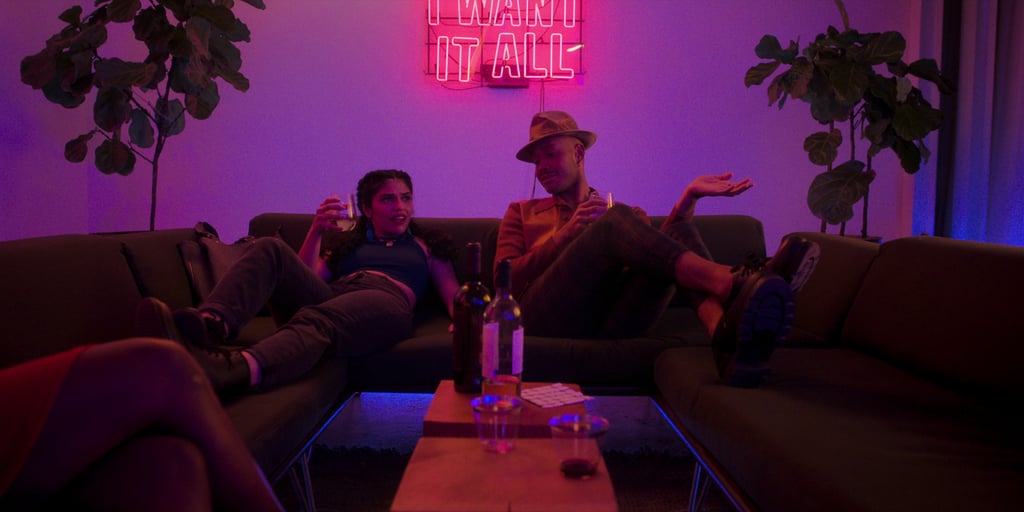 Martin also called filming season two a "sobering" experience because she learned so much from "stepping into shoes" that she never would have if it hadn't been for her character. "It opens your eyes to the hardships and the truths . . . There are no words to explain that type of experience, except that I'm learning every step of the way on how I also can better myself as a Latina and represent my culture and Latinidad as a whole."
No word on whether Gentefied will be renewed for a third season, but the cast is hopeful. "If we get a third season, I would definitely like to explore what it is like for Chris to be on his own finally, to be in Mexico and more comfortable with the language, even more comfortable with being and feeling like he's a part of something," Santos said. However, he isn't holding out hope for Chris and Sarai to rekindle their romance. "I think there's definitely going to be a struggle because you can see that Chris is changing so much, and I'd be very curious to see if we pick this story up, especially after spending so much time in Mexico. Because when you change schools, you're like, 'We're going to be best friends, and I'm going to call you every day!' But then you go to the next school, you make [new] friends, and you forget about the other friends. That's kind of the [same situation]. I would root for them, but I think he just wasn't ready to really commit to that emotionally."
"Don't be afraid to stand up for what you believe in." — Karrie Martin
On the other hand, Martin thinks Ana and Yessika could rekindle their love at some point, but they have a lot of growing to do first. "It ended in a way where it wasn't a goodbye, it was an 'I'll see you around' almost. I think they both came to a place where they know they're never going to lose each other, but they almost allowed themselves to let go and really live their truth and get to know themselves for who they are on their own," Martin explained. "That said, I don't know. Speaking from my own experience, my husband [Ryan Lachney] and I broke up for seven years and I prayed about it. I was like, 'Lord, if this is for me, you'll open the door. If it's not let it go.' And it came back, but we allowed ourselves that space to grow. I almost see a parallel life with Yessika and Ana in that sense. It is disgusting and messy, and oh, it hurts everywhere to think about that scene again, but it's also that beautiful 'you get to grow up now, you get to be you.' It's a really special time for Ana."
Ultimately, Martin hopes that viewers can live their truth and unapologetically embrace who they are by watching Ana's story. "Don't be afraid to stand up for what you believe in," Martin said. "She teaches me that all the time."
Source: Read Full Article