politics
Impeaching Trump
After delays, the House voted to send two articles of impeachment to the Senate, which will begin considering whether to remove Trump from office in the coming days.
ByKadia Goba

WASHINGTON — The House voted Wednesday to send two articles of impeachment against President Donald Trump to the Senate, setting up a trial.
The House also voted to approve seven Democratic impeachment managers, who will argue the case against Trump to the Senate during his trial. The Democrats, who were appointed by Speaker Nancy Pelosi earlier Wednesday, all have legal or law enforcement backgrounds. They will serve as prosecutors in the trial, arguing that senators must remove Trump from office over abuse of power and obstruction of justice impeachment charges.
The Impeachment Today podcast gets you up to date with the day's most important impeachment news. Catch up on all the episodes, or subscribe on the iHeartRadio app, Apple Podcasts, Spotify, or wherever you listen to your favorite shows.
The managers physically walked the articles from the House to the Senate Wednesday evening. The trial is expected to begin in earnest next week, following some procedural setup on Thursday. Senate Majority Leader Mitch McConnell said that first, the House managers will be invited to officially present the articles of impeachment at noon Thursday; then Supreme Court Chief Justice John Roberts will arrive at 2 p.m. to swear senators in as jurors. After that, the Senate will invite Trump to present his counsel, and the actual trial will start next Tuesday.
The House voted 228–193 in favor of sending the articles to the Senate earlier Wednesday. Just one Democrat — Minnesota Rep. Collin Peterson — voted no. Peterson also voted against impeaching Trump in December. Independent Rep. Justin Amash, who left the Republican Party last year in part because of Trump, voted with Democrats in favor of starting the Senate's trial. No Republican voted yes.
Rep. Jerry Nadler, the chair of the House Judiciary Committee and one of the impeachment managers, made the case for removing Trump from office just ahead of Wednesday's vote. "There's overwhelming evidence that the president pressured the Ukrainian government to interfere in our election on his behalf. Then he covered it up. These are high crimes and misdemeanors, and we will prove that in the Senate," Nadler said.
Pelosi had delayed sending over the articles for weeks after the House voted to impeach Trump in December; she said Democrats needed to ensure that the trial would be fair after McConnell said he would be coordinating his strategy with the White House.
But even some Senate Democrats grew weary with Pelosi's decision to slow-walk the articles. "If we're going to do it, she should send them over. I don't see what good delay does," California Sen. Dianne Feinstein told Bloomberg last week. Rep. Adam Smith, chair of the House Armed Services Committee, echoed the same sentiment during a television interview last week as well. But the two politicians walked their statements back; Smith recanted within hours of criticizing Pelosi's strategy.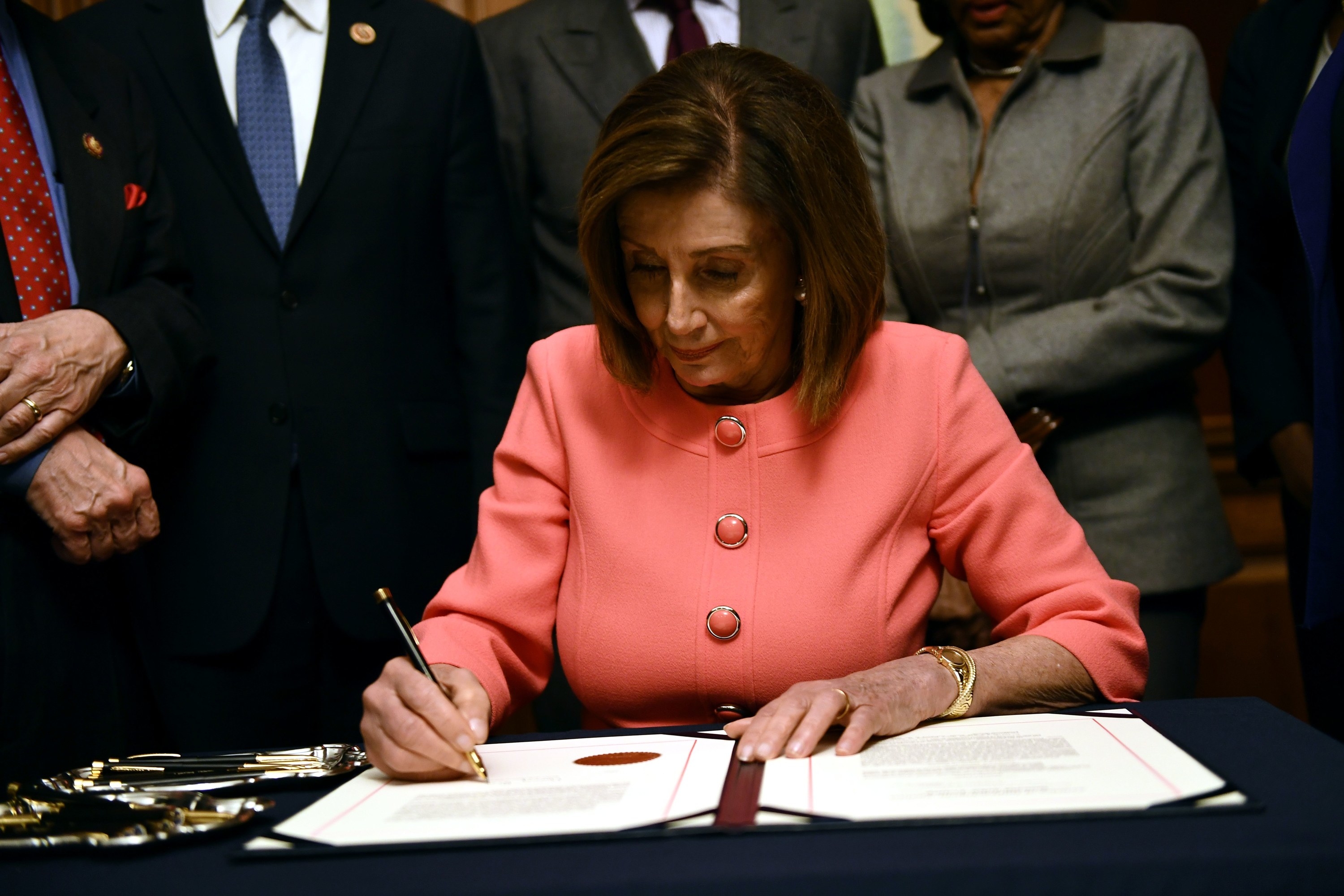 Pelosi signs the articles of impeachment
"I misspoke this morning, I do believe we should do everything we can to force the Senate to have a fair trial," Smith wrote on Twitter. "If the Speaker believes that holding on to the articles for a longer time will help force a fair trial in the Senate, then I wholeheartedly support that decision."
Republicans meanwhile had called Democrats hypocritical for delaying sending the articles of impeachment after arguing that Trump's impeachment was urgent and a threat to the 2020 election during the House phase of the investigation.
Pelosi said she initially held back from pushing forward with impeachment despite "obvious violations" the president had already committed for fear of how it would divide the country.
"Frankly, I said this president isn't worth it," Pelosi said. "But when he acted the way he did in relationship to withholding funds from Ukraine in return for a benefit to him that was personal and political, he crossed a threshold. He gave us no choice."
House Minority Leader Kevin McCarthy condemned Pelosi and House Democrats in a speech on the floor just before Wednesday's vote, calling the impeachment process a "national nightmare" and criticizing the speaker's delay in sending over the articles after Democrats expressed urgency to push forward. "If impeachment was truly as urgent as Democrats claim, the majority should not have waited for the speaker to choose a political, convenient time," McCarthy said.
Nadler addressed that line of attack in his own floor speech. "My colleagues in the minority would rather talk about anything than try to defend what President Trump actually did. Because they can't," Nadler said.
It will now be up to the Senate to determine the rules for the trial, but McConnell has said that the process will be political and that no one should expect him to be an impartial juror. He recently announced Republicans had enough votes to shape the rules and structure of the trial without needing Democratic votes.
Senate Minority Leader Chuck Schumer has been pushing for the Senate to include witnesses in the trial — including former national security adviser John Bolton, acting White House chief of staff Mick Mulvaney, Mulvaney adviser Robert Blair, and Office of Management and Budget official Michael Duffey, all of whom had firsthand knowledge of Trump's interactions with Ukraine, which spawned the impeachment inquiry.
McConnell hasn't formally said whether the Senate will allow witnesses to testify, but he has said it will vote on the issue after opening arguments and once senators have had the opportunity to submit questions to both sides in the trial. Should the trial include witnesses, McConnell has indicated that both Republicans and Democrats would get to call them.
Paul McLeod contributed reporting to this story.
CORRECTION
Kevin McCarthy is the House minority leader. A previous version of this story referred to him as the majority leader.
UPDATE
This story was updated after the impeachment articles were delivered to the Senate on Wednesday evening.
More on this
Donald Trump Is Now The Third President To Be Impeached In US History

Paul McLeod

·

Dec. 19, 2019
Nancy Pelosi Is Demanding Information From The Senate Before Sending Over Articles Of Impeachment

Paul McLeod

·

Dec. 19, 2019
House Democrats Explained Why They're Impeaching Trump Even If The Senate Won't Convict Him

Kadia Goba

·

Dec. 18, 2019
Donald Trump
Kadia Goba is a political reporter for BuzzFeed News and is based in Washington, DC.

Contact Kadia Goba at [email protected]

Got a confidential tip? Submit it here.
Source: Read Full Article