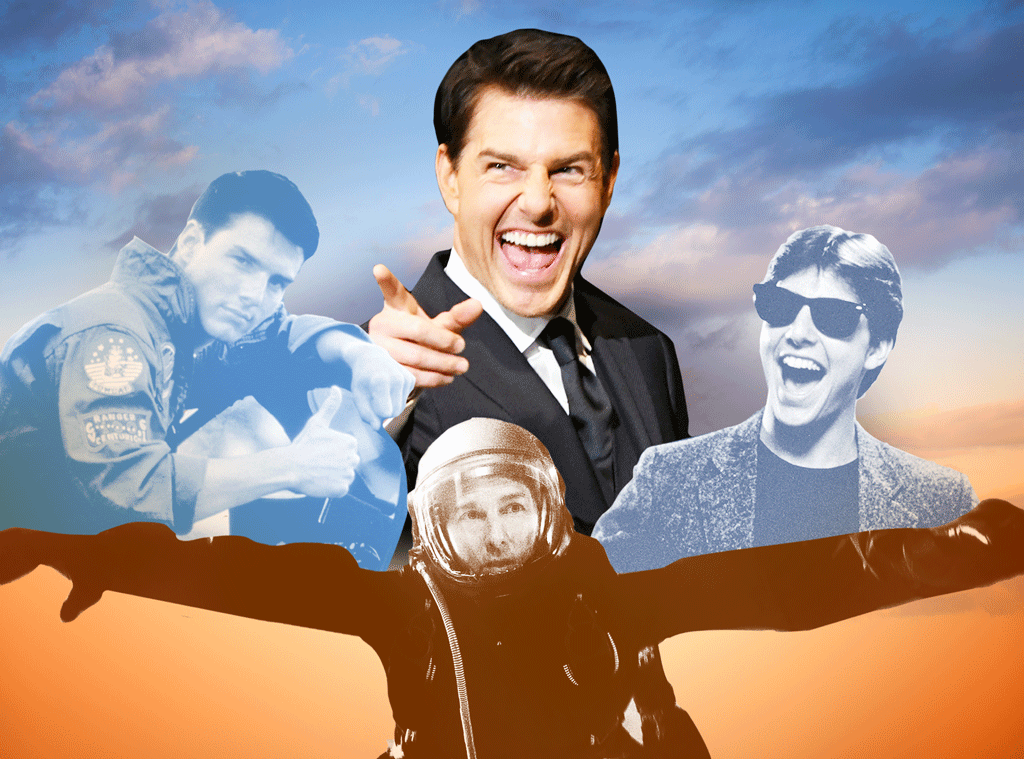 Warner Bros; Paramount Pictures; Getty Images; Melissa Herwitt/E! Illustration
Tom Cruise, he of the ageless face, body and energy level, is celebrating a birthday today.
Contrary to what's visible to the naked eye, the actor is turning 57.
He has the appropriate amount of work under what must be a utility belt to back that up, but Cruise's sheer zest for life—most of which, for him, is dedicated to making movies—continues to awe and baffle. Which isn't to say that Cruise is the only star in Hollywood for whom age appears to be a misprint, far from it, but he has finally reached the same age Wilford Brimley was when a 30-year-old Cruise knocked the older man out with his briefcase in The Firm. And, while we're definitely here for it if Cruise wants to be the face of Quaker Oats, he might have to slow down for a second to shoot a commercial for breakfast cereal.
And Tom Cruise doesn't slow down.
Brad Pitt, 55, just told GQ Australia that he thinks making movies is "a younger man's game," and you can practically hear Cruise's inimitable laugh from wherever he is.
Cruise shot the long-awaited sequel Top Gun: Maverick last year for a 2020 release and has signed on to do two more Mission: Impossible movies, which mean we'll be celebrating Tom's 60th watching MI8 in the summer of 2022.
Until then, however, here's a guide to the method to his madness, the drive behind the gleam in his eye, the lactic acid that courses through those muscles. Here are 57 things to know about Tom Cruise: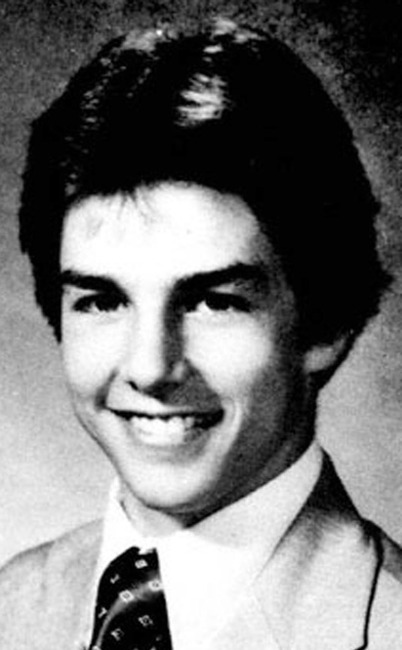 WENN
1. Thomas Cruise Mapother IV was born on July 3, 1962, in Syracuse, N.Y., to Thomas Cruise Mapother III, an electrical engineer, and Mary Lee Pfeiffer, both of Louisville, Ky. (His grandfather and great-grandfather were both Thomas Cruise Mapother, as well.)
2. He has two older sisters, Lee Anne and Marian, and one younger sister, Catherine, nicknamed Cass.
3. Cruise wanted to act from around the time he was 4 and started doing impressions of everyone from Donald Duck to Humphrey Bogart and Elvis Presley.
4. In 1974, when the family was living in Ottawa, Mary Lee packed up and took the kids back to Louisville. They officially divorced in August 1975 and, six weeks later, Tom's dad remarried. Joan Lebendiger, recently widowed, had four kids, one of whom later told biographer Andrew Morton that they never saw their stepbrother Tom again after the wedding. (That marriage didn't last long, anyway.)
"As a kid, I had a lot of hidden anger about that. I'd get hit, and I didn't understand it," Cruise recalled to Vanity Fair in 1994.
"He was the kind of guy who really got picked on a lot at school himself when he was growing up," Cruise said. "He had also been small, though he ended up being six foot two. People had been quite brutal to him. Inside, I believe he was a really sensitive individual." He could also "actually be quite loving."
More pointedly, Cruise told Parade in 2006 that his father was "a bully and a coward—the person where, if something goes wrong, they kick you. It was a great lesson in my life, how he'd lull you in, make you feel safe and then, bang!"
Cruise visited his father in the hospital before he died of cancer in 1984 and Tom III said he'd get better and they would "'talk about the whole thing,'" Cruise told VF, but that never came to pass.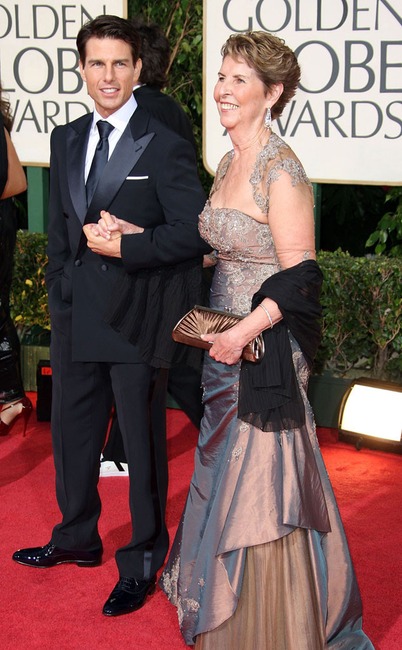 Frazer Harrison/Getty Images
5. Tom was very close to his mother, who he described to James Lipton on Inside the Actors Studio as "a very warm, charismatic woman, very kind, very generous." She worked four jobs at any given time to take care of them, and Tom had a paper route to pitch in. "Every night I'd come home, bathe my feet and sit in the family room, and Tom would massage my feet for a half-hour," Mary Lee recalled to Rolling Stone. (She passed away at 80 in 2017.)
He was also protective of his sisters and, as the man of the house, took on the role of scrutinizing their boyfriends when they'd come by to meet the family.
6. Cruise was raised Catholic and he spent his freshman year of high school at St. Francis Seminary in Cincinnati, after a priest named Father Ric Schneider gave a talk at his (also Catholic) school in Louisville. "He was a typical teenager, trying to find his way in life," Schneider told the New York Daily News in 2013. "We would give them an IQ test, and he just about made the cut. The cutoff is 110, and he scored exactly 110."
It's been rumored that Cruise considered entering the priesthood, but he doesn't it remember it that way. "We didn't have the money back then, and I went for the education for a year, and it was free," Cruise has explained.
7. Mary Lee got remarried to Jack South in 1978 and the whole family moved to New Jersey when Tom was 16.
"In the beginning, I felt threatened by my stepfather," Cruise told Rolling Stone. "There's a part of you that's in love with your mother. But he is such a wise, smart man. He loved my mother so much that he took us all in, four young people. We'd bet on football games, and he was a terrible bettor, so I'd make lots of money."
As for his dad, Tom III, who had recently passed away, "I think that he felt remorse for a lot that had happened. He was a person who did not have a huge influence on me in my teens; the values and motivation really came from my stepfather. But he was important. Really important. It's all sort of complex. There wasn't one thing I felt."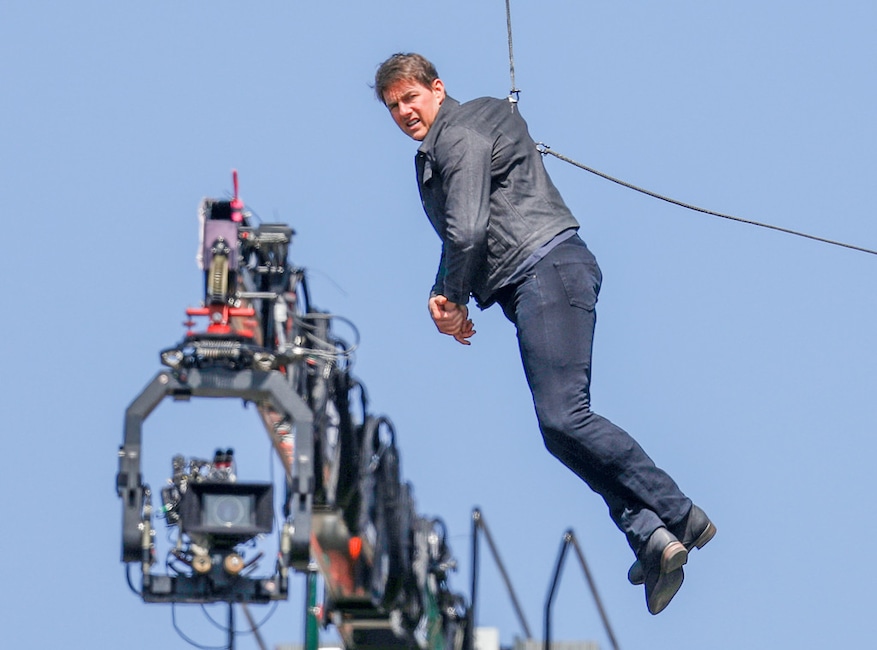 MEGA
8. He was always a daredevil, jumping off things, riding his bike too fast, sometimes into walls and, sometimes, breaking bones. In high school he joined the glee club and did plays. He was also an athlete, over the years dabbling in soccer, baseball, basketball, football and ice hockey, and he wrestled. Sports and acting were where he really stood out and, shocker, the ladies have loved him since grammar school.
"I was a wild kid," Cruise admitted. "I'd cut school. Everything had to do with my wanting always to push the envelope to see: where do I stand with myself? How far can I go?"
9. Cruise has been open about his battle with dyslexia, calling himself "a functional illiterate" in school, though he "loved learning. I wanted to learn, but I knew I had failed in the system."
"My energy was always all over the place. Reading was not at the top of my list, because it took me so long," he told Cameron Crowe for Interview in 1986. "When I wrote a paper, my mother would help me with it. I would take a test and get very nervous. I would skip questions and skip lines. I've gotten better. I've learned to control my eyes. I used to have to use my finger all the time. I just wasn't relaxed about it."
10. Senior year of high school he got kicked off the football team after he got caught drinking, according to Morton, but that left him time to audition for the school musical, Guys and Dolls. He played Nathan Detroit, and a director who happened to catch a performance in 1980 told him he should pursue acting professionally. So, he started going to New York on weekends to audition for musicals—and he missed his graduation ceremony while performing in an amateur production of Godspell.
Article continues below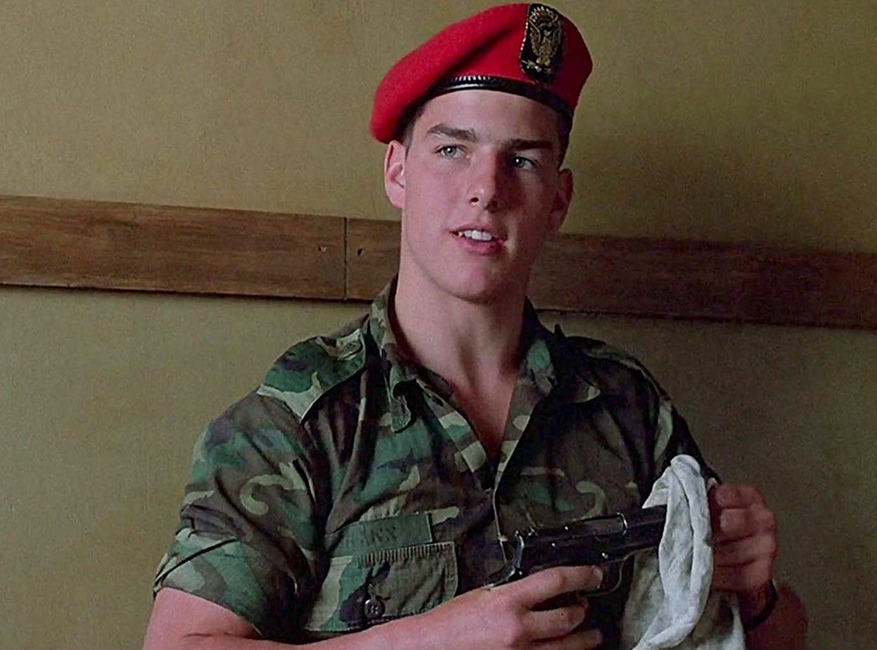 20th Century Fox
11. Cruise made his movie debut in the 1981 drama Taps, in a role that was bigger than the one he was originally cast in "because you could see right away that he had a giant talent," former Paramount head Sherry Lansing said in Stephen Galloway's 2017 biography Leading Lady. "He was always extremely focused and exceptionally polite."
12. On the set of Francis Ford Coppola's The Outsiders, featuring a veritable who's-who of '80s-era heartthrobs, prankster Cruise scrawled "Helter Skelter" on co-star Diane Lane's mirror and put honey on her toilet seat.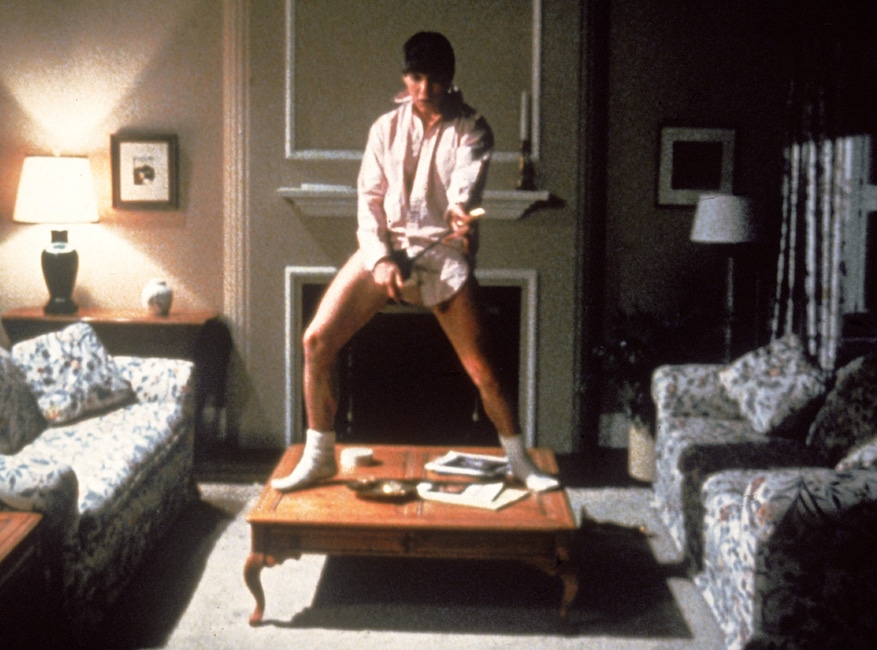 Geffen Pictures
13. The only direction Cruise received for his iconic Risky Business dance to "Old Time Rock & Roll" was one line in the script: "Joel dances in underwear through the house." He ad-libbed the rest, grabbing the candlestick, "using it as a guitar, jumping on the table. I waxed half the floor and kept the other half dirty, so I could slide in on my socks. As we went along, I threw more stuff in," he shared with Crowe in 1986.
14. Cruise dated his Risky Business co-star Rebecca De Mornay, who called him a "pure person." She told Rolling Stone in 1986, "There's something earnest and virtuous about him that's quite rare." According to Taps co-star Sean Penn, they were out at a club in New York one night and after realizing that a girl he was talking to was trying to pick him up, Cruise "screamed at her, 'I have a girlfriend I'm in love with!'" (Perhaps at the time readers thought Penn might be exaggerating.) They started dating in the summer of 1983 and maintained a long-distance relationship while he shot Ridley Scott's Legend in London but broke up when he returned to the U.S. to start making Top Gun.
Paramount Pictures
15. Top Gun producers Jerry Bruckheimer and Don Simpson envisioned no one other than Tom Cruise playing Maverick after they saw a magazine story about the elite flying school at San Diego's Miramar Naval Air Station and went down to see the hot shots in person. "From the first time we went down to Miramar—even before the script was written—we said, 'These guys are Tom Cruises,'" Bruckheimer told Rolling Stone.
16. Although Cruise also told Rolling Stone in 1986 that we wasn't sure he'd ever get married in his "present state of mind," he married Mimi Rogers on May 9, 1987, two years after meeting her at a dinner party. Emilio Estevez was Cruise's best man.
17. Paul Newman, his co-star in 1987's The Color of Money, turned him on to race car driving and Cruise has been feeling the need for speed on land and in the air (and sometimes on the water) ever since. Years later the student became the teacher when, in 2010, Cruise taught Zac Efron about motorcycles. "I don't know," Efron told Details when asked why Cruise offered to do that. "I don't even want to know. It's just so cool that he gave a s—t, the fact that he cared at all."
Article continues below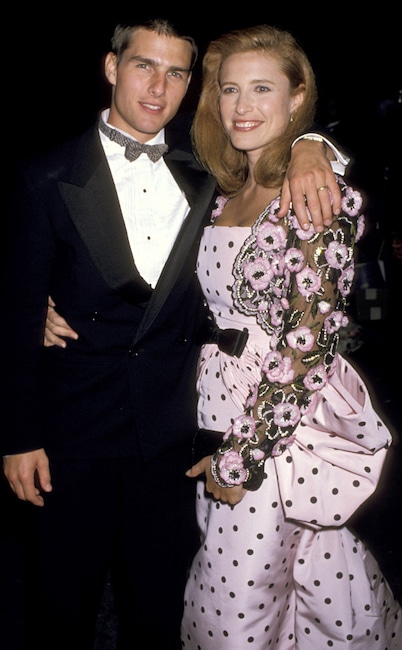 Jim Smeal/WireImage
18. According to Andrew Morton's 2008 biography Tom Cruise, Born on the Fourth of July director Oliver Stone wanted Tom to be injected with a chemical that would have rendered him temporarily paralyzed so he could better identify with the role of real-life Vietnam War veteran and activist Ron Kovic. The insurance company understandably shut that idea down. The film still won two Oscars, best editing and best director for Stone, so it worked out.
19. Despite being critically panned, 1988's Cocktail, starring Cruise as a playboy bartender, gave Disney its biggest opening weekend ever at the time: $11.8 million.
20. Mimi and her first husband, Jim Rogers, were both members of the Church of Scientology (Jim was a high-level auditor) and she's said to have introduced Cruise to the religion, giving him L. Ron Hubbard's Dianetics and other literature. His immersion in Scientology coincided with the release of Top Gun and the actor becoming one of the biggest stars in the world, and to this day Tom Cruise remains the most famous member of the church.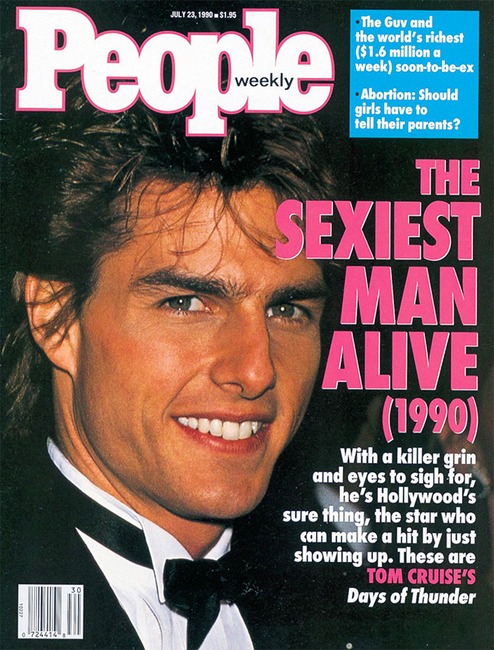 Courtesy of People
21. People named Cruise "The Sexiest Man Alive" in 1990. Later that year he and Rogers divorced. A few years later, when asked about his first marriage, Cruise replied tersely, "It was a long time ago. I really don't think about it."
22. Cruise met Nicole Kidman during casting for the racing drama Days of Thunder and they tied the knot on Dec. 24, 1990. They adopted two children, Isabella and Connor, and after Days of Thunder starred in two more movies together, Far and Away and Eyes Wide Shut.
After Isabella arrived, Cruise told Vanity Fair in 1994, "We talked about children from time to time, but there was always the work. But then we went, When is it ever going to be the right time? That's how the conversation started. You're lying in bed at night and you're trying to sleep, so you roll over and you go, What would happen if we had this in our life?
"One of the things that Nic and I talk about is that now suddenly we're a family. We're at that point where we're trying to define where we are. Can we still party? Are we really boring? Oh, my God . . . we're old!"
23. Disney apparently had Tom Cruise in mind when they created the look of the title character in 1992's Aladdin. "There's a confidence with all of his attitudes and his poses," lead animator Glen Keane said in a DVD extras feature.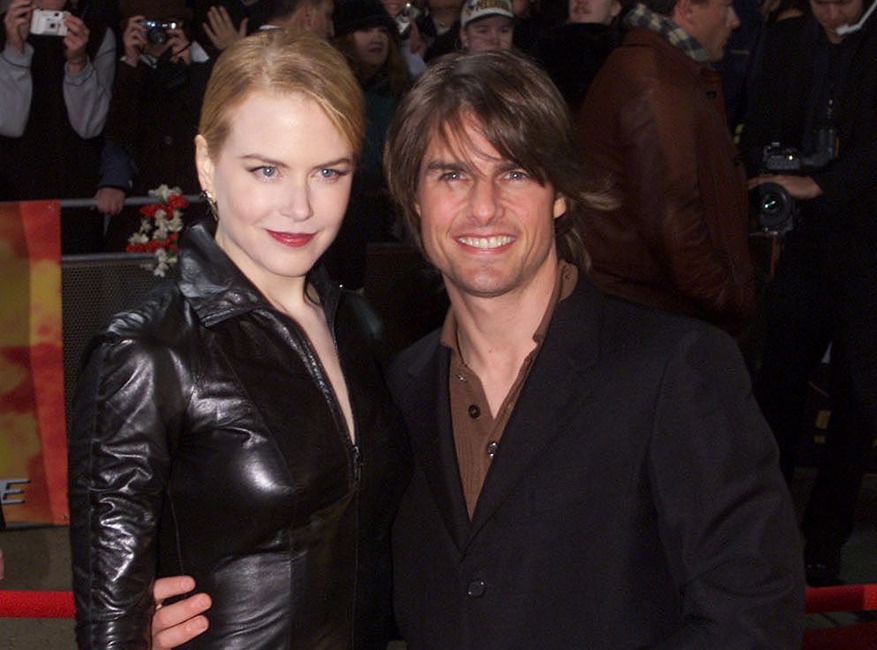 Matt Turner/Liaison
24. An old tabloid go-to back in the 1980s and '90s was to claim that this or that star was gay, and Cruise was aware that the rumor was out there.
"First of all, I don't think it's an indictment," Cruise told Vanity Fair in 1994. "But I hadn't heard those rumors till about three months ago myself… I don't know why they say it. I've heard everything from I've cheated on my wife to my wife was there on the set of The Firm because she was pissed off about my love scene on the beach. It's not true, but people are going to say what they want to say."
25. Cruise wanted Brian De Palma to direct Mission: Impossible, which would mark his debut as a producer with his agent turned partner Paula Wagner, even though De Palma was in movie jail following several flops. Cruise even deferred his $20 million salary (not including his back-end deal) so they could raise the movie's budget. Mission accomplished: M:I made almost $500 million worldwide and spawned a franchise. De Palma, however, didn't attend the film's premiere in May 1996, reportedly because he and Cruise didn't see eye to eye during production.
Article continues below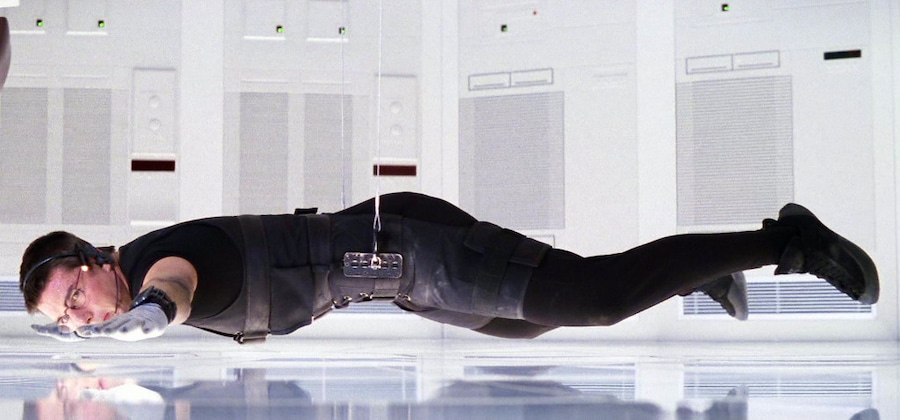 Paramount Pictures
26. Shooting M:I, Cruise insisted they use a fan big enough to create the 120 mile-per-hour wind he'd be facing if he was really clinging to a bullet train while a helicopter exploded behind him. A crew member told Galloway, "He said, 'I want the wind blowing in my face and I want my jaws to be blowing.' That's Tom. He's a guy's guy."
27. The intense Eyes Wide Shut shoot was scheduled to last four months but ended up keeping Tom and Nicole in London for 18 months. As the timing would have it, the couple were there to attend Princess Diana's funeral in September 1997, along with Tom Hanks and Steven Spielberg, who were in town making Saving Private Ryan.
28. "All I can say is that I hope we are together when we are 80," Nicole Kidman told Talk in 2000. "I can't say we will be, but I will be so devastated if we are not." Alas, they announced their separation on Feb. 5, 2001. "She knows why, and I know why," Cruise cryptically told Vanity Fair later that year. "She's the mother of my children, and I wish her well. And I think that you just move on. And I don't say that lightly. I don't say that with anything."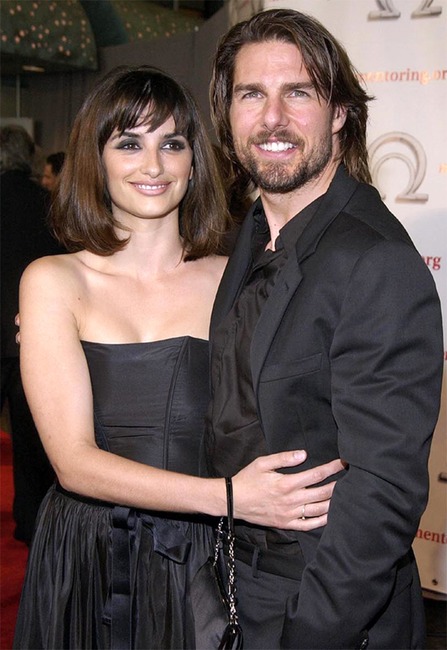 Kevin Mazur/WireImage.com
29. Penélope Cruz successfully sued an Australian tabloid in June 2003, winning damages and a retraction over a story claiming she and then-boyfriend Tom had postponed their impending marriage because she had cheated on him. They broke up in January 2004 after more than two years of dating, a source telling People the relationship "just ran its course."
30. The Church of Scientology denied a 2012 Vanity Fair report that Homeland actress Nazanin Boniadi, then a church member, had basically been recruited to date Cruise for a few months, starting in October 2004 with a group date that included renting out the skating rink at Rockefeller Center and dinner at Nobu. "I'd rather not talk about that," Boniadi told the New York Post in 2013.
31. Cruise specifically held out for J.J. Abrams to direct Mission: Impossible III—Abrams' feature film debut—after watching some episodes of Alias. Paramount was freaking out, wanting MI3 for a summer 2005 tentpole release, which wasn't going to happen if Cruise and Abrams—busy at the moment with a show called Lost—got their way, but it turned out Cruise had an ace up his sleeve. Steven Spielberg was ready to roll with War of the Worlds in time to give Paramount the summer blockbuster it needed.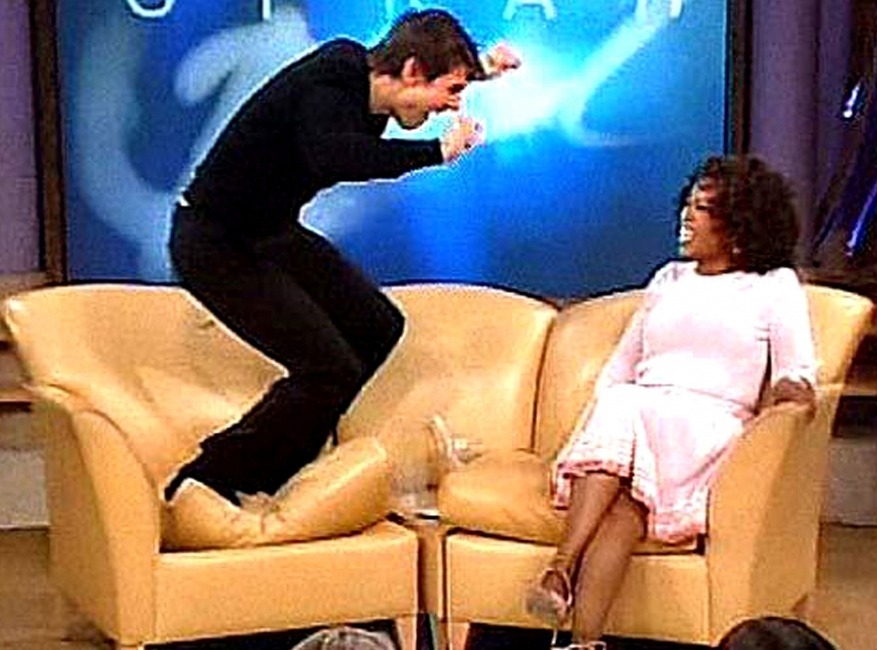 Harpo
32. In May 2005, a giddy Tom Cruise raised his arms in victory, got down on one knee and did a couple of fist pumps, and then jumped up on Oprah Winfrey's couch (also twice), fueled by love for his new girlfriend, Katie Holmes. "You're gone," the talk show host observed.
"I've got so much energy, I can't help it," Cruise said.
They were both laughing hysterically and the studio audience was cheering, but… maybe you had to be there?
Lest anyone forget, Katie was at the taping and Oprah led a chant for her to come out. "She's gonna run!" Cruise exclaimed. "She is freaking out." Then he took off for backstage to go get her, the camera trailing him, and once they had emerged Cruise enveloped the Dawson's Creek star in a hug.
That moment unwittingly set the tone for Cruise and Holmes' entire relationship, perhaps romantic to some but to everyone… just a lot.
Article continues below
Harpo Productions / CBS Television Distribution
33. A month later, Cruise accused Matt Lauer of being "glib" when the Today host questioned his take on mental health care—specifically, his dismissal of psychiatry and psychiatric drugs (which, though Cruise didn't come right out and say it, are not embraced by Scientology).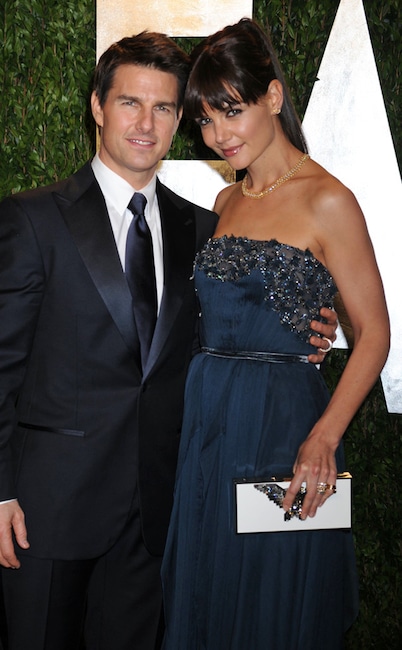 Dennis Van Tine/UPPA/ZUMAPRESS.com
34. Cruise and Holmes' daughter, Suri Cruise, was born on April 18, 2006.
35. Mission: Impossible III came out on May 5, 2006, and did… fine. It was (and remains) the lowest grosser of the franchise, making $134 million domestic, but more memorably it marked the moment where folks started wondering if Cruise had lost his movie-star mojo, if his unadulterated zeal had turned off audiences for good. Not making it better: Paramount severed its 14-year relationship with Cruise's production company that August, and then-Viacom Chairman Sumner Redstone actually told the Wall Street Journal, "We don't think that someone who effectuates creative suicide and costs the company revenue should be on the lot. His recent conduct has not been acceptable to Paramount."
36. Suri was introduced to the world on the September 2006 cover of Vanity Fair, zipped up in her father's leather jacket like baby Mary snuggled with her dad on the cover of Paul McCartney's 1970 solo album McCartney. The first glimpse at the cover was a huge get for Katie Couric's first night as lead anchor of the CBS Evening News.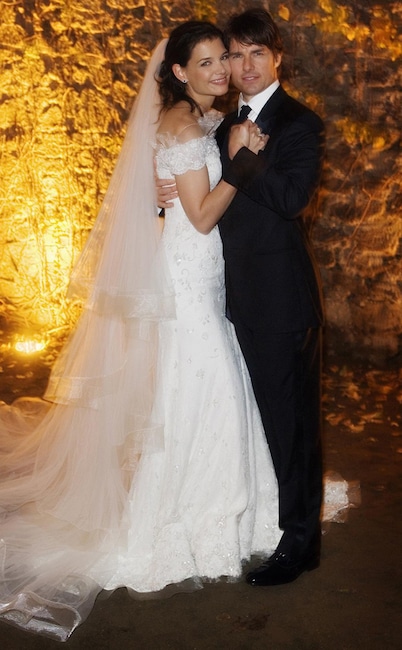 Rogers & Cowan/Robert Evans
37. Cruise and Holmes' wedding at the 15th-century Castello Orsini-Odescalchi in Rome on Nov. 18, 2016, reportedly cost upward of $3 million. Guest Giorgio Armani designed the bride's ceremony and reception dresses and attendees included Will Smith and Jada Pinkett Smith, John Travolta and Kelly Preston, David and Victoria Beckham, Jim Carrey and Jenny McCarthy, Leah Remini and Angelo Pagan, and Jennifer Lopez and Marc Anthony. Andrea Bocelli performed.
38. Church of Scientology leader David Miscavige was Cruise's best man. According to Remini, who left the church in 2013, a traditional Scientology wedding ceremony includes the vow "to never close their eyes in sleep on a disagreement or an upset."
39. Brooke Shields and husband Chris Henchy were also in attendance, Cruise having apologized for publicly disparaging his Endless Love co-star's use of medication to treat postpartum depression. "If you get invited to that wedding, you go," Shields recalled on The Jenny McCarthy Show in 2016. The actress even provided the bride's "something old": an antique enamel compact.
Article continues below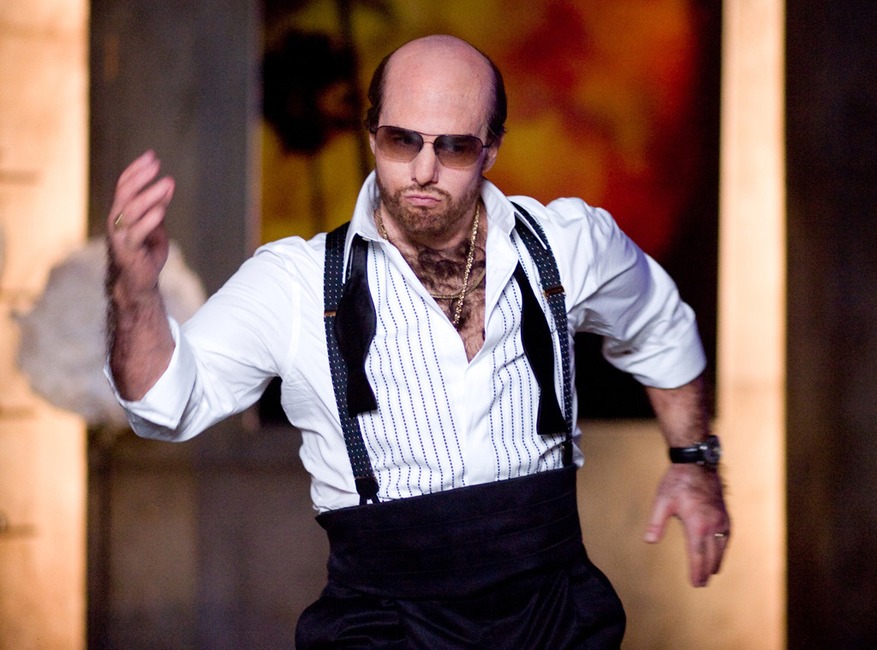 Merie Weismiller/DreamWorks
40. 2010's Knight and Day with Cameron Diaz was widely treated as some sort of "comeback" movie for Cruise, a test to see if he could still have a monster action movie hit after Mission: Impossible III underwhelmed.
"I don't understand why people think that," he marveled to the U.K.'s Telegraph. "I've been working the whole time."
41. His roles in the interim had included his unrecognizable surprise turn as crass, bullying, bald studio exec Les Grossman in Ben Stiller's Tropic Thunder, for which he was nominated for a Golden Globe.
"I had about a dozen people making the silicone prosthetics for his head, neck, chest, and hands," makeup designer Barney Burman recalled to Grantland. "We made him special gloves. I did the sculpting, someone else did the molds, someone else was casting them. I had six different people punching hairs into the scalp piece, so his entire head was one-at-a-time, hand-punched hairs; his arms were hand-punched one at a time; his chest was hand-punched."
Added Aida Caefer, "I made the fat suits for Tom Cruise. He was all for the more ridiculous, the better. The suit went from his neck all the way down to his ankles…The character moved around a lot and he was so soaked in sweat that we had rotating suits for him—one in the morning and one after lunch."
"Tom choreographed all his own moves," Stiller said. "I remember watching him do this stuff and thinking this is so frigging funny."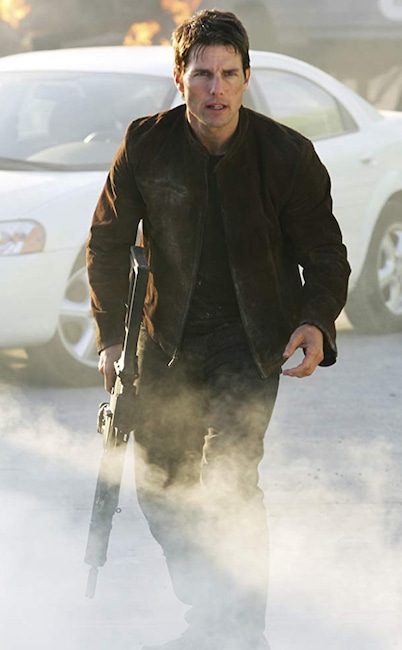 Paramount Pictures
42. The rumor that Cruise turned down the role of Iron Man, which would have changed the whole vibe of the Marvel Universe, is not true, he says. "Not close," he told ComicBook.com in 2018 when asked if he was really almost Tony Stark. "Not close, and I love Robert Downey Jr. I can't imagine anyone else in that role, and I think it's perfect for him."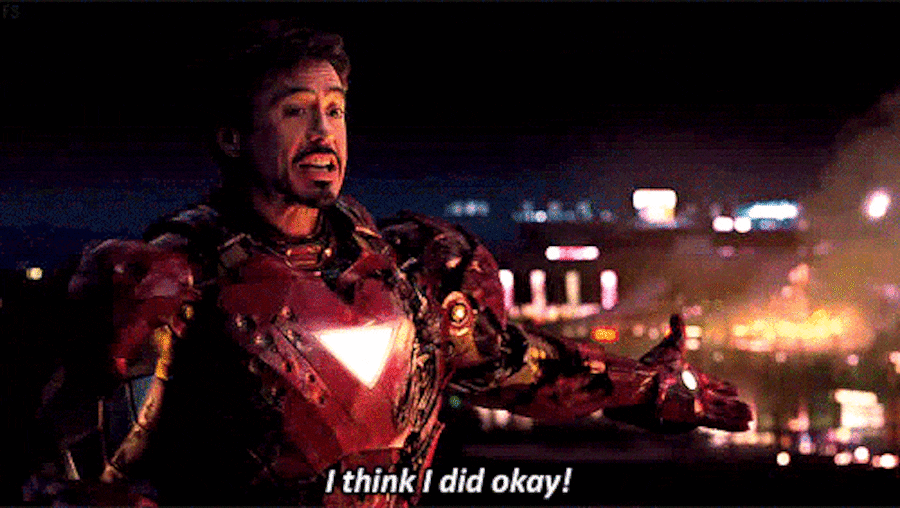 Marvel Entertainment
Article continues below
Paramount Pictures
43. For 2011's Mission: Impossible—Ghost Protocol, Cruise hung off the edge of the Burj Khalifa in Dubai—the world's tallest building—without a double. And while he'd been doing as much of his own physical laboring as possible for decades, this reinvigorated Cruise's reputation as the guy who does all the death-defying stunts the insurance companies will allow. The film's $695 million worldwide box office also signaled that Cruise's reputation had preceded him—in a good way.
44. Holmes filed for divorce in June 2012. Her father, attorney Martin Holmes, had helped draft their prenuptial agreement and all was remarkably settled within weeks. And neither of them have ever talked about what happened. They've acknowledged that they were once married to each other, but why it ended has remained anyone's guess. And, oh, how the people have guessed.
45. Eyebrows were raised when the 5'7″ Cruise was tapped to play 6'5″ badass Jack Reacher from Lee Childs' best-selling novel series.
"Size in my books is a metaphor for an unstoppable force," Childs explained. "Cruise portrays that in his own way."
46. Not as OK with the creative license was Interview With the Vampire author Ann Rice, who according to Vanity Fair was livid in the early '90s when Cruise was cast to play Lestat, having written the character with Rutger Hauer in mind.
"It always helps if one is controversial in casting a movie," director Neil Jordan said. "I just thought that if Tom was willing to go the distance this character demands—and he was—then we could end up with something quite extraordinary, and we did."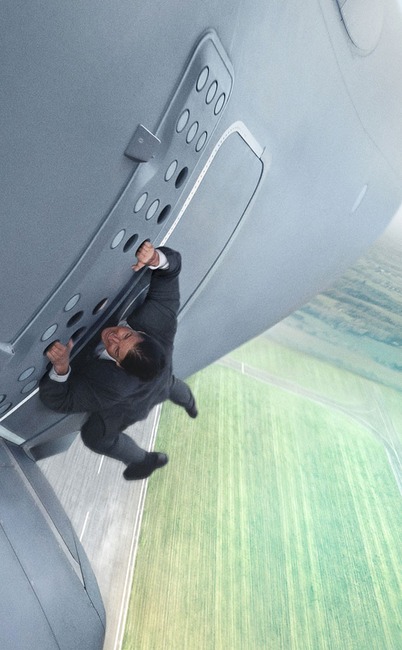 PARAMOUNT PICTURES
47. Mission: Impossible—Rogue Nation was legendary before it hit theaters in 2015 for Cruise's viral airplane stunt, in which he hung onto the door of an Airbus A400M as it took off. For real. He also did his own motorcycle chase and learned how to hold his breath for six and a half minutes for the underwater document swap.
48. He was back on the motorcycle for Mission: Impossible—Fallout and "when the [safety] rigs didn't work, we just went for it," director Christopher McQuarrie told the New York Times. "Everything that you're seeing Tom doing, he's doing free riding on cold cobblestones. Sometimes there was rain; sometimes there was morning dew. There was always a danger of skidding and wiping out."
Cruise also did his own skydiving along with Henry Cavill's stunt double, dangled from a rope attached to a flying helicopter, and piloted a helicopter for a mid-air chase scene, getting his certification in six weeks. It normally takes three months, McQuarrie said, but Cruise trained for 16 hours a day to cut the time in half.
"Tom was having the time of his life," the director said.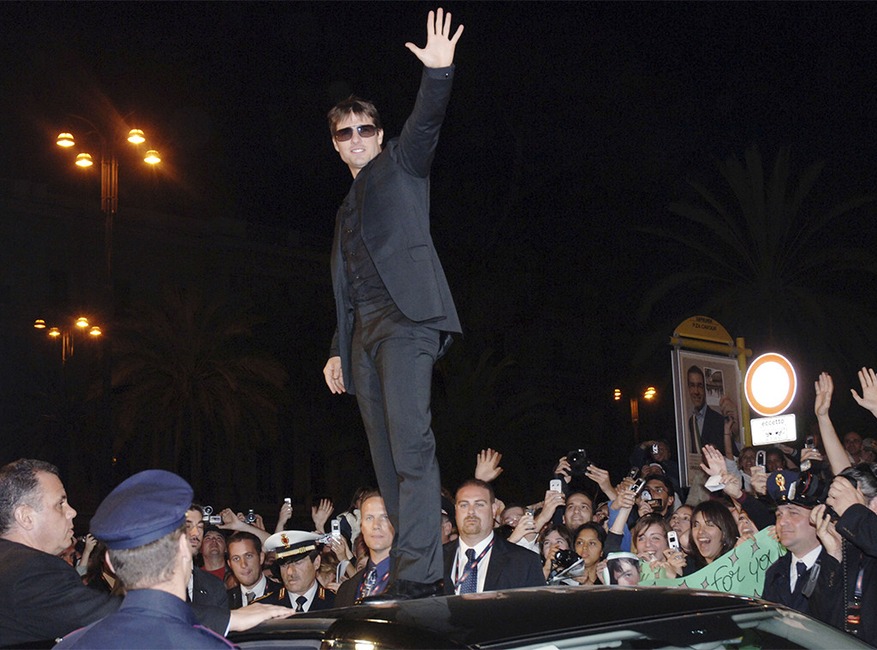 Franco Origlia/Getty Images
49. Cruise has Twitter and Facebook accounts but they are strictly for un-risky business, and he prefers to not know everything that's happening online. "Sometimes I have to for work, but I keep it very limited," he told E! News in 2016. "I don't spend time doing that kind of stuff."
50. Cruise isn't one to let himself go in between taxing roles. "Sea-kayaking, caving, fencing, treadmill, weights, rock-climbing, hiking… I jog… I do so many different activities," he has said.
In fact, he refers to his personal workout space—a version of which he takes with him everywhere—as the "Pain Cave."
"Only the motivated can enter," he explained to the AP at the 2017 premiere of The Mummy. "All you got to do is just be motivated. Anyone can come in, we have the crew come in, and we just make it available to everyone."
As co-star Jake Johnson revealed: "You start every morning with the daily challenge. So before work starts, you're in there. His hair and makeup team is in there, his crew is in there, so there's about 15, 20 people every day doing their squats and jumping jacks. And then I kinda got into it with him…I wanted to be in a Tom Cruise movie and do it the Tom Cruise way."
That includes, alas, avoiding sugar.
"I love sugar," Cruise assured James Corden on The Late, Late Show in 2018, "but I can't eat it because when I'm training, I'm doing all these movies—so I send it to everyone." And then, "I wait for the calls. Like, 'tell me about it.'"
Article continues below
AKM-GSI
51. Don't tell anyone, but Tom Cruise is human: Aside from what he did to himself running around in childhood, he threw out his back making Legend; developed an ulcer while shooting Eyes Wide Shut; tore his labrum scaling a cliff at Dead Horse Point, Utah, for Mission: Impossible 2; and broke an ankle on Mission: Impossible—Fallout.
"It was the easy one where I'm running and I jump from one building to the next," Cruise later described the fateful stunt on The Tonight Show.
52. But this guy commits. In addition to doing three months of helicopter pilot training in six weeks and learning how to hold his breath like he's David Blaine, he played pool for 12 hours a day to play Fast Eddie Felson's protegee in The Color of Money. He lost 18 pounds and read classic books out loud to work on his diction to play centuries-old Lestat in Interview With the Vampire. He learned German to better embody a World War II-era officer in Valkyrie. He actually spent a year and a half learning how to fly a helicopter for Mission: Impossible—Fallout.
53. "I haven't seen him in awhile, but he has sent me a birthday gift every year since I was 11 years old," Dakota Fanning said on Watch What Happens Live in 2016 about her dad in 2005's War of the Worlds. "Beautiful gifts, it's really kind. I always think, 'Oh, when I'm 18, he'll probably stop. Oh, 21, he'll stop. But every year."
What does Team Cruise pick out? "It's usually shoes," the actress, then 22, shared.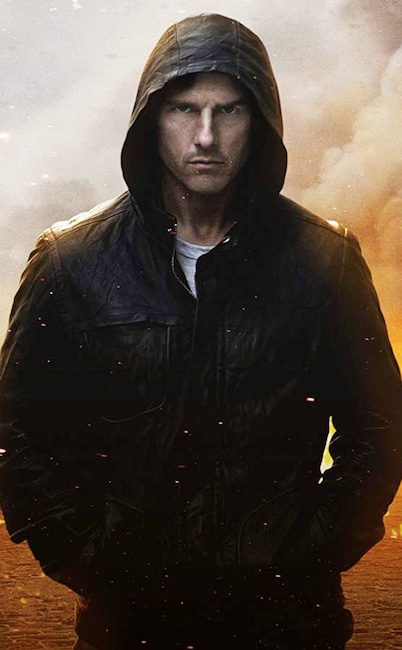 Paramount Pictures
54. In 1986, he told Cameron Crowe, "Let's face it, I'm not saving lives here. I feel fortunate, but this is just one aspect of my life. I love my work, but my family is very important to me, too. You pick up the paper and see that there are many things happening outside my little world."
Since then, the real-life heroics include, all within a few years in the '90s: he lifted two boys over a barricade to prevent them being crushed at the Mission: Impossible premiere in London; he sent his own yacht's skiff to rescue a family whose sailboat was on fire in the Mediterranean in 1996; he rushed to the aid of a woman who had been mugged in London; and he paid the $7,000 emergency room bill for an uninsured cashier who was injured in a hit and run—an accident Cruise witnessed.
"It's just an impulse," Cruise told People in 2000 about his spate of good deeds. "I was never a Boy Scout, so maybe I'm making up for it now."
Or, as he said in the video of an interview for the church that went viral in 2008, "You can't drive past an accident, because as a Scientologist you are the only one who can help"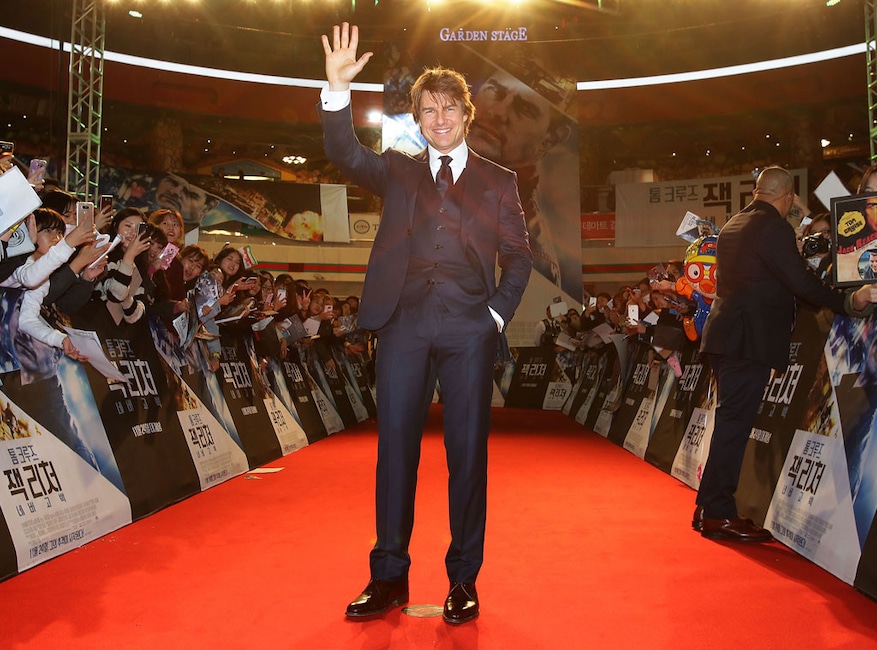 Chung Sung-Jun/Getty Images for Paramount Pictures
55. Though he's the most famous face of Scientology, Cruise is incredibly protective of his beliefs and doesn't say too much about it publicly. But in October 2016, he told ITV at the London premiere of Jack Reacher: Never Go Back, "It's something that has helped me incredibly in my life. I've been a Scientologist for over 30 years. It's something that is, you know…without it, I wouldn't be where I am. So, it's a beautiful religion. I'm incredibly proud."
56. Cruise has been nominated for three Oscars: best supporting actor for Magnolia and best actor for Jerry Maguire and Born on the Fourth of July. He has seven Golden Globe nominations and three wins, for those three films.
57. Tom Cruise's movies have collectively grossed more than $10 billion at the box office worldwide. His highest-grossing movie worldwide is Mission: Impossible—Fallout, with $791 million. Domestically, it's War of the Worlds with $234 million—but adjusted for inflation, it's Top Gun.
Article continues below
"I have an aggressive side, absolutely. I need a creative outlet. Now I work out every day. I get up and work out 45 to 60 minutes. And that's how I start my day. Discipline is very important to me."
So Cruise told Cameron Crowe 33 years ago.
Asked about the criticism that he hadn't really played any grownups yet, Cruise replied, "God forbid if I do everything I want to do before I'm 26. When I get to [Paul] Newman's age, I'm looking to still be playing the great characters he plays. I hope the public and everyone realize that I'm still growing. I'm still feeling my oats here. I'm working toward the long range of what I can be as an artist. And I work my ass off trying. Because I know what I want to be."
We're sensing a theme.
Source: Read Full Article