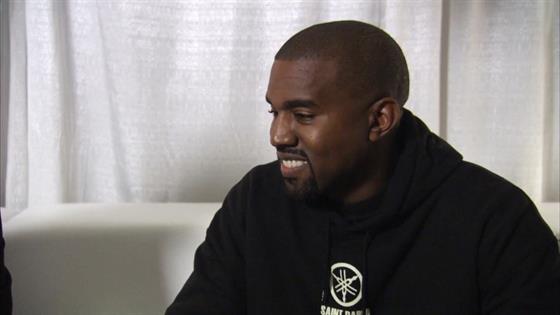 Saint West is such a charmer!
Kim Kardashian posted on her Instagram page on Wednesday a new photo of her and husband Kanye West's eldest son, who is 3 and 1/2 years old. In the pic, Saint is wearing a blue shirt and black pants and kneeling next to a large bamboo orchid houseplant while flashing the peace sign.
"This boy right here really lives up to his name!" Kim wrote.
Saint is Kim and Kanye's second child and first son. The two are also parents to daughters North West, 6, and Chicago West, 1 and 1/2, and 3-month-old son Psalm West.
Kim has occasionally posted photos of the children, including charming moments with Saint, who she often calls Sainty, showing him cuddling his siblings and other family members, including the reality star's brother Rob Kardashian.
"Saint said he's gonna pretend to sleep with his brother. He always wants a pic to capture every moment. You have no idea how sweet my boys are!" Kim wrote on Instagram in July.
In March, Kim told her fans on Twitter, "Saint is my twin personality."
See photos of Saint's most charming moments: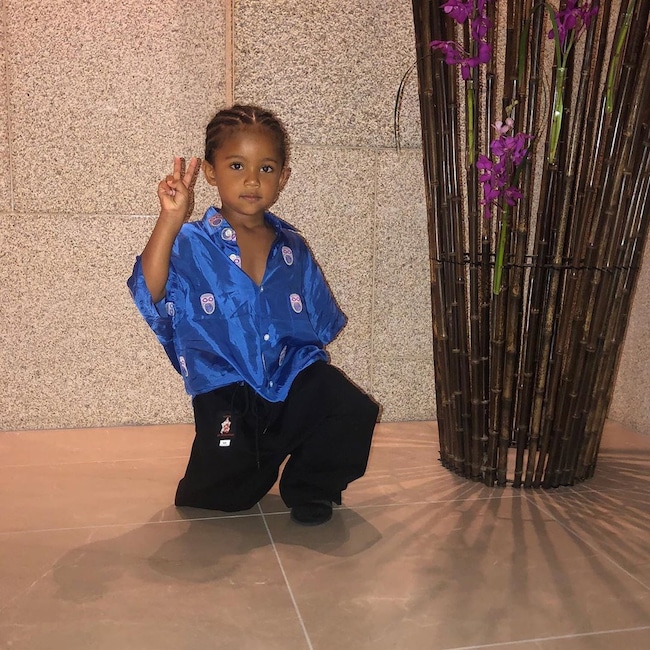 Instagram / Kim Kardashian
Peace
Saint poses for an adorable photo. Mom Kim Kardashian wrote on Instagram, "This boy right here really lives up to his name!"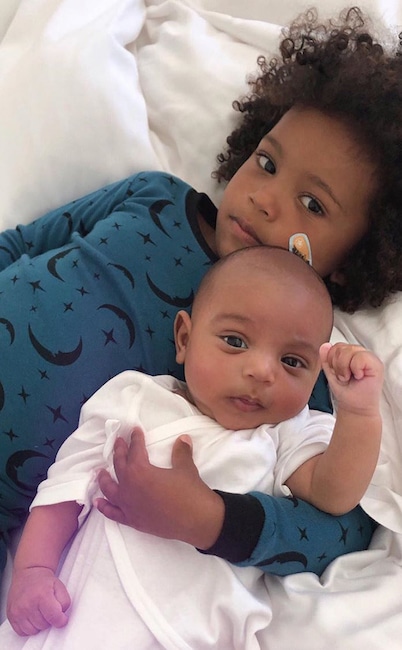 Instagram / Kim Kardashian
Sweet Bros
Saint cuddles more with little brother Psalm West.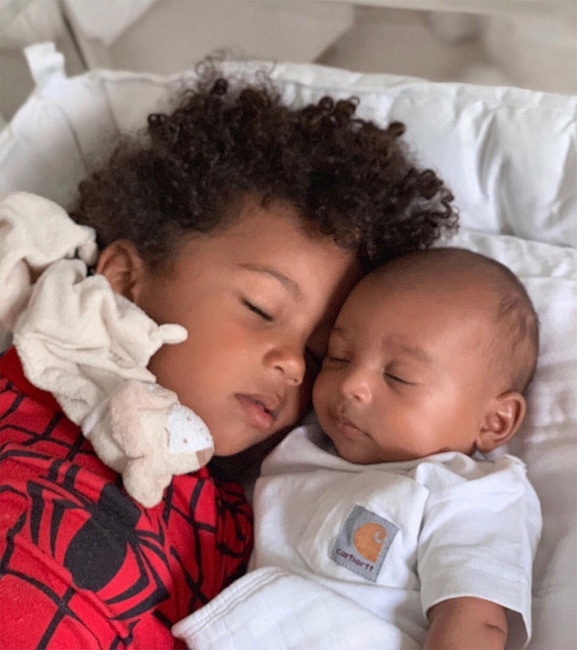 Instagram
The Boys
Saint cuddles with little brother Psalm West.
Article continues below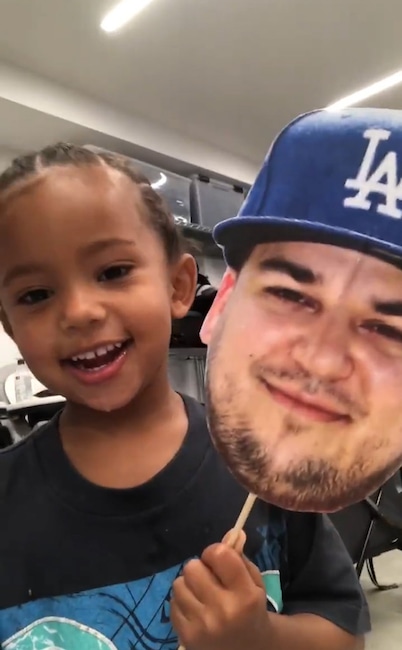 Instagram
Uncle Rob
Saint hangs out with his uncle.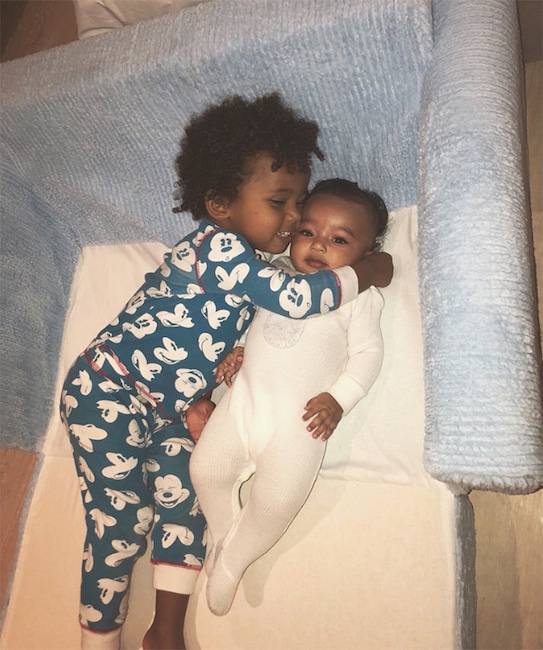 E!
Cuddles
Saint cuddles up to little sister Chicago West.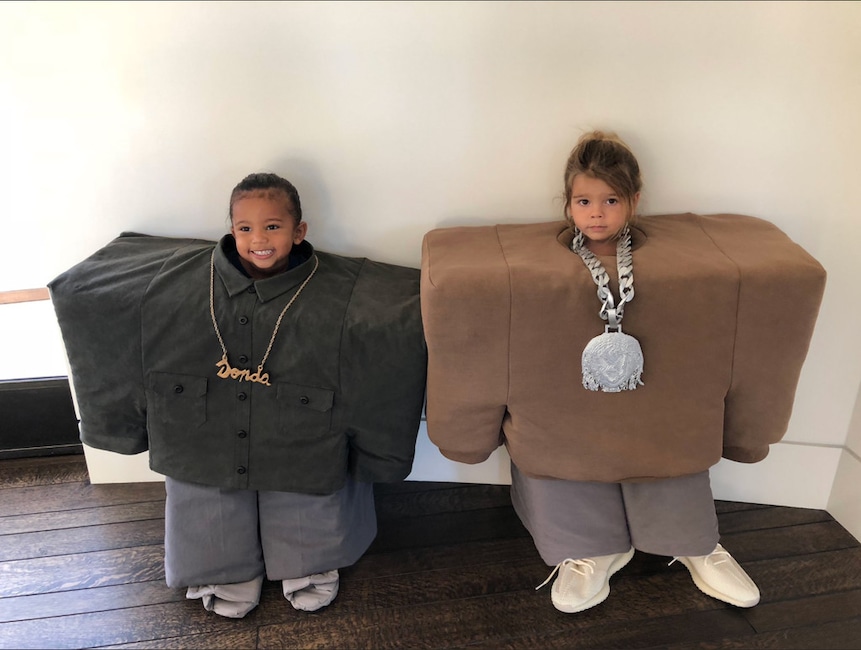 Instagram
Just Like Dad
File this one under imitation is the best form of flattery? Saint West seemed in on the joke when he recreated Dad Kanye West's "I Love It" music video look for this year's Halloween costume. (Cousin Reign Disick stepped in as his Lil Pump.) And much like the video (viewed on YouTube upwards of 339 million times), Kim Kardashian knew she had a hit on her hand when she teased on Twitter, "Wait until you see Saint and Reign's Halloween costume's." Her Instagram post charted more than 4 million likes.
Article continues below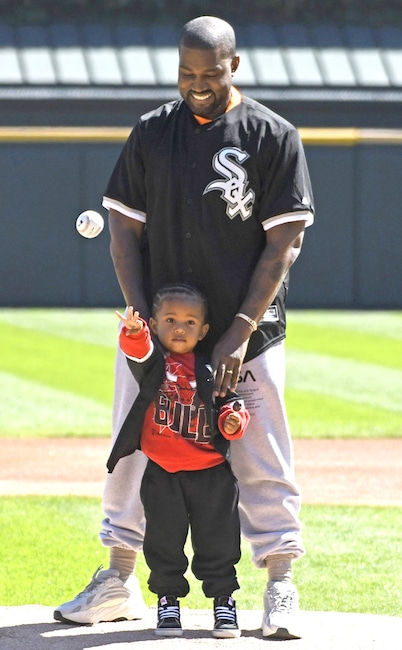 David Banks/Getty Images
What a Baller
After North got the chance to make her runway debut this year, posing in September's LOL Surprise! fashion show, Saint was not about to be outdone. Joining Kanye at the Chicago Cubs-Chicago White Sox crosstown match at Guaranteed Rate Field the next day, the two-and-a-half-year-old tossed out the ceremonial first pitch. And though he was still a little small to push it all the way toward the mound, one could argue he bested 50 Cent's effort.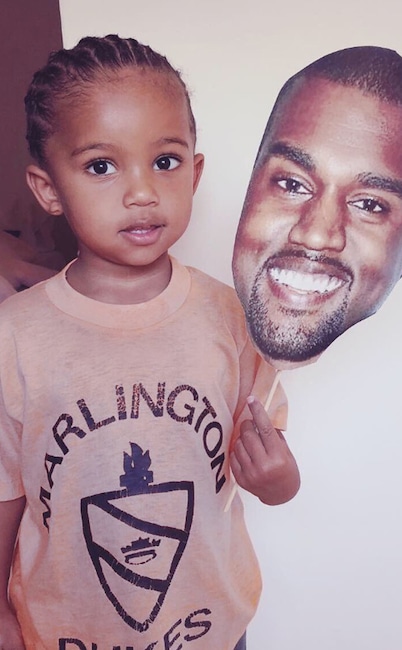 Instagram
Mini Me
Kim has long maintained her son is her "twin." When a fan speculated in September, "I feel like Saint is full on Kim including personality….North West is ye," the reality star was quick to reply, "Facts." But in this snapshot posted that same day, the Keeping Up With the Kardashians standout showed that maybe her boy takes after Dad just a little.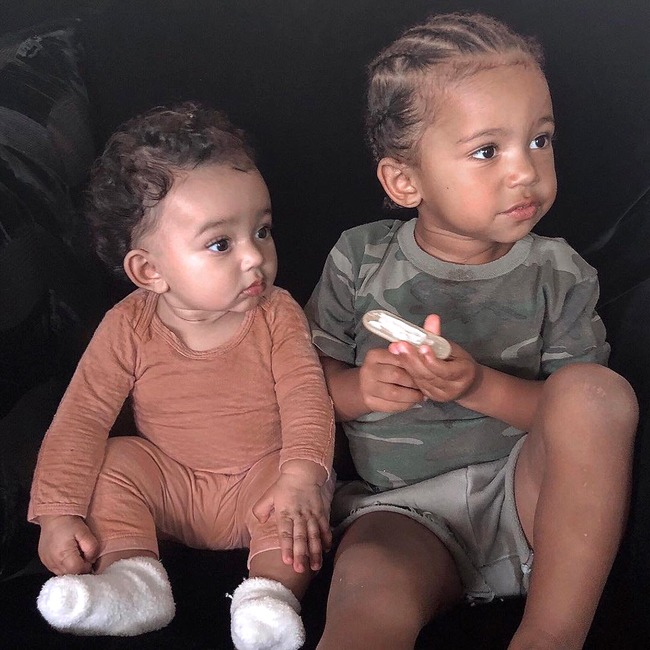 Kim Kardashian/Instagram
ChiTown Love
Saint found himself a little buddy when sister Chicago came on the scene this past January. When he wasn't giving his tiny sibling hugs, he could often be found at her side in coordinating neutrals, like in this snap. Wrote Kim of the Kodak moment, "These two are inseparable."
Article continues below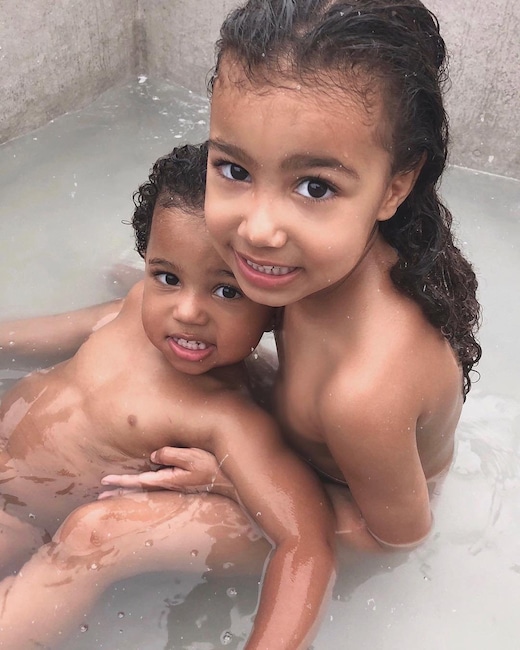 Instagram
Sister Snuggles
Kim has made it clear that North isn't exactly her little brother's biggest fan, preferring to have her parents' attention focused solely on her. "She's like, 'We're having a tea party. No boys allowed.'" she shared in a 2017 interview. "She'll slam the door on her brother's face, and he'll just start crying." But since Chicago came along, Kim revealed months later to Ellen DeGeneres, the kindergartner is "doing better." North "literally had a can of popcorn and was like, 'Saint do you want some?' She does not share with Saint, she does not hardly talk to Saint. So that was such a big moment in my household yesterday." Another one worth capturing: their sweet bath time this May.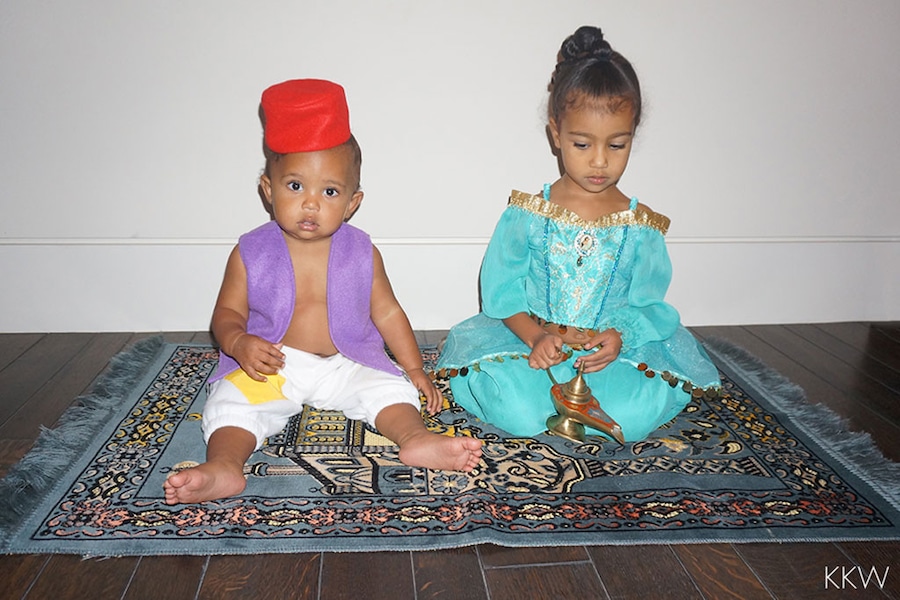 Kim Kardashian West
A Disney Darling
While nothing may top this year's Halloween win, Saint and North's take on Aladdin is pretty darn irresistible, thanks, in part, to his camera stare down. The looks were inspired by North uncovering the Princess Jasmine costume Kim once wore in 2009. "North is crazy into Princess Jasmine right now," Rob Kardashian penned in a guest post for Kim's blog. "So being the good mommy she is, she wore her old princess Jasmine costume to match North! They got a magic carpet, lamp and Saint had to be Aladdin."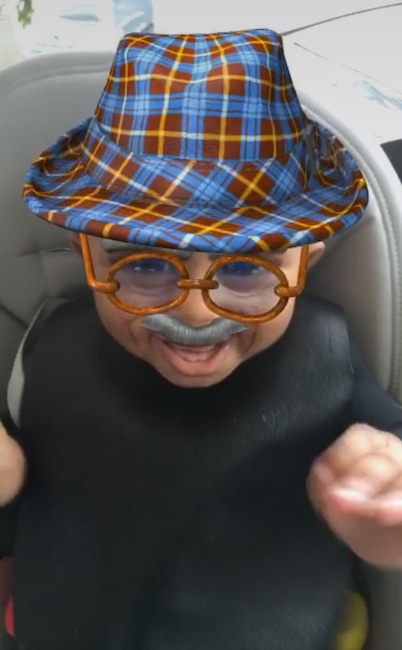 Snapchat
Wise Beyond His Years
To mark his 9-month birthday in September 2016, Saint showed off his already burgeoning Snapchat skills. With the help of Mom's beloved filters, the tyke (who's very name is a reference to his existence being a blessing after two tough pregnancies for Kim) was transformed into a ridiculously adorable old man baby…
Article continues below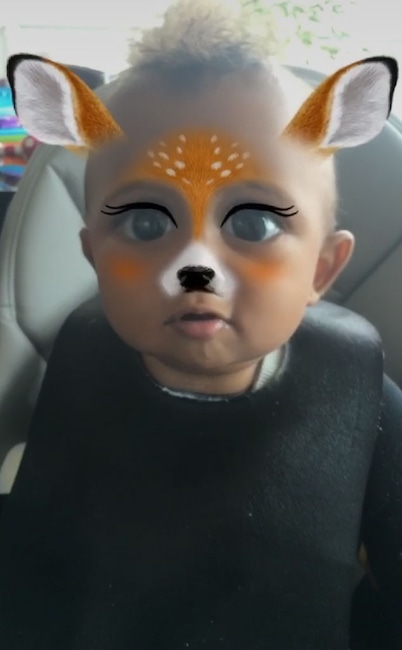 Snapchat
Deer in Headlights
…and the very cutest of stags.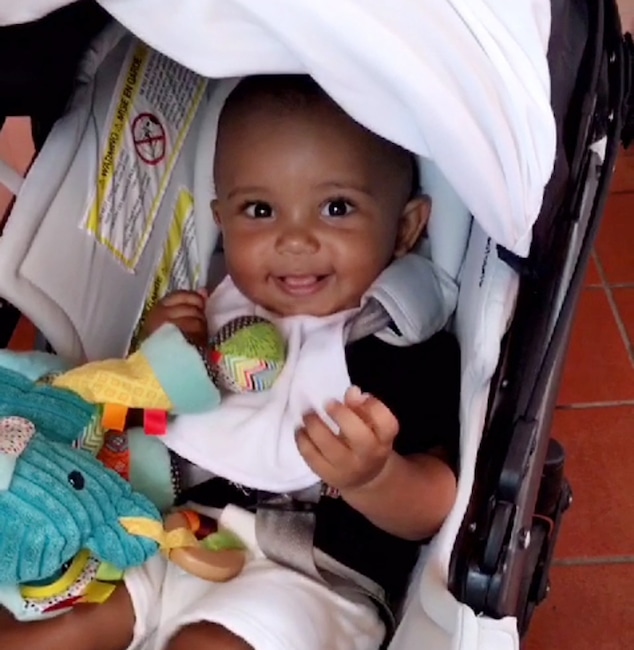 Snapchat
Lil' Charmer
In Saint's early days, new photos were hard to come by, but this one—which popped up on Kim's Snapchat in July 2016—proved the 7-month-old had already mastered his angles and heartstring-tugging smile. His conversation style was coming along as well. "He said Dada today, three times!" Kim told E! News days earlier. "And I was like, 'Wait what?' Kanye was so excited, he was like, 'I told him to say that.' And I was like, just I really wanted him to say 'Mama' first."
Watch Keeping Up With the Kardashians when it returns for season 17 on September 8 at 9/8c only on E!
Source: Read Full Article