The NSW government has declared a goal of zero extinctions within national parks and raised the protection status of almost 100 species from brush-tailed rock-wallabies and koalas to the rare nightcap oak to the level of the world-famous Wollemi pine.
The measures, announced on Tuesday's National Threatened Species Day to mark the 85th anniversary of the death of the last Tasmanian tiger, also include a goal to steady the state of wildlife within parks this decade.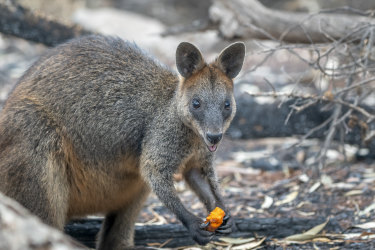 The brush-tailed rock-wallaby is one of 92 new species declared by the NSW government to be assets of intergenerational significance, joining the Wollemi pine.
"Just as we have a net-zero emissions target, we now also have a target of zero extinctions for our national parks, and are aiming to improve and stabilise the on-park trajectory of threatened species by 2030," Environment Minister Matt Kean said.
"The loss of biodiversity and the degradation of ecosystems is increasing at an alarming rate. I want to turn our national parks into a fortress for our biodiversity."
The Wollemi pine, known as a "dinosaur tree" because of its ancient lineage, was declared the state's first asset of intergenerational significance last year after the devastating 2019-20 Black Summer bushfires came close to destroying its few sites in the wild.
The elevation of 92 more species to a similar status – with more to come – reflects a view within government that those fires have pushed more creatures to the brink.
As assets of intergenerational significance, each will get the strongest legal protections, including mandated conservation plans, targeted feral animal and fire management, and monitoring and reporting of their progress.
Added to the list are 66 types of plants, 13 mammals, seven frogs, four birds and three reptiles. Some 221 sites covering just over 300,000 hectares, or almost 4 per cent of the national park estates, will be part of the protection efforts.
The endangered nightcap oak, which has just 125 adult plants in total, is among the plant species to be identified as an asset of intergenerational significance.Credit:Peter Rae
Among them are the nightcap oak, of which there are 125 adult plants in a national park near Lismore, and the recently described Mt Kaputar rock skink that is only known to exist on a 285-hectare range near an extinct volcano.
Of the bird species to be gazetted, the grey grasswren is known to exist in NSW only on the nearly acquired Narriearra-Caryapundy National Park in the far north-west.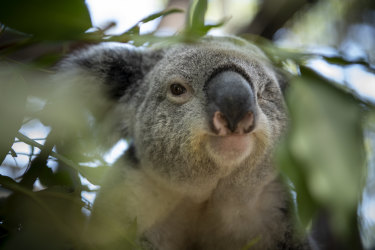 Koala populations are vulnerable from a range of threats, prompting the government to declare the species deserving additional protection including at 15 sites with national parks.Credit:Wolter Peeters
"I think it's a bit of a game-breaker," Professor John Woinarski, a conservation biologist at Charles Darwin University, said.
"It puts the conservation role of national parks front and centre. "In a world of gloom for biodiversity losses, this is one of the bright lights, and one of the hopes for the future.
"My only qualm is this I'm not sure the resource commitment matches the ambition," he said, adding the efforts will also need to be complemented by protection measures for the 15 per cent of threatened species that exist outside national parks.
Sarah Legge, a wildlife ecologist at the Australian National University who also sits on the Commonwealth government's Threatened Species Scientific Committee, said the setting of a zero-extinction goal "was a bold vision, and I think it's great".
Too often conservation efforts have failed to have the necessary monitoring and reporting of progress. "This is a step up," Professor Legge said.
Deforestation on private property, though, will continue to need attention, particularly for vulnerable species like koalas, she said.
Labor's environment spokeswoman Penny Sharpe said there was "a threatened species crisis in NSW" and "talking big about doubling koala numbers or saving species like the corroboree frog or swift parrots means nothing when there is so little protection of their habitat".
Mr Kean, though, said there were more plans to expand the national parks estate and the parks service "now have more staff than they have had for a decade".
"If parks need more resources to support this ambitious agenda then of course they will have it," he said.
Most Viewed in Environment
From our partners
Source: Read Full Article