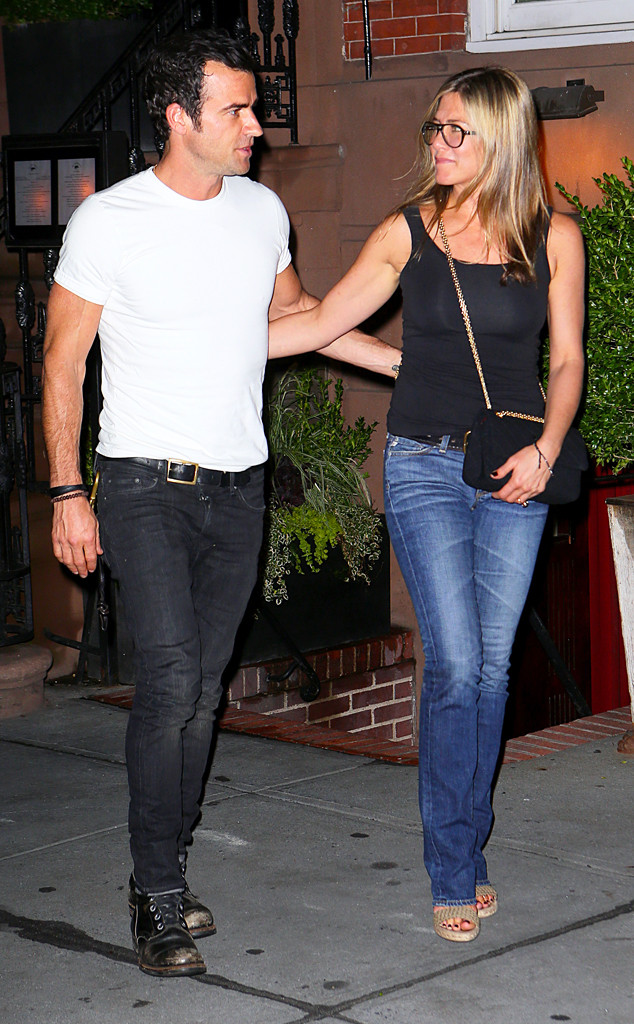 Sharpshooter Images / Splash
When a couple that has pets breaks up, figuring out what to do with their fur babies as they go their separate ways isn't easy. Custody battles have been known to ensue.
Jennifer Aniston and Justin Theroux seemingly avoided that drama when they split up after seven years together, including two and a half years of marriage, in early 2018. Their dogs ended up staying with Aniston, in the house they were familiar with, when Theroux relocated from Los Angeles to New York after the breakup.
Because they already had to spend so much time apart for work, he later told the New York Times, their separation didn't "have that seismic shift of an ordinary couple, where everything is, like, you have to tear a baby in half."
Nevertheless, "it was extremely difficult for him to leave the dogs when he moved back to New York," a source tells E! News.
Since then, the now opposite-coast exes have simply had little reason to see each other much over the past year and a half—until this week, when they reunited to say a devastating goodbye.
Their German shepherd, Dolly, died and Theroux joined Aniston on Monday for what appeared to be a ceremony for their departed pet, which he shared a few heartbreaking pictures from on Instagram. A woman's hand in one of the photos could belong to Aniston.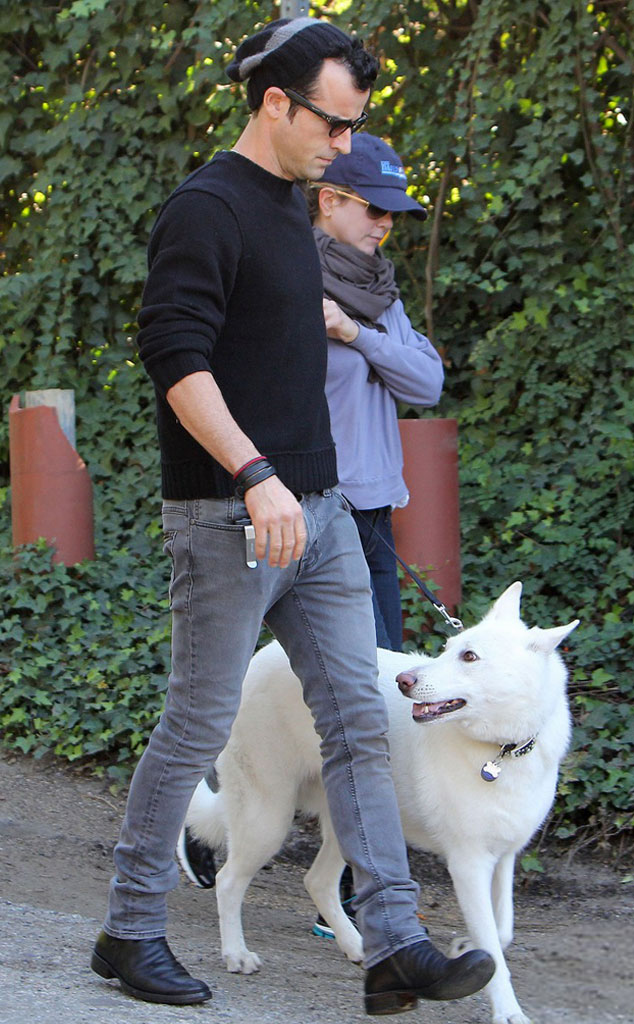 GSI Media
"They both loved Dolly like a child," a source says. "Justin is a dog lover like no other, and [Jen] knew that he would want to know" that they were going to lose her. "She wanted him to be there and they came together for it. They haven't had a lot of contact, but this was something that was important to her, and she knew it would be important to Justin."
Aniston adopted Dolly—named after Dolly Parton, naturally—in 2006, long before she and Theroux got together. In fact, it was just a year after she and Brad Pitt divorced, and the actress went for the shepherd because "I thought they were beautiful, and a great guard dog," she explained on The Oprah Winfrey Show.
So Dolly was by her side when she met Theroux, and the dog ultimately became theirs, even factoring into their wedding planning in 2015.
Dolly and Sophie, a pit bull mix the couple adopted together in 2012, "got the works" from Spa Dog, a concierge grooming service that makes house calls, ahead of their nuptials, E! News reported at the time. Aniston and Theroux tied the knot at their Bel Air home on Aug. 5, a Wednesday—the better to keep inquiring minds on their toes.
Instead of eloping, they purposely got married at home so that the dogs could be there, a source told People afterward.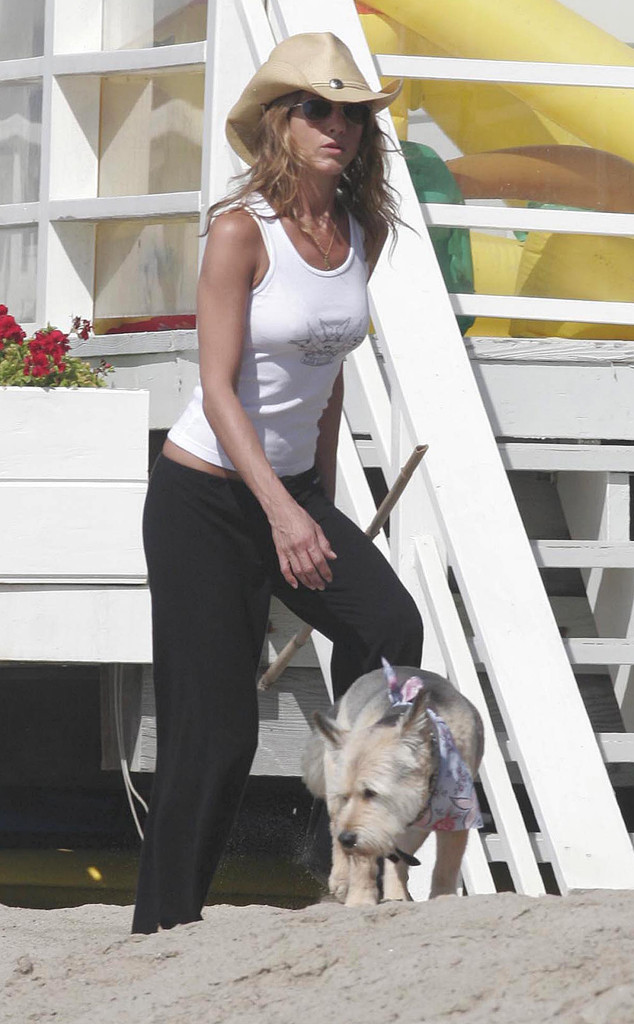 ©2005 RAMEY PHOTO
Dolly originally joined Aniston's beloved corgi-terrier mix, Norman, who really made the rounds in his lifetime, accompanying mom to Oprah and posing for a cover spread in Vogue with her in 2008.
"He's my baby boy," Aniston told the magazine. "Norman goes with me on location—I've got to take Norman."
Norman died in 2011 at the fairly advanced canine age of 15. Aniston, who said at the end of her Inside the Actors Studio interview that year that "Norman" was her favorite word, got her first tattoo in his honor, his name etched on her right foot.
"We have one white shepherd, but I had another dog who died last year," Aniston shared with GQ in 2012 right after they adopted Sophie. "We actually have three dead dogs on our mantel right now. The whole mantel is dead dogs. Their ashes. It's kind of morbid."
Talking to Jay Leno on The Tonight Show, the Friends star got emotional talking about the day they got Sophie from Best Friends Animal Society.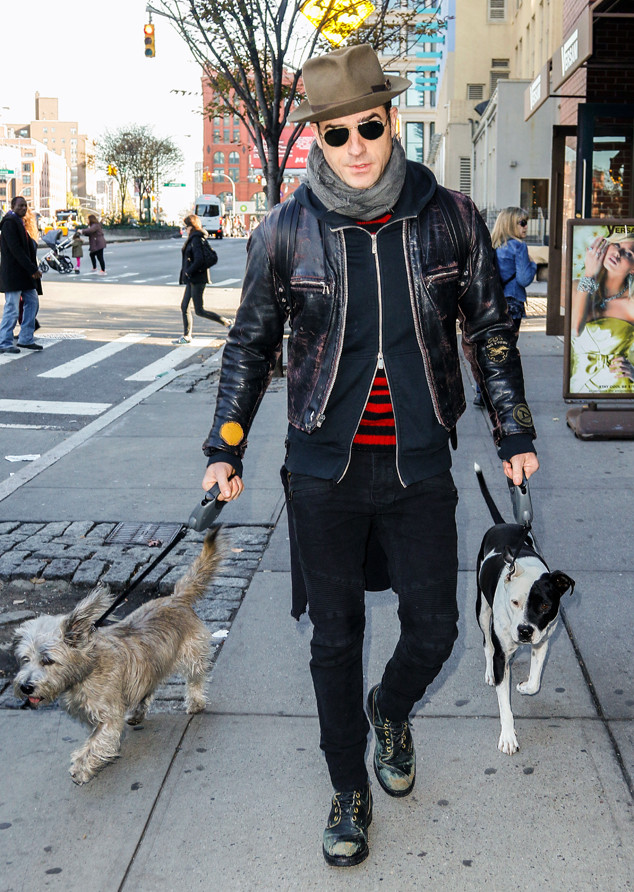 PapJuice/INFphoto.com
"We ran over," Aniston recalled. "Sophie came right up to us… and then we were there for three hours! I was almost walking out with three puppies. That's why we named her Sophie cause it was 'Sophie's Choice.' I was crying, it was so hard." To New York magazine, she described Sophie as "the most adorable little cookie you've ever seen. She looks like she just smoked an exploding cigar."
They later added terrier Clyde to their menagerie as well. (Incidentally, Clyde was also the name of the Labrador retriever Aniston and Owen Wilson co-starred with in Marley & Me.)
Eventually Aniston got to tell Dolly Parton in person, at a concert about nine years ago, that she had named one of her dogs after her.
"I guess I slightly offended her," Aniston mused on Jimmy Kimmel Live last year about the country music legend. "I just think it's cute. She's so sweet."
But by then they were collaborating on the Netflix movie Dumplin', so Parton was more charmed than anything else.
"I'm very touched when people have known me so long or to say that I've been an inspiration, but you really know when you've got a true fan when someone like Jennifer Aniston says, 'I named my dog Dolly Parton,'" Parton quipped to E! News in 2017. "She's got a dog, and I said, 'Is that a compliment?'"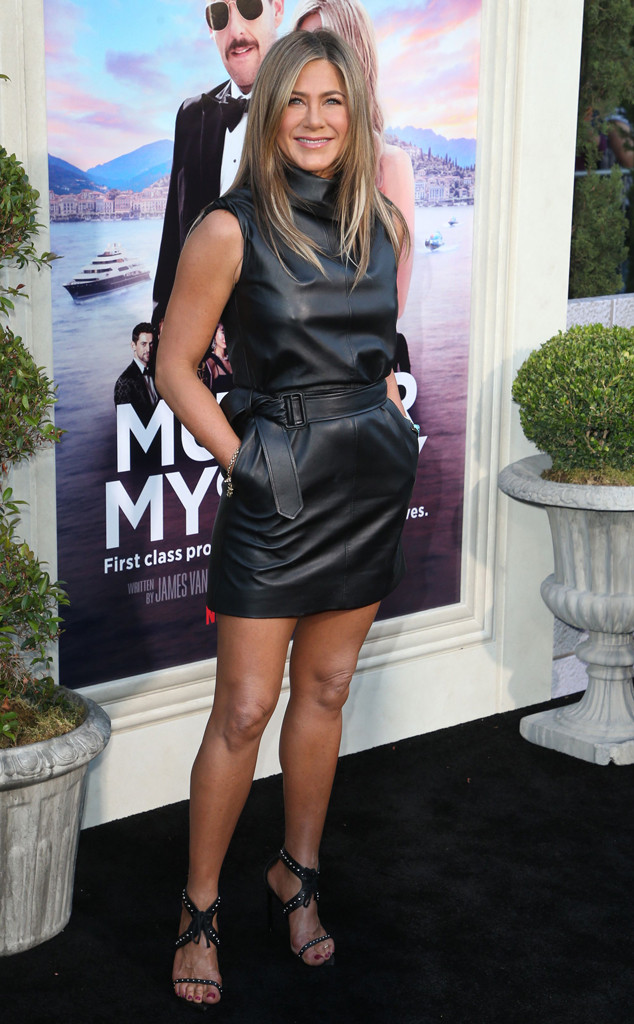 MediaPunch/Shutterstock
That being said, they weren't exactly living the consciously uncoupled life.
Theroux was not among the revelers at Aniston's 50th birthday party this past February, his absence feeling all the more notable because Brad Pitt was there, along with dozens of other friends and loved ones.
"If something comes up like a birthday or a big occasion they will reach out and congratulate the other," a source told E! News at the time about Aniston and Pitt. "They show support or exchange funny stories if something comes up. They don't talk or see each other all the time. They aren't a big part of each other's lives currently, but they wish each other well and have fond memories about the good times they had together."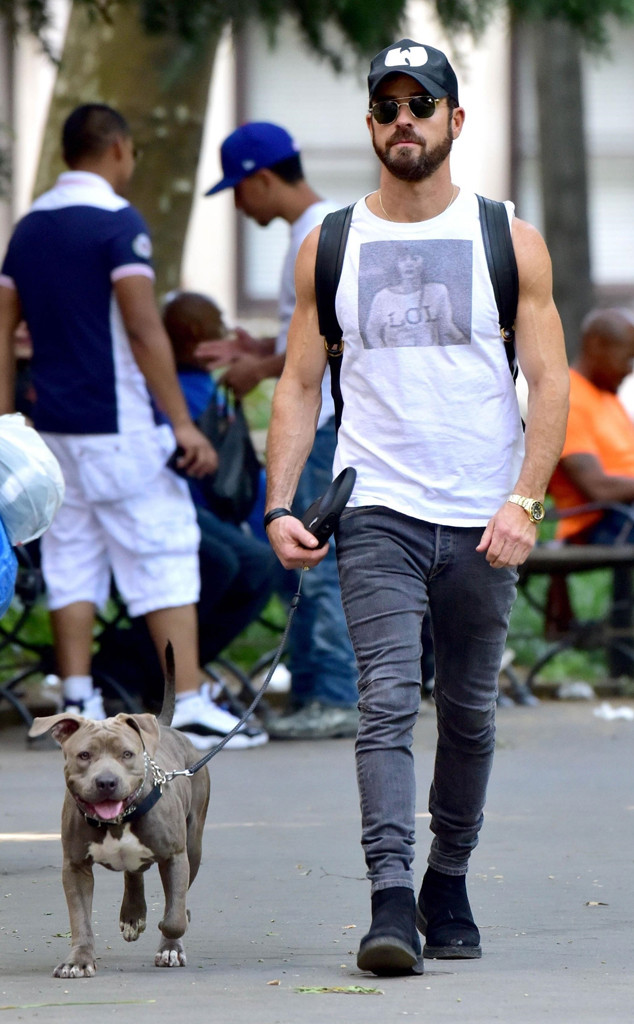 BACKGRID
And just like the rest of her best friends, Aniston's four-legged companions were understandably key to the healing process.
Last summer, talking to InStyle, Aniston was asked what, besides her dogs, she would be sure to rescue if her house caught fire. Her answer: what else is there?
"When we had to be evacuated in December for the wildfires, I took my dogs, I grabbed underwear, my toothbrush, and a change of clothes," she shared. "Just get my dogs and me out of here. They're my kids!"
Courteney Cox, obviously aware how much Dolly meant to her BFF, commented on Theroux's Instagram post, "We love you Dolly," while Orlando Bloom (who like Cox was at Aniston and Theroux's wedding back in the day) added, "RIP beauty."
On his end, Theroux has adopted his own pit-bull rescue, Kuma, and they're frequently seen strolling the streets of Manhattan together.
View this post on Instagram
Rare whole squad sitting still photo op. Dolly: Mexican born White Shepherd. Clyde: 20's era hobo Terrier crossed with hot garbage and soft trash. Sophie: Pit mix with a lil' sum sum and whut whut. #internationaldogday #adoptdontshop
A post shared by @ justintheroux on
Meanwhile, a lot can happen in a year, and some things automatically take precedent over any past hurt feelings.
Aniston and Theroux "have both moved on," the first source told E! News. "They weren't right for each other, but they did share a lot of great years. Their dogs were a big part of their life together. Even though Dolly stayed with Jen when they split up, Justin loved her hard."
"They're grieving her loss together, and it's a tough one."
Source: Read Full Article