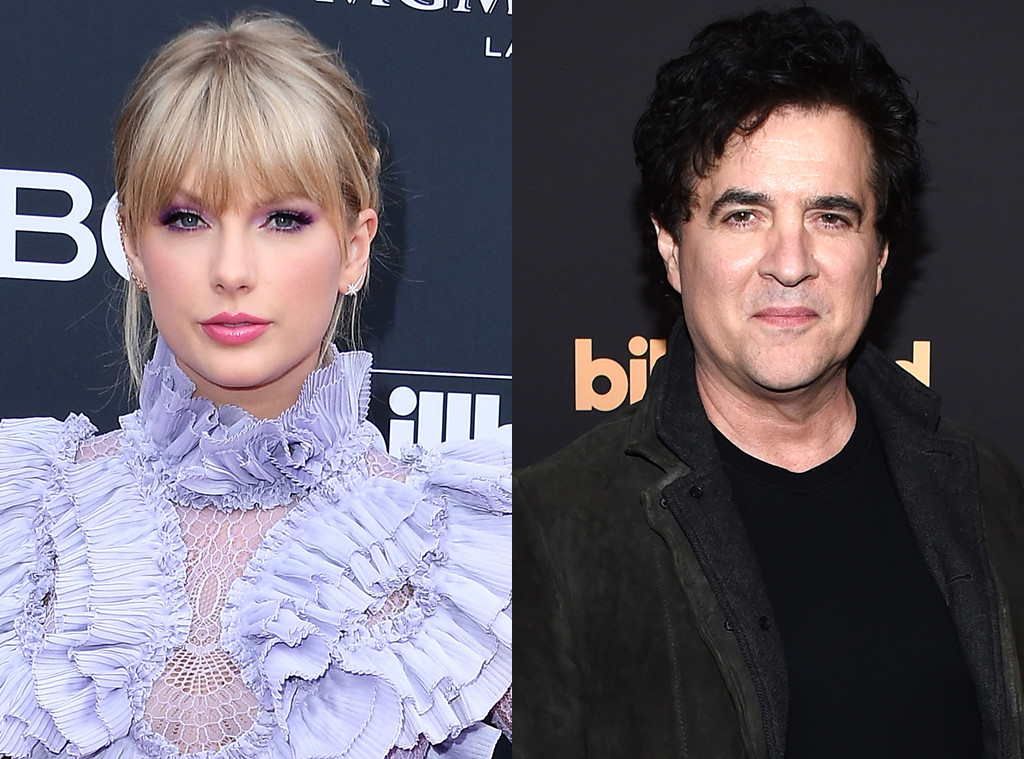 Steve Granitz/WireImage, Amanda Edwards/Getty Images
As the saying goes, there are three sides to every story. And in the latest saga between Taylor Swift and Scooter Braun, Big Machine Label founder Scott Borchetta is sharing his.
On Sunday, Swift claimed that before leaving Big Machine for Universal Music Group in November 2018, she was fighting to gain control of her music collection. "For years, I asked, pleaded for a chance to own my work," she wrote in a scathing post on her Tumblr page. "Instead I was given an opportunity to sign back up to Big Machine Records and 'earn' one album back at a time, one for every new one I turned in. I walked away."
The superstar went on to say that she was blindsided by news that Braun—he reps Justin Bieber, Ariana Grande and Demi Lovato among other A-listers—had acquired Big Machine and, with it, her music. "Some fun facts about today's news: I learned about Scooter Braun's purchase of my masters as it was announced to the world," she continued. "All I could think about was the incessant, manipulative bullying I've received at his hands for years."
"Scooter has stripped me of my life's work, that I wasn't given an opportunity to buy," the 29-year-old added. "Never in my worst nightmares did I imagine the buyer would be Scooter. Any time Scott Borchetta has heard the words 'Scooter Braun' escape my lips, it was when I was either crying or trying not to. He knew what he was doing; they both did. Controlling a woman who didn't want to be associated with them. In perpetuity. That means forever."
However, Borchetta has a different story.
In a new post on Big Machine's website, titled "So It's Time For Some Truth," Borchetta said he texted Swift personally about the deal before it was announced. And, had she not seen the message, he added that her dad Scott Swift was a shareholder, who was alerted of the potential sale as early as June 20.
"I guess it might somehow be possible that her dad Scott, 13 Management lawyer Jay Schaudies (who represented Scott Swift on the shareholder calls) or 13 Management executive and Big Machine LLC shareholder Frank Bell (who was on the shareholder calls) didn't say anything to Taylor over the prior 5 days," he wrote. "I guess it's possible that she might not have seen my text. But, I truly doubt that she 'woke up to the news when everyone else did.'"
In response to Swift's claim that she would have to earn her albums back, Borchetta attached a "few very important deal points" which were allegedly part of the company's last offer to the superstar before she left for Universal Music Group.
"Taylor and I then talked through the deal together," he wrote. "As you will read, 100% of all Taylor Swift assets were to be transferred to her immediately upon signing the new agreement. We were working together on a new type of deal for our new streaming world that was not necessarily tied to 'albums' but more of a length of time. We are an independent record company. We do not have tens of thousands of artists and recordings. My offer to Taylor, for the size of our company, was extraordinary."
And according to Borchetta, he supported Swift while she spoke to other labels about what they had to offer. "I never got in her way and wished her well," he continued. "Taylor had every chance in the world to own not just her master recordings, but every video, photograph, everything associated to her career. She chose to leave."
Lastly, he claims he "never experienced" Swift's tears toward Braun.
"Was I aware of some prior issues between Taylor and Justin Bieber? Yes," he continued. "But there were also times where Taylor knew that I was close to Scooter and that Scooter was a very good source of information for upcoming album releases, tours, etc, and I'd reach out to him for information on our behalf. Scooter was never anything but positive about Taylor. He called me directly about Manchester to see if Taylor would participate (she declined). He called me directly to see if Taylor wanted to participate in the Parkland March (she declined). Scooter has always been and will continue to be a supporter and honest custodian for Taylor and her music."
He pasted the messaged Swift had sent him before announcing her departure from the label as well as his text to her before news broke of Braun's acquisition. As he concluded the post, "That's the truth."
View this post on Instagram
Genuinely grateful for my new partner @scott.borchetta and the entire @bigmachinelabelgroup team. We together at Ithaca are going to do amazing things and our hope is to give every artist the tools they need to succeed in all arenas. Thank you again for the trust Scott. Let's get it!
A post shared by Scooter Braun (@scooterbraun) on
The music industry seems to be torn since news of Braun's purchase was announced. While Bieber and his wife Hailey Bieber have spoken out in favor of Braun, stars including Halsey and Cara Delevigne have defended Swift.
"Taylor Swift is a huge reason why I always insisted to write my own music," Halsey posted on Twitter. "She catapulted her stadium into the Milky Way. And it turns my guts that no matter how much power or success a woman has in this life, you are still susceptible to someone coming along and making you feel powerless out of spite. It speaks volumes to how far we have to come in the music industry. The way writers are treated. How as an entertainer you are respected but as a writer you're walked all over. Even when you are both in one single body. I am standing with her."
Don't miss E! News every weeknight at 7, only on E!
Source: Read Full Article