He's known today for being a much-beloved judge on "The Voice" and marrying Gwen Stefani. But before he was thrust into the mainstream, Blake Shelton had earned the admiration and respect of country music stars and fans. In fact, most of the fans who know him from "The Voice" wouldn't recognize him on the cover of his self-titled debut album, which was released all the way back in 2001!
If you're not a hardcore country music fan, you're probably not aware that The New York Times called Shelton "the most important and visible ambassador from Nashville to the American mainstream" or that Rolling Stone called him "one of country music's biggest stars over the past decade." He's earned respect from both his contemporaries (like Trace Adkins, Sheryl Crow, and even his ex-wife Miranda Lambert) and legends (such as Brenda Lee).
But most country music fans don't realize that Blake Shelton collaborated with not one, but two, rappers over the course of his career. However, only one of those tracks actually got released. Keep reading to find out more!
Blake Shelton collaborated with CeeLo Green, but fans never got to hear it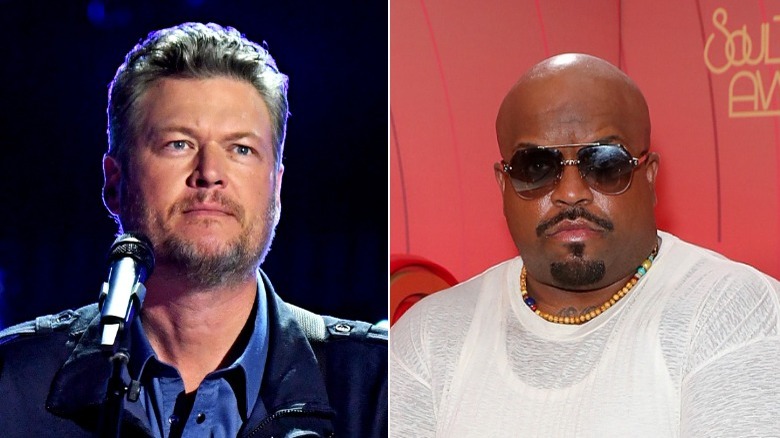 Even though most people know CeeLo Green for being part of Gnarls Barkley and creating the hit pop song "Crazy," there was a time when he was best known as a member of the Goodie Mob. One of the first popular rap collectives to come out of Atlanta — thus paving the way for today's Southern rappers — the Goodie Mob's best known hit was the song "Cell Therapy," though their songs have been featured in films like "2 Fast 2 Furious" and "Any Given Sunday." 
Back in 2012, Shelton hinted in a promo for "The Voice" (via Sounds Like Nashville) that he and Green would be great on a track together. "I think it would surprise you how good it would sound, me and CeeLo together," he said. "How cool would that be to sing with Cee Lo on a record? That would be awesome. I'm gonna do it."
Though the collaboration was never released to the public (sadly), there is one rap collaboration that Shelton did that actually proved to be a hit for both him and his collaborator. So, who was it?
Blake Shelton and Pitbull released a hit song called 'Get Ready'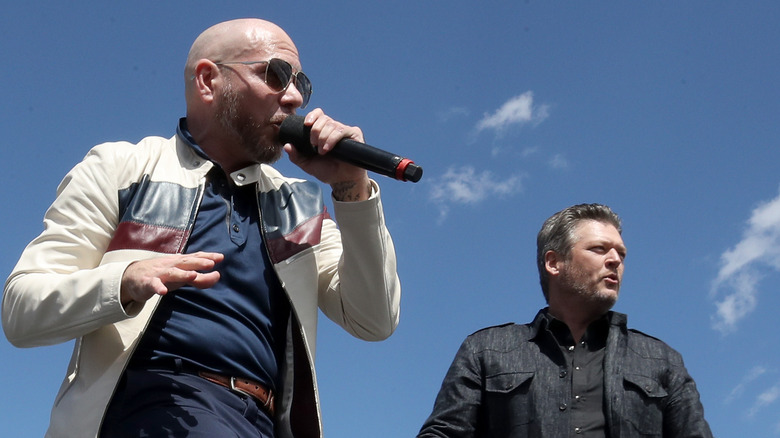 In February 2020, just one month before the COVID-19 pandemic hit, People Magazine reported that Blake Shelton and Pitbull collaborated on a party track called "Get Ready." Mr. 305 Worldwide and Mr. Gwen Stefani sampled the classic Ram Jam track "Black Betty" in the song, and Pitbull told the outlet that Shelton's dog inspired the sample. 
"We were doing a show together in Pendleton, Oregon," he recalled. "We had a great time, the Crown [Royal] was amazing. Next thing you know I'm in the trailer, a little dog runs up on me. I go to pet the dog and I said, 'Blake, what's the dog's name?' and he said, 'Black Betty.'"
As it turned out, Pitbull had a song he'd recorded with the sample back in 2014, but didn't feel it was good enough to be released. Then Shelton jumped on the track, "Get Ready" was born in 2020, and the rest is history!
Source: Read Full Article