Los Angeles-based rapper, singer, producer, and all-around artistic agitator Tyler, the Creator (born Tyler Okonma), was just a teenager when he emerged in 2008 as a leading voice in the 10-man skate-rap collective, Odd Future (alongside Frank Ocean and Earl Sweatshirt). Technically, the group's full name is Odd Future Wolf Gang Kill Them All, hinting at both the controversy and the unbridled, difficult-to-pigeonhole creativity that was to come in the next few years from Tyler, the Creator. He's since found success with his solo work as a Grammy Award-winning, future-forward, and genre-bending-and-blending musician behind hip-hop, pop, and experimental classic albums like "Wolf," "IGOR," and "Call Me If You Get Lost." That's to say nothing of his filmmaking, his Adult Swim series, "Loiter Squad," or his Golf Wang clothing line.
Tyler, the Creator loves to push the envelope as much as he does boundaries, and he embraces shock value with his transgressive and progressive music and public statements — leading to some controversial moments. Here are all the times Tyler, the Creator upset a lot of people.
Tyler, the Creator was widely criticized for his potentially offensive lyrics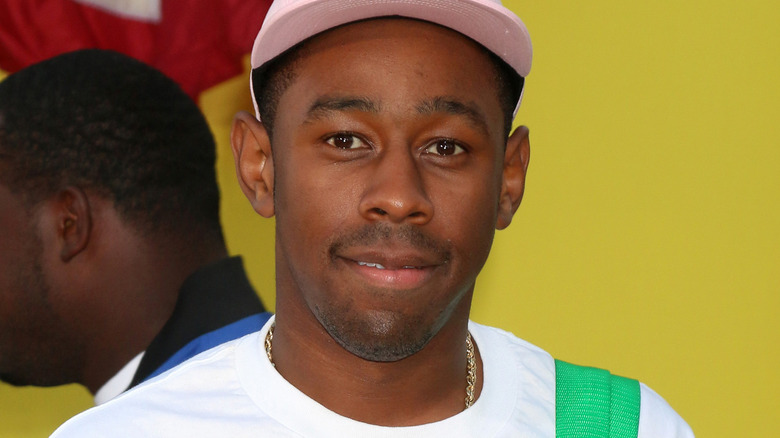 Both in his early work with Odd Future and on his initial solo projects, such as "B**ches" and "Goblin," Tyler, the Creator recorded or was party to the recording of lyrics that Rolling Stone characterized as glorifying murder, sexual assault, cannibalism, and necrophilia. Multiple Chicagoland victim advocacy and domestic violence awareness organizations banded together to formally protest Odd Future when the collective was booked to play the 2011 Pitchfork Music Festival in the Windy City. Organizers didn't drop Odd Future from the show, but did allow protestors space and time at the festival to spread their message.
That same year, popular alternative rock duo Tegan and Sara called out Tyler, the Creator, and the critically-acclaimed "Goblin" in particular, as chief representatives of the "misogynistic and homophobic ranting and raving" present throughout mainstream entertainment. "In any other industry would I be expected to tolerate, overlook, and find deeper meaning in this kid's sickening rhetoric?" Sara Quin wrote on the Tegan and Sara website. "Why should I care about this music or its 'brilliance' when the message is so repulsive and irresponsible?" 
One example: Tyler, the Creator uttered one particular anti-gay epithet 213 times on "Goblin," according to Out. He also issued a crude response to Tegan and Sara's critique on Twitter, writing, "If Tegan And Sara Need Some Hard D**k, Hit Me Up!"
If you or anyone you know has been a victim of sexual assault, help is available. Visit the Rape, Abuse & Incest National Network website or contact RAINN's National Helpline at 1-800-656-HOPE (4673).
He was banned from New Zealand … twice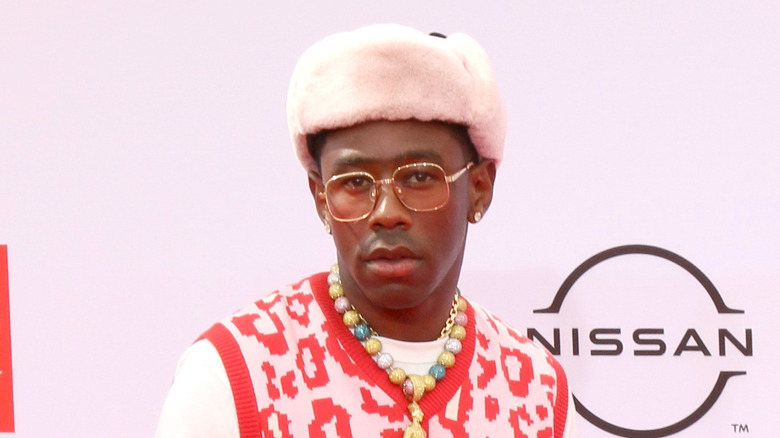 Almost the entirety of the Odd Future collective, of which Tyler, the Creator is a charter and prominent member, has a long and complicated relationship with the nation of New Zealand. In November 2011, the group lost its spot on the bill of the massive Big Day Out festival, according to Rolling Stone, after LGBTQ+ rights groups protested Odd Future's lyrics for having an anti-LGBTQ+ slant. The Auckland City Council agreed, citing misogyny and homophobia in Odd Future lyrics, which prevented the collective from taking the stage.
Less than three years later, Odd Future was once again slotted to play a multi-act bill in New Zealand, Eminem's Rapture Festival. According to The Guardian, Tyler, the Creator and company couldn't even make their way into the country, as immigration officials called the collective "a potential threat to public order and the public interest for several reasons, including incidents at past performances in which they have incited violence."
The musician made an ad that got banned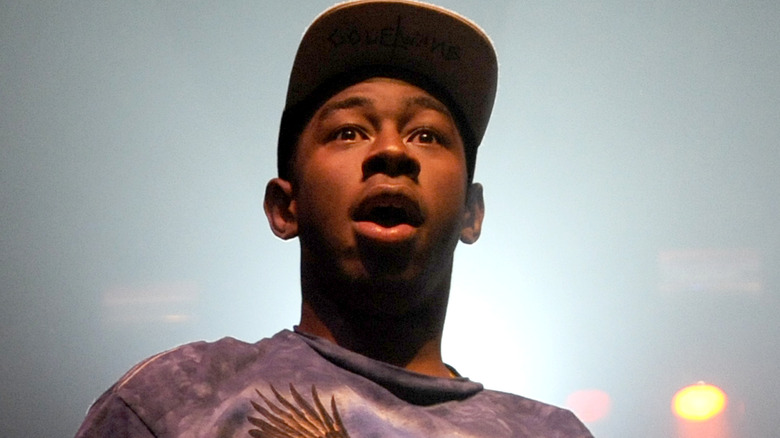 Tyler, the Creator makes a lot more things than just music. He has a fashion line and he formed a creative media and advertising agency called Camp Flog Gnaw, which PepsiCo enlisted to make a commercial for its Mountain Dew brand in 2013. While the company wanted something edgy, quirky, and appealing to younger demographics — the reason anyone would hire Tyler, the Creator — it got something else entirely.
According to Billboard, Tyler, the Creator developed a 60-second online commercial depicting a severely beaten white woman asked by a white police officer to identify a suspect out of a lineup that included several Black men, as well as a talking goat. Syracuse University professor and social commentator Dr. Boyce Watkins weighed in, calling the ad "arguably the most racist commercial in history." Tyler, the Creator reached out to Dr. Watkins via Twitter, and the two had a fruitful conversation about art and perception, but the professor still felt that the spot was "not OK."
Tyler, the Creator told Billboard that the execution of the ad came across as much darker and provocative than he'd intended. "It was just a goat who liked Mountain Dew. He wanted more," he said. "The lady points out the goat, who obviously attacked her because of the Mountain Drew. And that's it." He added that he figured Dr. Watkins "found it racist because I was portraying stereotypes." Nevertheless, PepsiCo removed the ad from the internet.
Tyler, the Creator's controversial remarks about the Columbine school shooters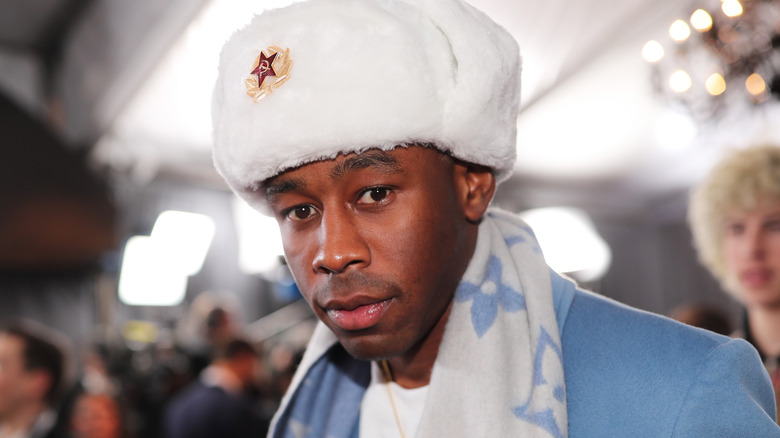 No matter what a person's opinion may be about the instigating factors that led to a shockingly violent and deeply sad event, pretty much everyone can agree that the outcome was violent, tragic, and regrettable. Take the 1999 mass shooting at Columbine High School in Colorado, for example, in which Eric Harris and Dylan Klebold opened fire, killing 12 classmates and a teacher (via ABC News) before taking their own lives.
It's one of the deadliest school shootings in American history and hard to make any sense out of, but in 2011, musician Tyler, the Creator said that he figured Harris and Klebold were "probably really cool people," according to NME. Later that year, he compared himself to musical predecessors like Marilyn Manson and Eminem, whose transgressive lyrics were cited by many social critics as an inspiration to the Columbine shooters. "If Columbine is reenacted or some s**t, that's gonna be on my f**king head," Tyler, the Creator told Respect (via NME). "Yeah, it'll be my fault, just like it was Em's and Marilyn's."
Tyler, the Creator's audacious, if not insensitive, comments were offset somewhat in 2013 when he released "Pigs," a song from the point of view of Harris and Klebold. "I tried to write a song from their perspective, to try and figure that out. Those kids were nerds, f**king dweebs," Tyler told NME (via Express). "I'm intrigued as to how they thought, not what they did. How do regular kids become what they became?"
If you or anyone you know is having suicidal thoughts, please call the National Suicide Prevention Lifeline​ at​ 1-800-273-TALK (8255)​.
That time he potentially jeopardized the safety of a critic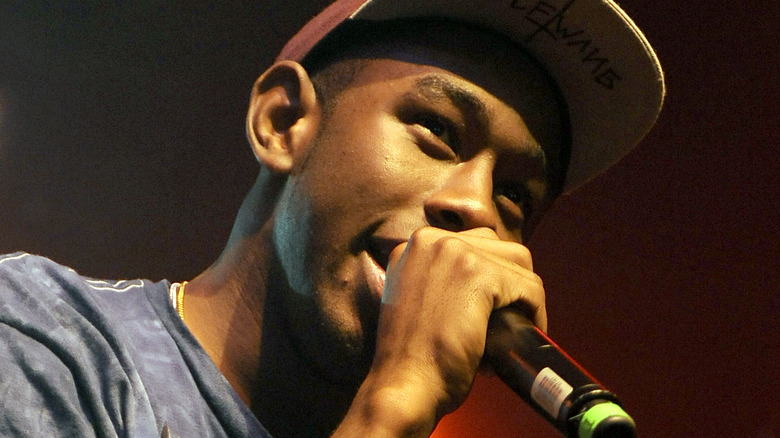 In June 2013, Tyler, the Creator played the Enmore Theatre in Sydney, Australia. According to Gigwise, blogger and member of the feminist group, Collective Shout, Talitha Stone attended the show, not because she wanted to hear cuts off of the musician's latest album, "Wolf," but in opposition to Tyler, the Creator and to take a stand against his potentially destructive lyrical content. The previous day, Stone tweeted out her plans "to protest against" the rapper during his appearance at streetwear store Culture Kings. "He will be there at midday. I think they need education on #misogyny," she wrote.
During the show, which she reportedly attended to find additional "evidence" of Tyler, the Creator's anti-women lyrics, the musician verbally and profanely attacked her from the stage. "F**king b**ch, I wish she could hear me call her a b**ch, too, f**king w**re," were among his reported choice words. "Yeah, I got a sold-out show right now, b**ch. Hey, this f**king song is dedicated to you, you f**king c**t."
It's not clear if Tyler, the Creator knew that his critic was in attendance, but Stone found the incident "terrifying and disturbing," so much so that she reported the verbal abuse to Sydney police, according to The Guardian.
Did the rapper almost start a riot at a music festival?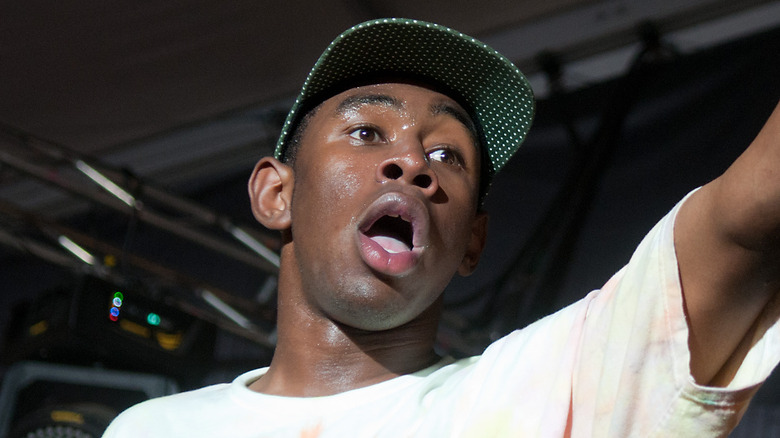 The annual, multi-day, multi-venue SXSW festival in Austin, Texas is one of music's biggest events, and in 2014, Tyler, the Creator headlined a package show called "Death Match" at the Scoot Inn. The hall was filled to beyond capacity with what Spin reported were hundreds more fans pushed up against the boundaries. At the beginning of his set, Tyler, the Creator acknowledged that crowd. 
"All you guys back there that can't get in," he called out to them, before inviting them to force their way inside and leading the audience to chant, "Push! Push! Push!" Hundreds rushed into the already full hall, pushing the Scoot Inn to double or even triple capacity. Sensing danger, if not impending tragedy, the sound crew shut off Tyler, the Creator's microphone, which then led to another chant from the agitated audience of "Let him play! Let him play!" The sound tech turned the microphone back on and Tyler, the Creator played a 20-minute set without incident.
According to TMZ, Tyler, the Creator was arrested at an airport attempting to leave Texas, booked on a charge of inciting a riot. The misdemeanor was later dropped, with the rapper paying a fine of $100 after pleading guilty to a less severe count of disorderly conduct.
Tyler, the Creator unnerved BuzzFeed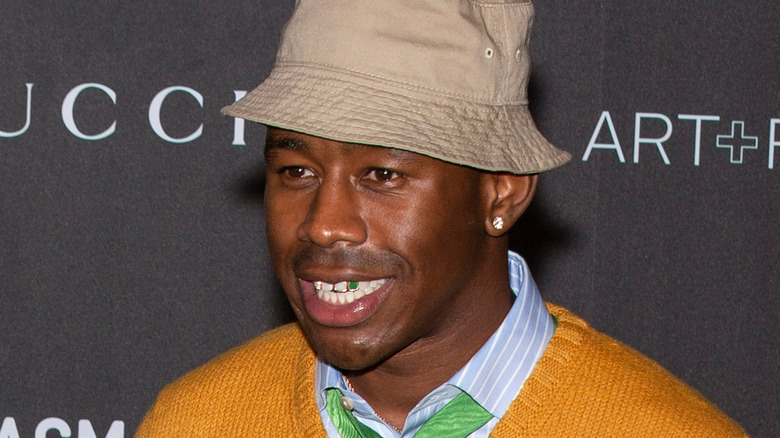 BuzzFeed is one of the biggest names and pioneers of internet journalism, but the company has usually worked out of a traditional physical space, a suite of glitzy and well-appointed offices in New York City. In May 2014, the veneer of normalcy was shattered when Tyler, the Creator and a few of his friends descended on BuzzFeed headquarters, like celebrities often do, according to Gawker. They apparently immediately set out to cause chaos, seemingly catching the staff of the media concern by surprise and off-guard. Numerous writers tweeted the details of Tyler, the Creator's visit in real time, as it happened.
"Tyler the Creator is about to literally destroy our office I'm too scared to move," wrote Matt Bellassai. The musician reportedly made casual use of the N-word to refer to Black BuzzFeed staffers, prompting Ashley C. Ford to tweet (via Gawker), "In case you were wondering, being called a n***** by Tyler, The Creator feels pretty much the same as a white dude saying it." According to Spencer Althouse, Tyler, the Creator also "walked into the office, started screaming, and then shot someone with a Nerf gun."
The man himself recollected the events of the day on "HuffPost Live," saying that he and his cohorts "just came in there trying to bring in so much yellow freaking filling to their gray, boring" lives. On Twitter, he expressed that "BUZZFEED WAS GREAT, MINUS THE CRYBABIES WHO DIDNT LIKE WHEN PEOPLE CAME AND MADE THEIR OFFICE COLORFUL."
He started a feud with Iggy Azalea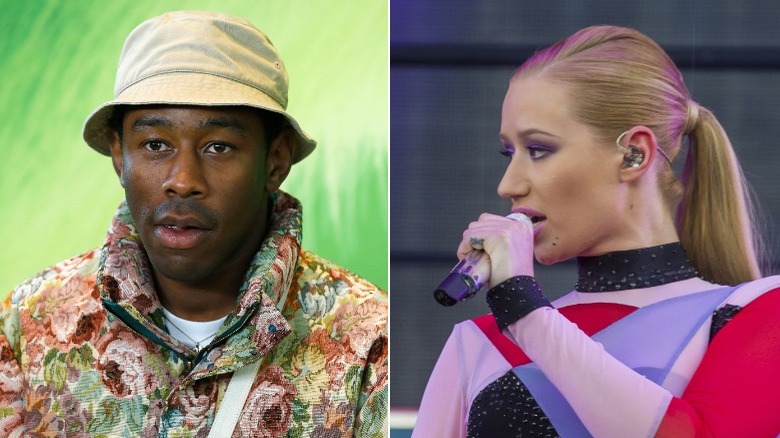 Concurrent with the rise of Tyler, the Creator in terms of popularity and success in the 2010s was that of another and very different performer of the hip-hop milieu: Iggy Azalea, an Australian-born model and Top 40-oriented rapper who is best known for and best represented by her boastful 2014 chart-topper, "Fancy." While she may have earned herself millions of fans from L.A. to Tokyo, Tyler, the Creator, was decidedly not among them. In May 2014, the rapper and some other members of Odd Future appeared on the BET show, "106 and Park," and were asked to play the party game "Kiss, Diss or Marry?" with the subjects being Rita Ora, M.I.A., and Azalea.
"I don't want Iggy. She stink," Tyler, the Creator jumped in to declare, per Rap-Up. "She got shots in her dump. I want real booty, ya feel me?" he asked rhetorically, implying that Azalea's famously prodigious posterior wasn't organic. Azalea responded on Twitter (via Yahoo! Finance), writing, "Tyler the creator is beyond immature. I've always believed you had something more to offer the world. Shame to see you be so rude." 
In response to getting called out, Tyler, the Creator jokingly claimed on Twitter that the man dressed like an old rapper stereotype who said those things on BET wasn't actually him: "BABY GIRL THAT WASNT ME I DONT DRESS LIKE THAT WHATCHU TALKIN BOUT?" After Azalea tried to remove herself from the narrative, Tyler, the Creator finally apologized, tweeting, "IGGY I DIDNT MEAN TO HURT YOUR FEELINGS."
Tyler, the Creator was also barred from entering Britain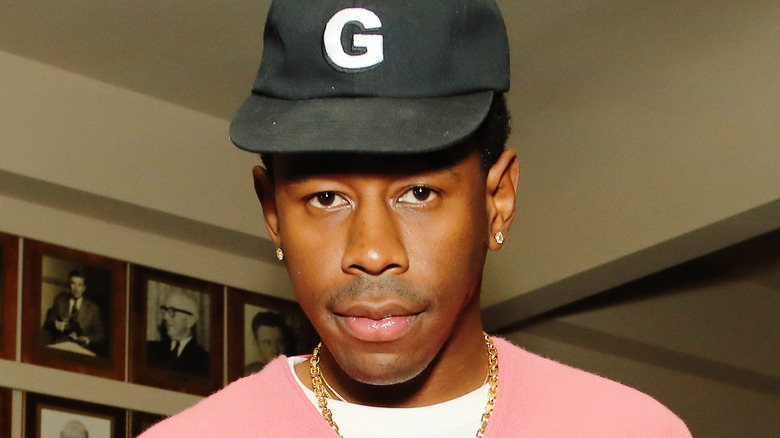 According to Rolling Stone, Tyler, the Creator cancelled a slew of tour dates in the United Kingdom in 2015, including performance slots at the major Reading Festival and Leeds Festival. The musician took to Twitter to explain why: He couldn't sing or rap in a country from which he'd been barred from entering. "BASED ON LYRICS FROM 2009 I AM NOT ALLOWED IN THE UK FOR 3-5 YEARS (although I was there 8 weeks ago)," Tyler, the Creator wrote, adding, "THAT IS WHY THE SHOWS WERE CANCELLED."
The rapper's manager, Christian Clancy, explained on his Tumblr blog that he and his client had received a letter from the U.K.'s Home Office outlining the ban, alleging that the musician's work "encourages violence and intolerance of homosexuality" and "fosters hatred with views that seek to provoke others to terrorist acts." The note mentioned lyrics from the songs "B**ches" and "Goblin," years-old records which Clancy said Tyler, the Creator no longer makes. A representative of the U.K. government confirmed the story to The Quietus: "Coming to the U.K. is a privilege, and we expect those who come here to respect our shared values."
In 2019, per the BBC, the U.K. ban was evidently lifted, because Tyler, the Creator arrived in London that May and announced he'd play a show in just a few hours' time. So many people showed up that, according to the musician, "cops cancelled it" due to overcrowding concerns.
The musician called out perceived racism in the Grammy Awards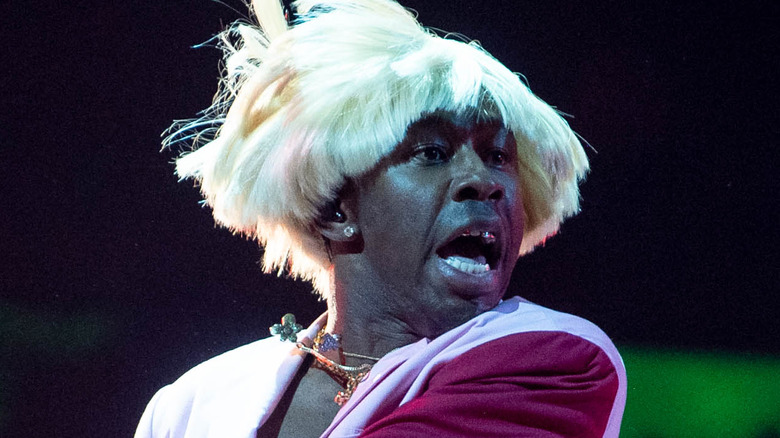 The events of the 2020 Grammy Awards could be interpreted as the mainstream music community's long-awaited embracing of Tyler, the Creator as one of the biggest musical and creative forces of his era. The show gave him a prime airtime spot in the broadcast, which he used to stage an elaborate and eye-popping medley of his songs "Earfquake" and "New Magic Wand." Later in the night, Tyler, the Creator won the Grammy Award for best rap album (over the likes of 21 Savage and Meek Mill) for "IGOR." Per Grammy rules, nominated pieces must consist of at least 51% rapping, but, as The Daily Targum pointed out, "IGOR" had a rap content of around 30%. That fact and some other feelings were on the musician's mind when he took to the Grammys' media room after his win.
"I'm very grateful that what I made could be acknowledged in a world like this, but also, it sucks that whenever we — and I mean guys that look like me — do anything that's genre-bending or that's anything, they always put it in a rap or urban category, which is — I don't like that 'urban' word," Tyler, the Creator said (via Rolling Stone). "That's just a politically correct way to say the n-word to me." He went on to say that being nominated in a rap category at all was "a backhanded compliment."
Tyler, the Creator and his controversial Selena Gomez tweets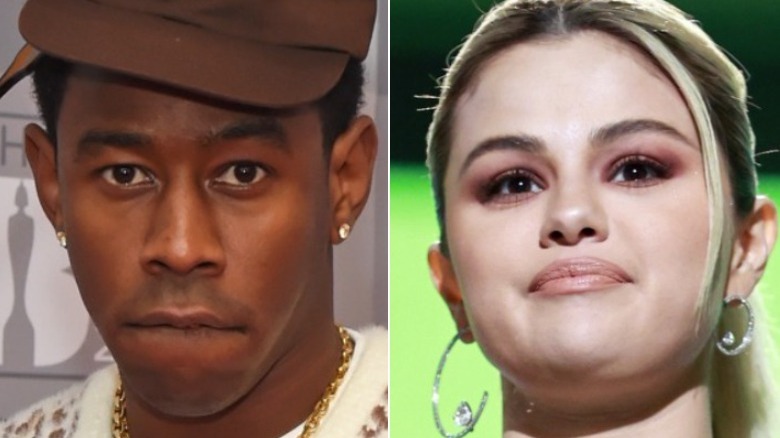 Tyler, the Creator often gets very personal in his lyrics, and he goes into great detail about his life and feelings in "Manifesto," a track off of his 2021 album, "Call Me If You Get Lost." In the third verse, according to Newsweek, he admits, "I was a teener, tweetin' Selena crazy s**t / Didn't wanna offend her, apologize when I seen her / Back when I was tryna f**k Bieber, Just-in." 
Context clues indicate to the listener that the Selena in question is Selena Gomez, singer, actor, and former paramour of pop star Justin Bieber. As for the offending tweets in question, most have since been deleted, although a few still stand. One expresses Tyler, the Creator's aggressive desire to perform a physical act on Gomez, while another states his dismay over Gomez coupling up with Bieber. One tweet was so provocative it earned the rapper a temporary lockdown of his Twitter account.
In a 2013 interview with Los Angeles radio station Power 106, Tyler, the Creator discussed his friendship with Bieber, and how Gomez apparently didn't approve. "She always muggin' me," he said. "Why are you hating on me? We're just hanging out, trying to play Xbox." For her part, Gomez has not publicly stated whether or not Tyler, the Creator did, in fact, apologize to her, as he so claimed in "Manifesto."
Source: Read Full Article