Mark Wahlberg is a successful actor currently appearing as the title character in the film "Joe Bell." The heartwrenching film is about a working-class father who sets out to walk from Oregon to New York City to raise awareness on the dangers of bullying to pay tribute to his son Jadin, who died by suicide after being bullied for being gay, per Roger Ebert.
At 50, Wahlberg is a father of four (Ella, 17, Michael, 15, Brendan, 12, and Grace, 11) with his wife of 12 years, Rhea Durham (per People) who is trying to give his kids a normal life, despite his fame. In an interview with Entertainment Tonight, he revealed that he's not allowed to get out of the car at his kids' football practices and games. "Me being in the public eye, there are pros to that, but there's a lot of cons," he explained. "My kids wanna have their own identity, you know? … At first, I took it personally, because I wanna be there to support them, but supporting them is by making them feel comfortable in what they're doing and them having their own identity too. It's very difficult."
Wahlberg today has come a long way from the Wahlberg of 30 years ago, or "Marky Mark," as he was known back then. He was even almost a member of the New Kids on the Block with his older brother Donnie. Keep reading to find out why he didn't join the band.
Mark Wahlberg left the band that became New Kids on the Block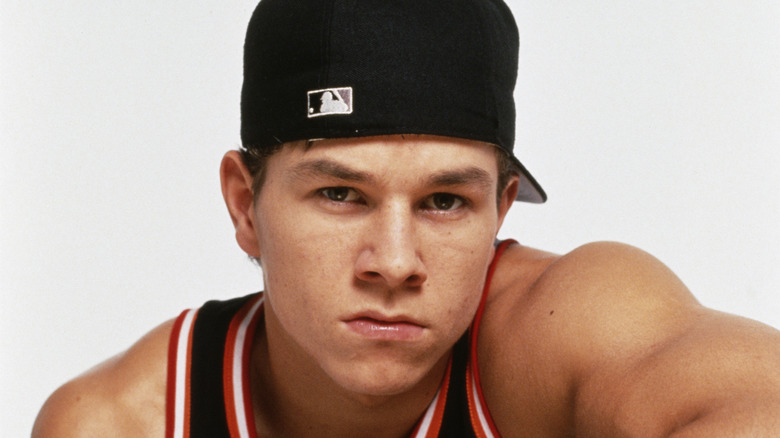 In the late 1980s, Mark Wahlberg was invited to be a part of the band Nynuk with his older brother Donnie, Jordan Knight, and Danny Wood. He was 13-years-old at the time and he got bored and left the band after a few months, per Screen Rant. The band rebranded as New Kids on the Block and hired Joey McIntyre to replace Mark. Global fame soon followed.
In the meantime, Mark had a few years to watch New Kids on the Block skyrocket to fame and decided to launch a music career of his own. Marky Mark And The Funky Bunch released their debut album with the hit single "Good Vibrations" (co-written by Donnie Wahlberg) in 1991, per TV OverMind. Unfortunately, that was the height of the band's fame, their second album, "You Gotta Believe," was largely ignored. The band broke up in 1993.
Of course, in 1997, Mark was cast in "Boogie Nights," and his acting career took off from that point forward, so we doubt he spends too many nights regretting leaving New Kids on the Block before he ever really give the band a chance.
Source: Read Full Article