Warning: This post contains spoilers from season one of 13 Reasons Why and mention of the show's suicide scene.
It's been two years since 13 Reasons Why first aired on Netflix. The show, which revolved high school student Hannah Baker and her death by suicide, details the emotions she experienced that contributed to her decision to take her life, as well as the role her peers played. The show has gotten a lot of criticism for how it has discussed suicide. Now, one of the show's most criticized scenes—Hannah graphically dying by suicide in the season one finale—is being removed after careful consideration.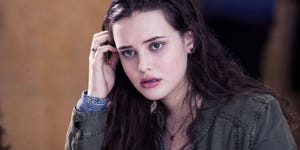 According to a Netflix statement released earlier today, the show's creators and producers consulted with the American Foundation for Suicide Prevention and decided that it would be best to remove the scene from the show. "We've heard from many young people that 13 Reasons Why encouraged them to start conversations about difficult issues like depression and suicide and get help—often for the first time," Netflix said in the statement. "As we prepare to launch season three later this summer, we've been mindful about the ongoing debate around the show. So on the advice of medical experts, including Dr. Christine Moutier, chief medical officer at the American Foundation for Suicide Prevention, we've decided with creator Brian Yorkey and the producers to edit the scene in which Hannah takes her own life from season one."
Instead of showing the scene where Hannah dies, The Hollywood Reporter states the newly edited scene will now feature Hannah looking in the mirror and will immediately cut to her parent's reaction to her suicide. In addition to removing the scene, Netflix will also be on the lookout for pirate clips that feature the original, uncut version of the suicide scene uploaded to sites like YouTube.
"No one scene is more important than the life of the show and its message that we must take better care of each other. We believe this edit will help the show do the most good for the most people while mitigating any risk for especially vulnerable young viewers," showrunner Brian Yorkey said in the statement.
If you or if anyone you know suffers from depression or suicidal thoughts, please call the National Suicide Prevention Lifeline at 1-800-273-8255.
Source: Read Full Article