When Grey's Anatomy fans found out about Sarah Drew's (April Kepner) return in season 17, many viewers wondered whether the actor would get any scenes with Jesse Williams (Jackson Avery). Then in March 2021, Kim Raver (Teddy Altman) teased whether "Japril" fans can get excited about the upcoming Grey's Anatomy Season 17 episode — here's what she said.
What happened to April Kepner and Jackson Avery before 'Grey's Anatomy' Season 17?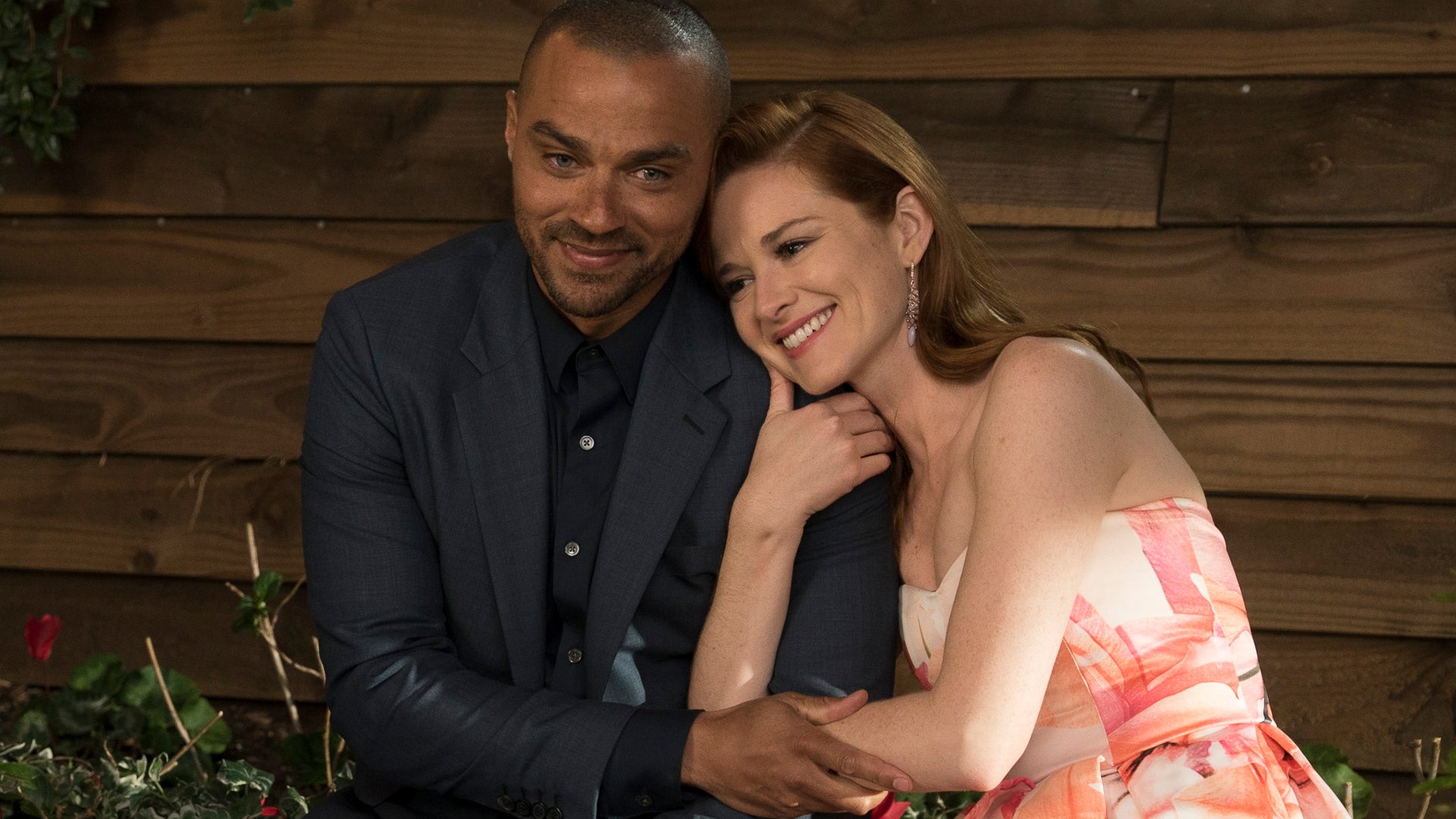 The Grey's Anatomy Season 14 finale was Drew's last episode as April. The character quit her job at Grey Sloan Memorial to provide healthcare for homeless communities. That said, April did not leave Seattle, and she's still involved in Jackson's life offscreen.
As things stand, April and Jackson co-parent their daughter, Harriett Kepner-Avery. Meanwhile, both characters moved on to other relationships. Jackson is currently in a friends-with-benefits relationship with Jo Wilson (Camilla Luddington). April also married Matthew Taylor (Justin Bruening) in the Grey's Anatomy Season 14 finale.
What we know about Sarah Drew's return as April Kepner in 'Grey's Anatomy' Season 17
On March 12, Deadline confirmed Drew will reprise her role as April in Grey's Anatomy Season 17. According to the publication, the actor will come back in a new episode sometime in the future. But the details behind the character's return remain unknown.
Meanwhile, Drew and Williams recently reunited on the set of Grey's Anatomy Season 17. The two actors posted photos with each other on social media. So naturally, many fans are hoping to see April and Jackson together again soon.
Kim Raver opens up about Sarah Drew's return in 'Grey's Anatomy' Season 17
For now, Grey's Anatomy viewers will have to wait and see what happens to Jackson and April in season 17. But whatever unfolds in the upcoming episode, Raver believes everyone will have plenty to celebrate.
In March 2021, Raver spoke with Entertainment Tonight and answered whether "Japril" fans should be excited about what's next.
"Yeah, because Sarah Drew is coming back," Raver replied. "Their chemistry and their relationship is just incredible."
Then Raver quickly acknowledged the next few episodes of Grey's Anatomy Season 17 will be worth the watch.
"I mean, no show is to be missed from now until [the] season finale because there are so many surprises and wonderful things, and I think everyone is really needing and wanting that kind of entertainment right now," the actor said.
RELATED: 'Grey's Anatomy' Season 17: Jesse Williams Reveals Which Cast Members He Wants to Return and It'll Make You Miss Mark Sloan
Raver also addressed Drew's return to Grey's Anatomy as a whole, noting the actor's big comeback is a "shining light."
"With all of the hardship that we all had to go through, I feel like [showrunner Krista Vernoff] has really brought so many shining, bright lights for us to look forward to," Raver said. "Sarah Drew is a shining light and so talented and gifted and an amazing person and their relationship is so good."
She continued, "For Krista to be able to figure out how to bring these people back, I think is a really hopeful and exciting and fun and uplifting way to shine the light into where we've all come from in this last year."
Grey's Anatomy Season 17 airs Thursday nights on NBC.
Source: Read Full Article