War has officially begun in Mayans MC Season 4. The Sons of Anarchy attacked, leaving several Mayans, including Coco dead. EZ Reyes is determined to not let this act go unpunished. In episode 7, EZ heads to war, but he finds himself dealing with other unexpected problems. Meanwhile, Angel and Nails must navigate life after losing their baby.
What happened in 'Mayans MC' Season 4 Episode 6?
In Mayans MC Season 4 Episode 6, news of Coco's death settles over the Club. Alvarez is reluctant to go to war, but EZ can't sit back and do nothing. Manny arrives from the Yuma charter and informs EZ that it was confirmed that the Sons orchestrated the hit. He then asks if EZ will lead them. It is eventually decided that a small group (EZ, Angel, and Manny) will attack the Sons while they keep vigil over a dying Les Packer.
Meanwhile, a pregnant Nails notices that she is bleeding. Felipe Reyes takes her to the hospital, where she tragically learns that she lost the baby. Instead of being there for Nails, Angel goes to comfort Leticia and ends up having sex with her. Afterward, Leticia and Hope share a bonding moment in their grief.
What is 'Mayans MC' Season 4 Episode 7 about?
Mayans MC Season 4 Episode 7 is titled "Dialogue with the Mirror." According to FX, the episode synopsis reads, "As the M.C. strikes against the Sons, EZ finds himself at an unexpected crossroads." The title is likely a reference to the short story of the same name by Garcia Marquez, according to bookrags.com.
Earlier in the season, EZ gets a visit from JJ, an acquaintance from his time in prison. The conversation seems casual, but JJ begins asking about why EZ disappeared from prison. EZ of course is hiding the fact that he began working with the US Government. The promo for episode 7 shows JJ's return. Over the phone, JJ states, "It feels like you're dodging me, not a good idea."
The promo also shows Angel hugging Nails and dealing with the loss of his baby. Felipe gives his son some words of advice. Meanwhile, Manny, Angel, and EZ begins their attack on the Sons of Anarchy. "If I die today, I want them to know I was a Mayan," EZ says.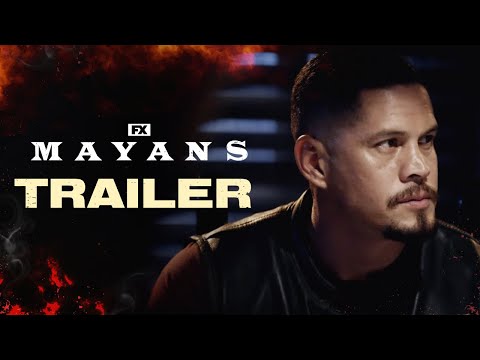 Finally, there's a brief clip of Gilly punching Angel in the face in episode 7 and it's not hard to imagine why. Plenty of fans were outraged by Angel hooking up with a grieving Letty while his wife was dealing with a miscarriage. "Gilly is gonna kick his a** at coco's house. Hate to say this because I liked Angel, but he deserves this," one Reddit user wrote.
Where to watch episode 7
It's hard to believe that Mayans MC Season 4 is already more than halfway over. Episode 7 airs Tuesday, May 24 at 10 p.m. EST on FX. The episode will be available for streaming the following day on Hulu. After that, only three episodes remain before the season finale. It seems like plenty of casualties are ahead as the Mayans engage in an all-out war with the Sons.
Source: Read Full Article