Michael Douglas just revealed a seriously awkward moment that went down at his daughter, Carys Zeta Douglas' graduation in May that has us totally cringing. 
The 73-year-old star is the proud dad of three children and his brood has a pretty widespread collection of ages. Cameron Douglas, Michael's son with his former wife, Diandra Luker, was born in 1972. Michael also shares two children with his current wife, Catherine Zeta Jones. Dylan Michael Douglas was born in 2000, while they welcomed Carys in 2003.
Michael gushed over Carys on her graduation day in a sweet Instagram post on May 21 when she shared a snap of the family of four smiling as the 18-year-old rocked her cap and gown. The first snap showed Dylan, Carys, Catherine, and himself all smiling together, while the second showed Dylan picking up his little sister.
"Congratulations to Carys and the entire class of 2021! Your Mom and I are so proud of you!" the "Romancing the Stone" actor wrote in the caption. "We love you so much and we are so excited for your future as the best is yet to come! [Red heart emoji] Dad."
But while the pictures looked seriously sweet, it turns out the day wasn't quite as picture perfect as it seemed on social media. Scroll on for the big reveal Michael just made.
Michael Douglas was mistaken for his 18-year-old daughter's grandfather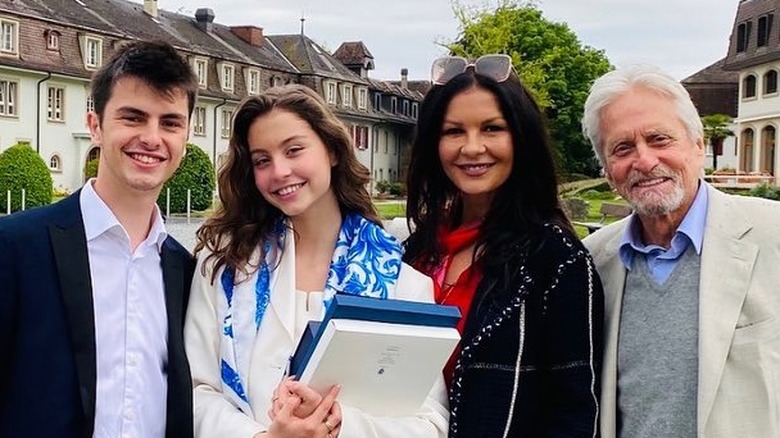 Michael Douglas spoke out about his and Catherine Zeta Jones' daughter, Carys Zeta Douglas' graduation day during a virtual appearance on "The Kelly Clarkson Show" on June 8. "It was so wonderful. I'm so proud of her," Michael told the "American Idol" winner, "But I gotta tell you, Kelly, it's a little rough when you're going out the doors and the other parents are saying, 'Oh, congratulations. Congratulations to you.' [They said] 'You must be so proud of your granddaughter.'" Ouch!
As for how Michael reacted? Well, it sounds like he (understandably) wasn't too thrilled, but responded, "'Well, I don't know, man. Yeah, okay.' I'm not going to take it personal, they're just trying to be nice." Michael was 58 when Carys was born, while Zeta Jones was 33.
Clarkson asked if seeing Carys graduate got the couple ready to have their home back to themselves, to which Michael confessed he was "scared" about the idea of becoming an empty nester. "You look at each other and go, 'Well, it's just you and me, babe,'" he said.
Well, if it's any consolation, we still think Michael Douglas looks pretty great for his age.
Source: Read Full Article