Actor Brian Austin Green seemed to have found his perfect love match in Megan Fox. The two met in 2004 (when Fox was just 18 years old) and weathered more than their fair share of ups and downs together. Per Us Weekly, the couple tied the knot in 2010 and welcomed sons Noah, Bodhi, and Journey, breaking up and making up all the while. But in 2020, E! News reported that Fox had once again filed for divorce from Green, this time for good. News of the separation had barely broken when Fox was spotted cozying up to her "Midnight In The Switchgrass" co-star, rapper Machine Gun Kelly.
"I really hope that he [Kelly] and Megan are happy because it's important that she's happy. It's important that everybody is happy," Green told E! News in August 2020. And Green was moving on in search of his own happiness, too! The "Beverly Hills 90210" alum met dancer Sharna Burgess in December 2020, and their romance even earned Fox's seal of approval. Clearly, all's fair in love and war for these two couples, but Green's path to his current love connection has been rocky.
As he and Burgess are going strong — Green even called her "someone I can truly share life with" in an Instagram post — let's take a look back on one of his more tumultuous past relationships (and no, we're not talking about Fox)!
Brian Austin Green struggled with jealousy when dating Tiffani Thiessen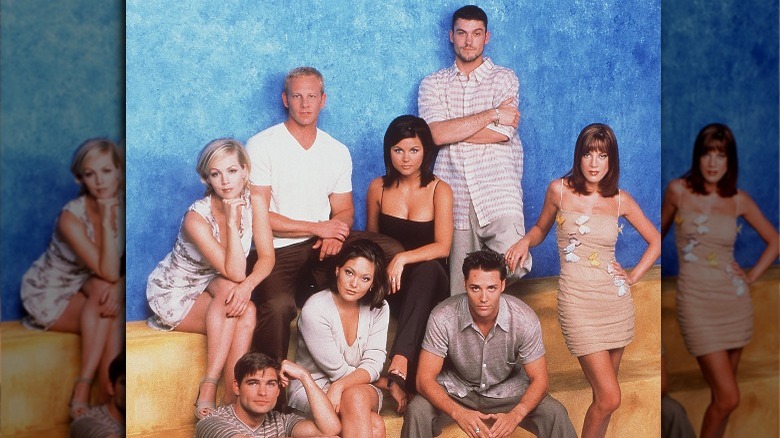 In March, Brian Austin Green paid a surprising tribute to a few of his exes (as well as his current partner and mom) via social media. In honor of International Women's Day, the actor posted a photo of Tiffani Thiessen on his Instagram Stories, along with the caption, "Happy International Woman's Day" (via People). Sounds like Thiessen must be pretty memorable to Green to make it into the post! 
According to The Things, Green and Thiessen dated on the set of "Beverly Hills 90210," and Green struggled when it came to watching his GF kiss other men on the show. Per The Things, executive producer Charles Rosin said that watching Thiessen on-screen was "very hard for Brian. It was pretty clear given how he was reacting to Tiffani experimenting with her acting, as much as anything with her roles and herself being young, that it was unlikely they could stay together as a couple."
Thiessen herself was aware of the uncomfortable dynamic she'd created by kissing someone other than her then-boyfriend, even if it was just for the cameras. In 2015, the actor described her on-screen smooch with Luke Perry's Dylan McKay as "awkward," according to ABC News. "That was probably the more awkward thing," she said on "The Meredith Vieira Show." "Literally having your boyfriend on the show and then literally kissing another man, 'I'm getting paid for this, honey. I don't know what to tell you.'"
Where do Brian Austin Green and Tiffani Thiessen stand today?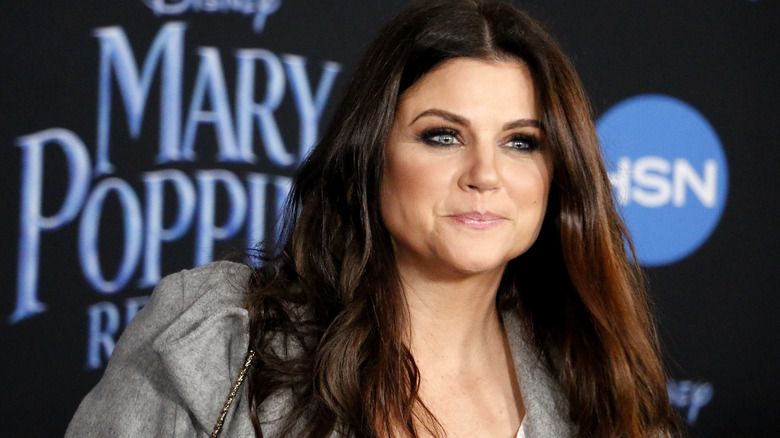 In 2019, Brian Austin Green appeared on "Watch What Happens Live" alongside other members of the "90210" cast, where he dished on insider facts about the show. One interesting little tidbit? The smooth-talker was scared of rejection! "I didn't really ask her [Tiffani] on a date, and then we dated," he explained of his relationship with Tiffani Thiessen (via Us Weekly). "But I always sort of played the like … I wait until somebody comes to me, because I don't deal with rejection very well."
Thankfully, there was no rejection here, as Thiessen was head-over-heels for her castmate, and the two dated from 1992 to 1995. Reasons behind the couple's split are unclear, although maybe it had something to do with Green's jealousy?
Fortunately, the one-time lovebirds have since prioritized their friendship over any petty grudges, and Thiessen has only good things to say about Green today. In 2015, she revealed on "The Meredith Vieira Show" that the two are "still very close and good friends." No wonder she made it into Green's International Women's Day tribute! Here's to hoping we can all have as amicable a relationship with our exes as this former couple.
Source: Read Full Article