Pete Davidson is one of the brightest young stars of comedy, having become a household name just barely out of his teens. In 2016, Davidson was even named a member of Forbes' prestigious 30 under 30 class at only 22 years old. Though his ascent in the comedic world may seem abrupt, Davidson spent much of his youth in stand-up clubs, watching, learning, and eventually showing off his own hilarious chops.
Now known primarily as a cast member on "Saturday Night Live," Davidson started performing stand-up when he was 16 years old and quickly carved out a niche for himself making jokes about his young age. He started his career touring the country to perform at small shows at colleges and clubs, climbing up the ranks until he started appearing on Comedy Central and MTV. These recurring appearances leveled up his career, as he told SI Live, giving him "a little bit of a fan base."
That fan base grew considerably, and with his "SNL" casting, Davidson established himself as a bonafide celebrity, complete with high profile, tabloid fodder relationships. Despite his success on late night TV, however, his relationship with the legendary sketch show is rocky, to say the least. 
Bill Hader got Pete Davidson his audition for SNL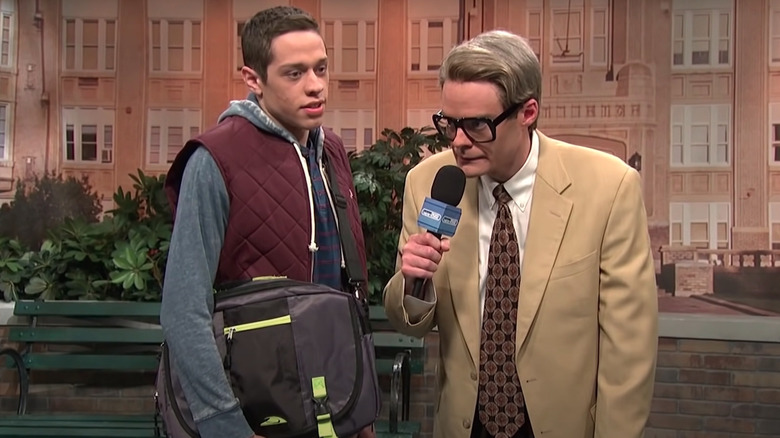 Before Pete Davidson got his start on "SNL," he already had a few famous cosigns under his belt. At only 17, Davidson was discovered by Nick Cannon, who took the younger comedian under his wing and gave him a spot co-hosting his 92.3 morning radio show, "Rollin With Nick Cannon," took him on the road, and helped Davidson book frequent appearances on MTV shows, including "Nick Cannon Presents: Wild 'N Out," "Failosophy," and "Guy Code."
Like many comedians, Davidson parlayed his comedy into acting, landing a guest role in a 2013 episode of "Brooklyn Nine-Nine." He followed that with small acting gigs on TV and in shorts before getting a call to be in a scene of the 2015 Amy Schumer film, "Trainwreck" — the role which would change his life.
In an interview on "The Tonight Show With Jimmy Fallon," "Trainwreck" director Judd Apatow said that Schumer responded to his request for new, young talent by saying, "The funniest person is this 20-year-old kid, Pete Davidson." Soon, Davidson was on set in a scene with Schumer and Bill Hader. In the same interview, Davidson said that only a day after filming, he got a call from Bill Hader, saying, "I recommended you to Lorne Micheals." Davidson was terrified, but excited, joking, "I blame that and everything else that has happened to me since then on Bill Hader."
When did Pete Davidson join SNL?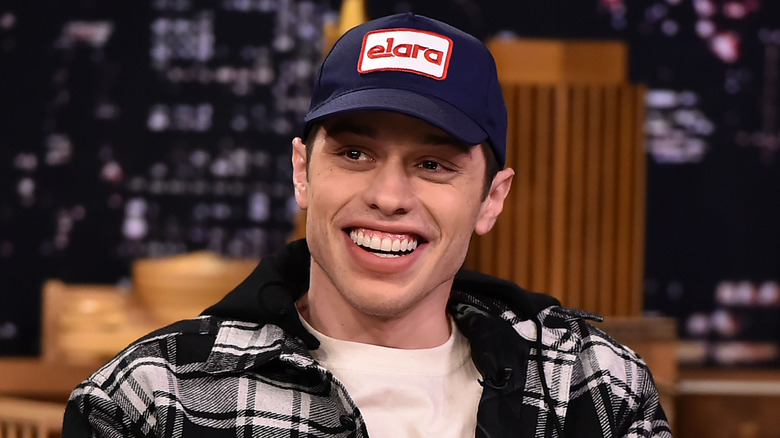 Though many comedians work and prepare for years to perfect their "Saturday Night Live" audition, Pete Davidson's surprise recommendation from Bill Hader meant he kind of had to wing it. Even more to his disadvantage, he clearly wasn't a fan of the show. "I didn't know it was still around," he told "CBS Sunday Morning" in 2020. "I mean, like, when you're 16, you're not watching political midnight shows." Nevertheless, he took the opportunity, choosing to go with a simple stand-up routine instead of crafting a complex bit with props and elaborate sketches like some "SNL" hopefuls opt to do.
Recalling how he found out he got the gig, Davidson told Seth Meyers (via EW) that Lorne Michaels personally called and said, "I don't know what to do with you, but you got the show." Davidson debuted on "SNL" on September 27, 2014 in the show's 40th season, breaking a milestone, per his NBC bio, as the first not ready for primetime player "to be born in the 90s."
But the 20-year-old Davidson felt out of place from the very beginning, insecure about his age instead of proud of achieving such a prestigious role when he was barely out of school. Even after he got cast, he still wasn't sure if the gig would stick. "I was like 10, 12 years younger than everybody else, so it felt like it was a joke," he told CBS Sunday Morning.
Did SNL fail to use Pete Davidson to his full potential?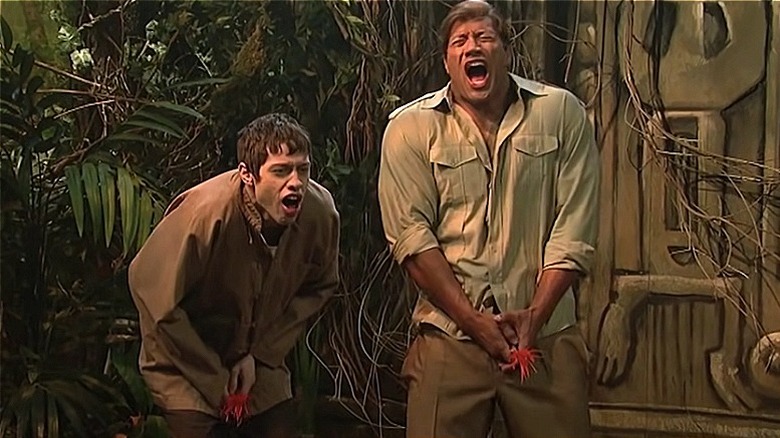 The diverse cast and hardworking writers of "SNL" put all their skills together to create a collage of political commentary, pop culture observations — and mindless entertainment. Pete Davidson's sketches mostly fall into the latter. One notable example from his early outings is a riotous scene he shared with host Dwayne "The Rock" Johnson. In the sketch called The Jungle (shown above), The Rock plays a character called Dr. Bones, who keeps getting shot with poison darts. Davidson's role? Obediently sucking the poison out in a series of increasingly more sexually provocative situations. 
Davidson was initially delighted at how the sketch got more graphic throughout the writing process, as he told Seth Meyers. However, the fact that much of his work on the show stayed at the same base-level humor hasn't impressed Davidson. In a candid interview with Charlamagne Tha God, Davidson explained why his portrayal on the show bothered him. "I'm literally painted out to be like this big, dumb idiot," he said, "Even all my sketches are just me being like [goofy voice] 'OK, sure.'" When asked if he felt he'd "outgrown" the show, Davidson admitted, "Yeah, I think everybody outgrows it." 
Pete Davidson didn't love being SNL's 'Resident Young Person'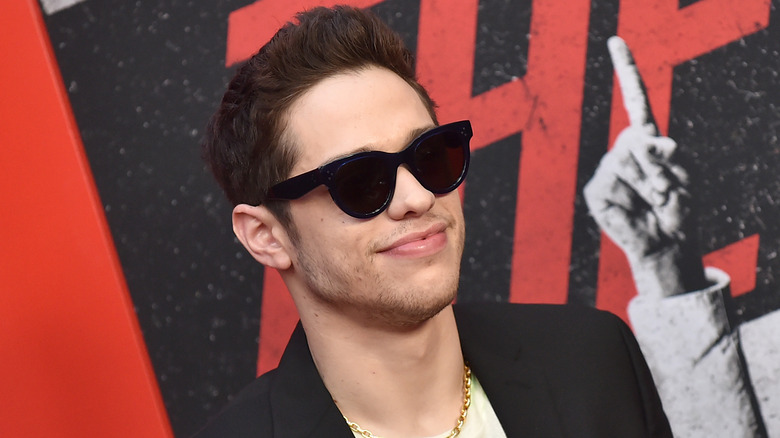 Though Pete Davidson sometimes found himself in silly, slapstick sketches, his niche quickly became his recurring character on the beloved "Weekend Update" segment of "SNL." After Davidson appeared on the segment during his first episode, riffing about a game called "How much money would you go down on a guy for?", he instantly proved himself a shameless comic with a knack for shock value. Davidson was at his best, giving provocative takes from a refreshing, youthful perspective, and his role as "Resident Young Person" was an instant hit. He found his groove and, given the stand-up style he could adopt, he acclimated to it much faster than to other parts of the show.
But he soon grew tired of having only one role. In a 2015 "Weekend Update" segment about turning 21, he joked that his "Resident Young Person" bits were his only calling card. "How did I get on this show?" he asked, joking that he can't sing, dance, act — or read. And sure, that was a bit, but off the set, Davidson expressed actual resentment towards the "Resident Young Person" moniker. The same year, he told SF Gate, "It's a crutch. People could be like, he's really good, but he's young. Or they say, he's really bad because he's young … I don't think it has anything to do with my comedy. I just try to be as funny as possible."
Did SNL make Pete Davidson apologize Dan Crenshaw?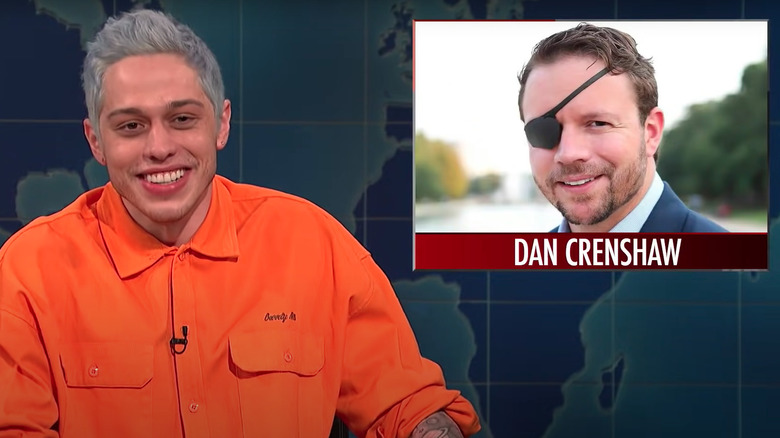 Soon after his "SNL" debut, Pete Davidson learned that performing in front of a national audience meant landing in hot water for some of his jokes. Although his "'How Much Money Would You Go Down On a Guy For" bit may have achieved a somewhat iconic status in his "SNL" sketch rolodex (via Insider), it did not go without controversy. Salon even came close to characterizing his quips about homosexuality as homophobia. The early criticism was a sign of things to come for Davidson.
One of Davidson's most notorious moments on the show came after a "Weekend Update" segment, called "Pete Davidson's First Impressions of Midterm Election Candidates." Davidson joked that then-Texan Congressional Republican candidate Dan Crenshaw could be mistaken for a "hitman in a porno movie" due to the eyepatch he wears after losing his eye "in war or whatever." People were so outraged at Davidson's lack of respect for the veteran that "SNL" invited Crenshaw to be on the next "Weekend Update," where he received a rare, public apology. The Washington Post called the apology "straightforward, earnest and seemingly heartfelt," but in his stand-up special, "Alive in New York," Davidson revealed that he "kinda got forced to apologize." He joked that it was his mother, who urged the apology, but did pressure also come from within "SNL?" It seems feasible, considering the show gave Crenshaw a platform to make his own jokes about Davidson, instead of standing by the sketch.
Pete Davidson's Catholic Church joke drew ire for SNL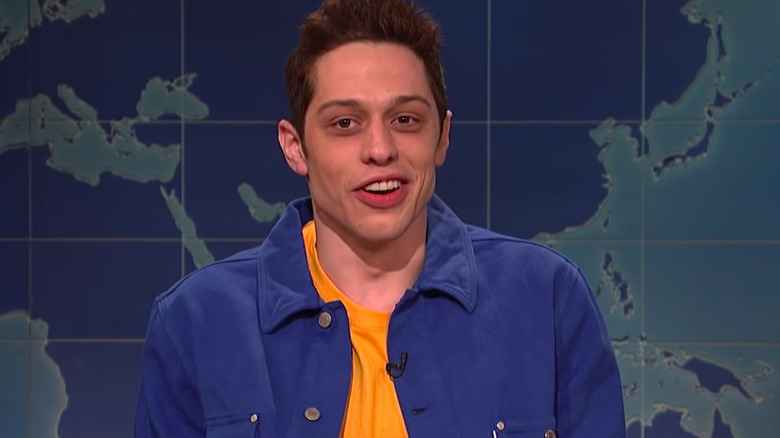 Pete Davidson's scandal with Dan Crenshaw was neither his first nor his last experience with controversy at "Saturday Night Live." In a 2019 sketch about the R. Kelly and Michael Jackson documentaries, Pete Davidson appeared alongside Colin Jost on "Weekend Update" to discuss those controversies — and ended up in one himself. "If you support the Catholic Church, isn't that like the same thing as being an R. Kelly fan?" Davidson joked — but that wasn't even the whole punch line. He continued, "Only like, one's music is significantly better."
Days later, the Catholic Church's Diocese of Brooklyn issued a statement on its website, citing "harassment" from the show and demanding an apology. "The insensitivity of the writers, producers, and the cast of 'SNL' around this painful subject is alarming," the statement proclaimed, allegedly rallying in defense of the victims as well as themselves. However, Davidson was not "forced" to apologize for this one.
Davidson said he used to feel anxious about how his jokes were interpreted, but now he has grown to accept backlash as part of the process. In his interview with Charlamagne Tha God, Davidson said, "I hope you know it comes from a good place. I'm not a rotten individual, so like, hopefully there won't be backlash, but I know it's coming … I don't rap or make music, so I can't— it's just how I'm expressing myself. I really hope people see what I'm talking about."
Why did Louis CK try to get Pete Davidson fired from SNL?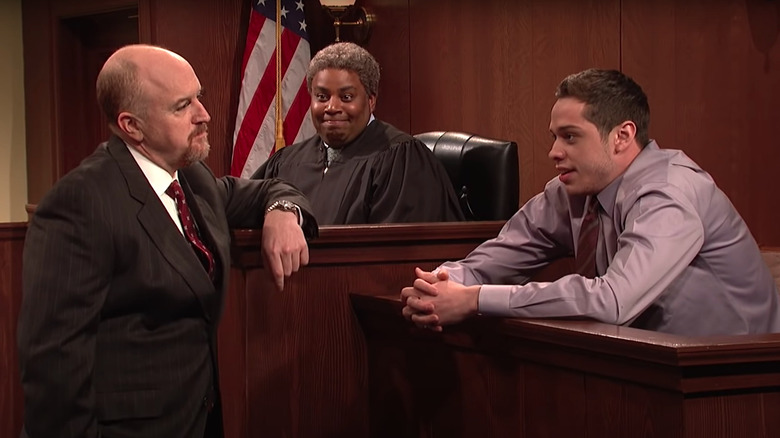 Pete Davidson's shameless personality has won him many fans, but has also irked many in and out of the business. "I'm a liability, for sure," Davidson told Charlamagne Tha God, "the insurance on the movies are f***ing nuts I imagine." Davidson often tells the story of how Louis CK tried to get him fired from "SNL." In "Alive From New York," Davidson's stand-up special, he revealed that, backstage at "SNL," the former-comedian said to young-Pete, "You're gonna smoke your career away, idiot." After the interaction, unbeknownst to Davidson at the time, Louis CK reportedly told Lorne Michaels to have a conversation with Davidson about his smoking — attempting to get him chastised, or even fired.
Michaels did call Davidson into his office, but not for the reasons Louis intended. According to Davidson, the look in Michaels' eyes during the awkward meeting conveyed the message: "I'm sorry we're having this conversation, but, like, Louis told on you." Louis CK has since been shunned from comedy due to sexual assault allegations and problematic behavior, which Davidson agreed was "personally vindicating" as Charlamagne Tha God put it. "Yeah, that felt great, I loved it," Davidson said, adding, "[Louis CK] is not a nice guy. … He's not nice to young comics."
How Pete Davidson's personal life became 'fodder' for SNL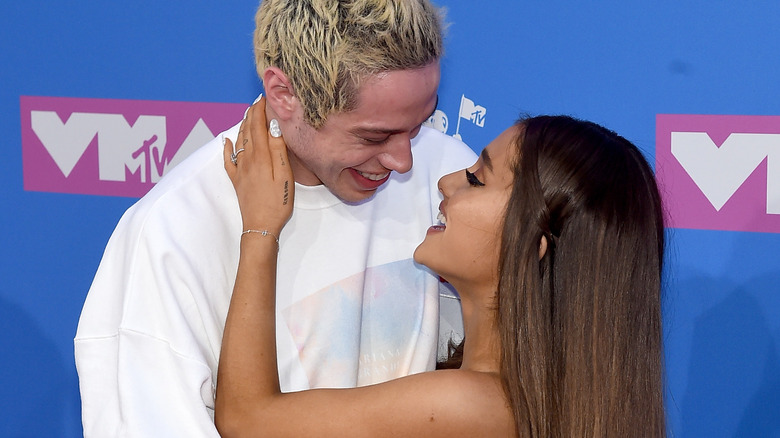 While he had some fame from his "Resident Young Person" bits and recurring "SNL" characters, Pete Davidson's relationship with Ariana Grande ramped up his notoriety. Though Davidson dated famous women before Grande, his personal life wasn't mentioned on the show beyond relatable punchlines on "Weekend Update." However, his volatile relationship with the A-List singer was the topic of conversation in the media and even fair game at his job.
According to Davidson's interview with Charlamagne Tha God, he got "jumpstarted by Ariana," claiming, "I'd be silly to, like, not at least acknowledge that there was like a significant boost" in his career. He struggled with the attention, telling Paper, "You forget that you have to approach it differently, which is really difficult for both [people in the relationship], because the second [the public] knows you're together, it's already against you. You're losing." He has grown since that relationship, saying, "Now I'm just as private as possible."
However, he was not happy with "SNL's" involvement during this learning curve. The show encouraged conversation about his engagement in "Weekend Update" skits — seemingly to capitalize on the hype. Suddenly Davidson was featured more than ever, the script encouraging his self-depreciation and treating his relationship like a joke. His subsequent relationships have also made it to the script. Davidson is tired of it. "If I'm just fodder now," he mused to Charlamagne, "maybe I shouldn't be there."
Pete Davidson is relevant. Is SNL?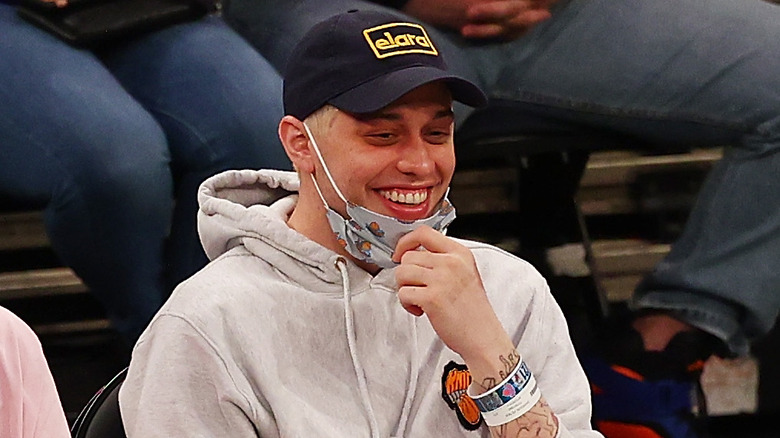 Despite his personal challenges and public relationship struggles, Pete Davidson's career moved along impressively for a young comedian. Davidson sometimes even receives glowing reviews at the expense of the rest of the "SNL" cast. After the Season 44 finale in May 2019, The Washington Post lauded Davidson as the shining star of the season. "The most interesting, funny and even somewhat touching aspect of the season was . . . Pete Davidson," the outlet mused, adding that "Davidson's somewhat tumultuous personal life" was what "made him so engaging."
But it isn't just what is going on in Davidson's life that makes him so alluring, it is his self-aware, self-deprecating takes that shine. The Atlantic shares this opinion, praising his joint "Weekend Update" with John Mulaney that season as "a jolt of energy to an otherwise uninspired episode." Davidson has become a strangely endearing aspect of the show, missed by fans when he does not appear in an episode.
Critics have commended how his unique brand of comedy evolved from quippy oversharing to a niche, dark humor that often eclipses other aspects of the show. Early analysis in GQ honed in on Davidson is "real, genuine at certain moments, then a goofball making a big ole joke in the next." Similarly, The Washington Post describes the "magic of Davidson" as "shedding light on the darkest parts of the human experience" in a way that feels refreshing on the highly produced "SNL."
There's a lot of love out there for SNL's 'bad boy'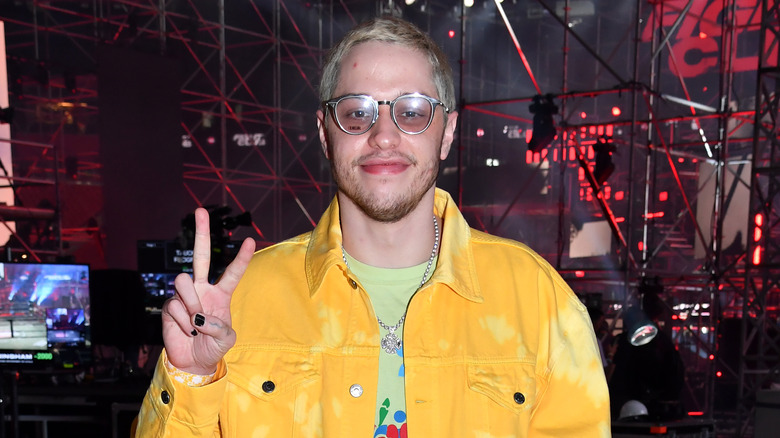 "Saturday Night Live" is famous for launching the careers of a lot of big names, including Jimmy Fallon, Seth Meyers, Conan O'Brien, and many more. Davidson, however, has been called the "bad boy" of "SNL" for "his fearlessness in discussing [his personal traumas], as well as the rash decisions he makes in his personal life" (via The California Aggie). 
His personal life has sometimes interfered with the show. In late 2018, a police officer was sent to the "SNL" set to check on Davidson due to concern about his well being, according to The New York Times. The comedian had posted a harrowing Instagram caption that left people worried he might hurt himself, but Davidson was found safe in the studio. This was one of a few worrying incidents following his split with Ariana Grande.
Davis has also had to take time off for mental health. "I'm going on a little vacation," he joked on a segment of "Weekend Update" before leaving for rehab. "The kind of vacation where, like, insurance pays for some of it, and they take your phone and shoelaces." Per HuffPost, his openness has ultimately been rewarded by viewers for his unashamed transparency about his time in rehab and the way his candid revelations, though uncharacteristic of the show, usher in a new era of comedy, celebrity, and mental health destigmatization.
Pete Davidson doesn't know why he's still on SNL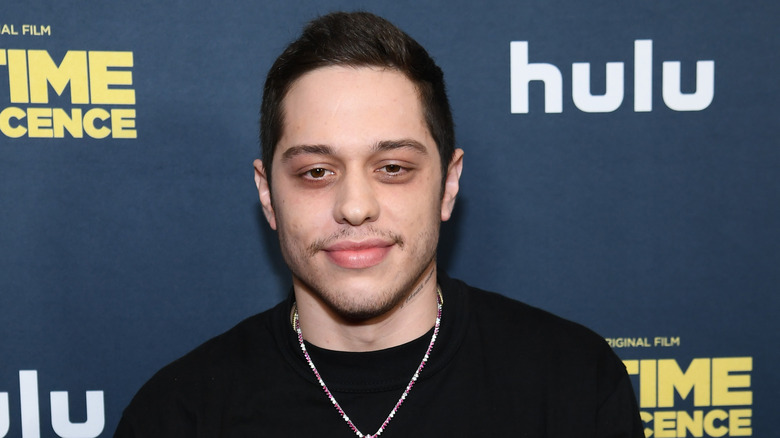 Pete Davidson has changed a lot since being a 20-year old newcomer on "Saturday Night Live." Between various hair styles, girlfriends, and scandals, one thing has remained consistent throughout Davidson's late night tenure: his jokes about not belonging there. Most of us can relate to feeling imposter syndrome, but Davidson constantly undermines himself during interviews and even for sketches. These repeated references go beyond his tried and true self-deprecating humor and hint that Davidson really does feel out of place and insecure at "SNL." But is it all internal? Or are there external reasons for him to feel as though he is on shaky ground?
"SNL" is famously cutthroat and Davidson has felt it. "You're not going to get coddled over there," Davidson revealed to Charlamagne Tha God, also adding that the "fear of getting fired there your first three years is horrible." Even years into the gig, Davidson still hasn't relaxed. In the Emmy-winning 2019 episode hosted by former cast member Eddie Murphy (via Today), Davidson compared himself to the legend during his "Weekend Update," saying Gumby was an impossible act to follow since he doesn't hold a candle to Murphy's iconic characters. "So many fans are being reminded why they stopped watching," he joked, "I don't think there was an episode where I was in both a live sketch and a video." Do Davidson's jokes about his sporadic appearances belie a truth that he doesn't feel valued? 
How does the SNL cast feel about Pete Davidson?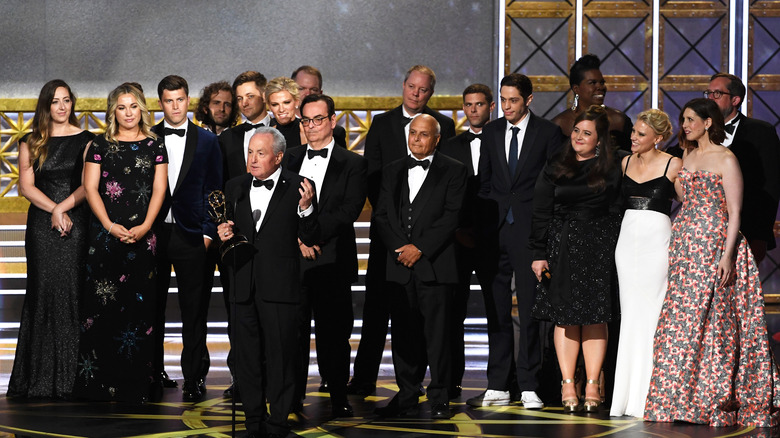 Though Pete Davidson often wonders what he adds to the strange, eclectic mix of talented cast members on "Saturday Night Live," one person who seemingly has no doubts about his place on the show is Lorne Michaels. Beyond professional development, the two have also developed an endearing personal, father-son-like relationship. "My favorite there will always be Lorne, just because from day one, he's always been really understanding of me," Davidson said of the show's creator in an interview with Gold Derby.
Other cast members, however, supposedly resent Davidson and Michaels' relationship. Sources of Page Six went as far as to say Davidson receives "star treatment" from the showrunner. Apparently, this is the cause of some tensions. "Pete has a pretty cushy gig, to say the least … The cast isn't into him," the alleged insider claimed.
Davidson has picked up on this disdain towards him and is never one to stay quiet, voicing that he feels singled out on set. He told Charlamagne Tha God that the cast's opinion of him was reason enough to be done with "SNL." "I personally think I should be done with that show because they make fun of me on it," he vented, adding, "I'm like cold open, like political punchlines, like I'm like 'Weekend Update' jokes … when I'm not there. … I don't know whose team they're playing for, really. If I'm the joke or I'm in on the joke."
Pete Davidson has threatened to quit SNL for years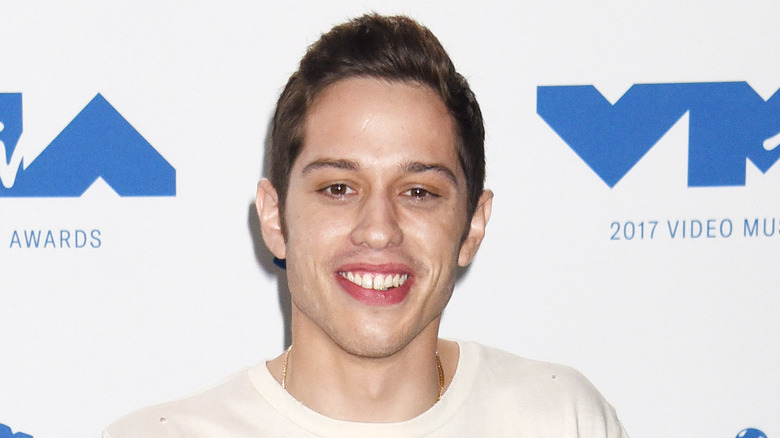 Pete Davidson has been talking about leaving "Saturday Night Live" for years. Yet, every season he makes his return. Despite his many public statements about his desire to leave "SNL," it seems the ball is not in Davidson's court. Due to his massive respect for Lorne Michaels, it makes sense that Davidson will not leave until Michaels gives him the okay. "I really wanted last year to be my last year," he told Charlamagne Tha God in 2020, "but you know, I'm still around and trying to knock it away." However, it makes sense that Michaels would want to keep him around as he grows. A source told Page Six that Michaels knows what he's doing. "Lorne recognizes that Pete is enormously valuable to the show," they revealed. "The show works with cast members' best interests in mind."
After the Season 46 finale in 2021, rumors started swirling again about Davidson leaving as he and other members of the cast bid the audience goodbye with cryptic but suggestive farewells. Davidson left his "Weekend Update" segments on a seemingly final note. "I'm very grateful to be here," he told the audience, "and it has been an honor to grow up in front of you guys." With so many projects in the works, it would make sense that Davidson is itching to take a step back from the demanding "SNL" schedule. Audiences might have to wait for Season 47 to know for sure.
Pete Davidson's future with SNL is 'up in the air'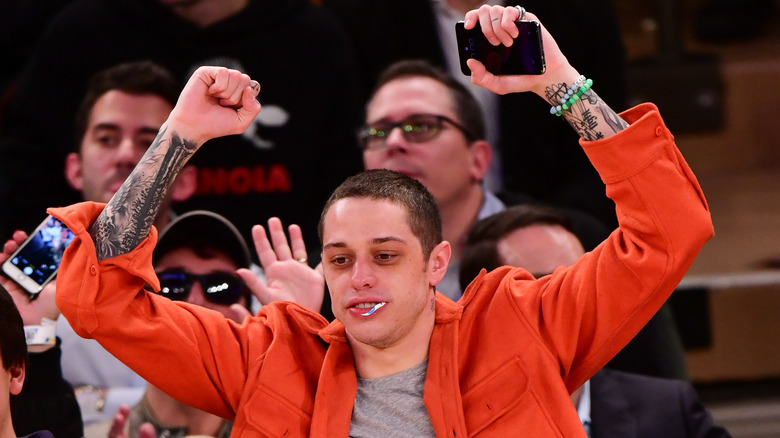 Though rumors have been swirling about his exit for years, Pete Davidson said in a June 2021 interview with Gold Derby that he might not have much time left on "Saturday Night Live." "Right now it's all up in the air," he divulged. "There's a lot of new guys in there and there's a lot of great new talent that it's their, you know, time to shine." Davidson seems like he would be comfortable stepping aside since he has such little confidence in what he brings to the cast. "For what I could do on the show, which is just barely anything … I feel like yeah, I've done as much as I can over there," he told Charlamagne Tha God, adding, "But happy to be there as long as Lorne likes me."
Keeping Lorne Michaels happy seems to be Davidson's priority. And despite his frustrations at being used as a punchline and dismissed by many of the cast, he opened up to Gold Derby about how some members have been like mentors to him and supported his endeavors. "A few people there that have shown me extra love," he said, "they kept me around and I got to, in my eyes, redeem myself."
Whatever comes next in Davidson's future, he is poised and ready to be known as the next big star that started on "SNL."
Source: Read Full Article