You might know her as the eclectic and dynamically hilarious TV show mom, Rainbow, from "Black-ish." Or, you might know her as the svelte fashion model and daughter of the incomparable legendary singer, Diana Ross. However you came across Tracee Ellis Ross, the actor, singer, television host, producer, and director, there's no denying she is a force to be reckoned with. After college, Ross was slingshotted into the magazine industry, which helped her easily transition into the modeling world, and eventually land her right into acting, per Biography. 
Ross wanted to create an impactful avenue for herself, so in the beginning of her career, she decided to change her name from Tracee Joy Silberstein to Tracee Ellis Ross, so she could best represent her mother's name and her father's name. "I really felt strongly that I wanted my father's name in my name, because everyone knows I'm my mom's daughter, but I'm also very much my dad's daughter. And I wanted him, when my name hit a screen, to know that I was also part of him. And so Tracee Ellis Ross it is," Ross told W in 2017.
As someone who clearly loves and represents her family life joyously on and off screen, it's quite a wonder as to why the "Girlfriends" star did not decide to have kids on her own. Read on to find out what her reasoning behind her decision is.
Tracee Ellis Ross doesn't subscribe to traditionalist values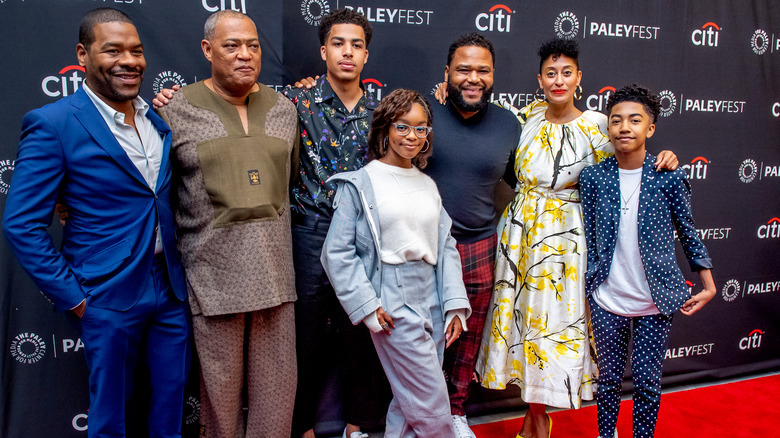 Tracee Ellis Ross plays a mother of five wonderful children in the hit TV show "Black-ish," which ironically parallels to her real life experience of being the eldest out of five children from "The Supremes" legend, Diana Ross. Therefore, some people may find it strange to see Ross without a family of her own. However, this is not a coincidence. Ross just doesn't want to adhere to those traditionalist values of having a husband and his children just yet; she wants to do it on her own time when it feels right for her journey.
"I'm constantly asking myself questions, reminding myself, 'Are you making that decision for you or someone else?'" she explained while interviewing with The Times in 2018. "The husband and the babies are the expectation of what's supposed to happen at a certain point, and people fall back on, 'Well, that's the point of the human species, procreation.' And I'm, like, 'I think there are a lot of babies, isn't that part of what's going wrong, there's too many?' Some people could be working on the world being a better place, or just being happy," she pointed out. 
This isn't the only time Ross has explained her unconventional look on life. Keep reading to find out what else she has had to say about her (so far) child-free life.  
Traces Ellis Ross is living her life like it's golden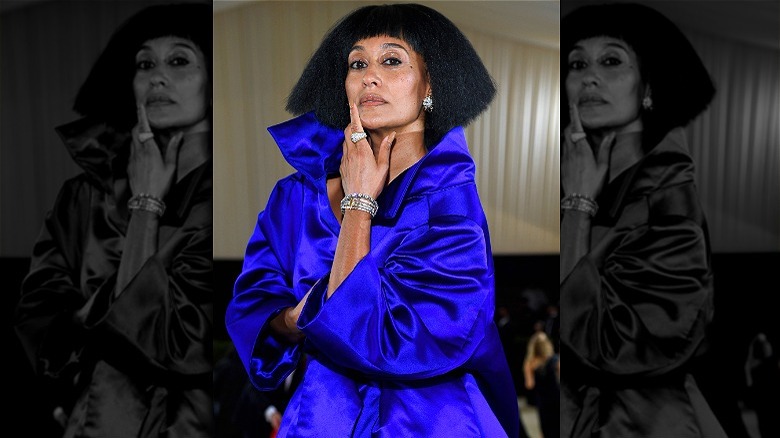 Tracee Ellis Ross is consistently candid about the impact it has on her when people question her decision to put family life on hold. During Glamour's 2017 Women of the Year Summit, Ross discussed how her lifestyle might confuse those who are more closed-minded than she is. 
"I look back and think about all the ways we're told that those two #goals: being chosen and having kids, are what makes you worthy. I mean: Nursery Rhymes. Fairytales. Books. Movies. 'Sixteen Candles,' every love song, and even 'Black-ish' — all reiterating this narrow story of 'husband plus child equals woman,'" Ross proclaimed. "And the patriarchy — the patriarchy is not pleased with me right now. I'm failing at my function. Let me tell you, Mike Pence is f*cking confused by me right now."
If what Ross is doing in her career and personal life equals being a failure, we might not even care to know what winning is. When she isn't out there racking up producer credits and snatching up TV and film roles, Ross can be seen jet-setting to luxurious places across the world or giving fashion designers life by embracing her role as a style icon. Ross is a prime example of showing that you do not need the typical nuclear family lifestyle to feel fulfilled. Ross has proven that happiness is something you have to define on your own terms, and have fun while doing it.
Source: Read Full Article