WandaVision was not only a major departure for Marvel from their previous formula in movies, but it was also a big change for Elizabeth Olsen playing Wanda Maximoff. Not only was she doing so many new things with the character and exploring her in new ways, but the styles in which she was doing that were also so new. From comedy and different sitcoms through the years of American television, Olsen and the cast created something so unique within the Marvel Cinematic Universe, and on TV in general. 
With that said, the first episode replicated the longtime tradition of having a live studio audience. And that was a bit hard for Olsen at first.
The first episode of 'WandaVision' was filmed in front of a live audience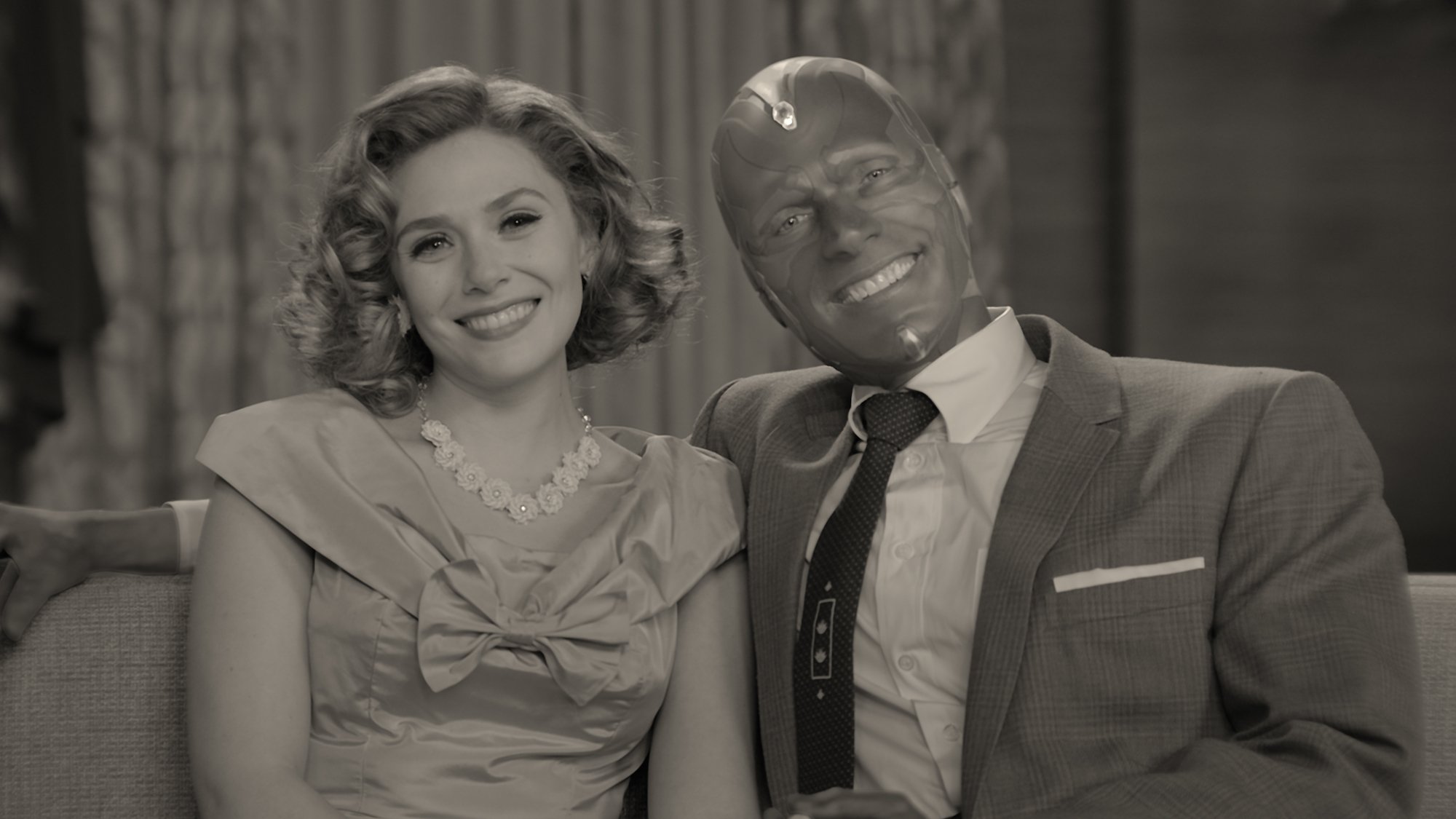 RELATED: Elizabeth Olsen Doesn't Like How 1 'Avengers: Infinity War' Scene Turned Out: 'This Is Such a Stupid Reaction'
WandaVision was the first show in Marvel's rollout of Disney+ content. It's more long-form storytelling in the form of series, and this show is focused on Wanda's creation of this fake reality where Vision is alive and they live adorably, happy existences in suburban New Jersey. 
Since the first few episodes are just recreations of sitcoms in different eras — the 50s through 70s — you'll hear laughter and reactions from an audience. And in the first episode, that's because it is in front of a true, live audience.
A featurette posted in January shows some of that, but the longer Marvel Studios' Assembled: The Making of WandaVision documentary on Disney+ goes way more in-depth into how the audience came to be. Regardless, they had one for the 1950s episode and the two lead actors, Paul Bettany and Olsen, were a little nervous. 
Elizabeth Olsen found it a bit difficult to figure out how to act in front of a live audience at first
Speaking more about it while talking to the Los Angeles Times' The Envelope podcast on May 26, Olsen said that it had a lot to do with how different acting is in front of a live studio audience as opposed to without one. And even how it's different from acting in a theater, which Olsen has experience in as well.
"I really didn't understand intuitively how to play to the camera and not the audience with the audience there," Olsen said. "And so when I watched that episode, I'm like, 'God, it's like I'm like a child at theater camp in this. I'm really playing to the audience.' But then I remember that they kind of did have an element of playing to the audience in The Dick Van Dyke Show' … It really just felt like it wasn't an easy transition. It was just like, bam! And you're just there and you're failing in front of people."
Olsen revealed that she started to "feel more comfortable" the more she did it, so as she went into the '60s episode and the '70s episode, she found her footing with the comedy. Those weren't filmed in front of an audience. And the comedy in the '70s episode is where Olsen really shined as well. 
It was the 'Modern Family' episode that Olsen felt the most comfortable working with
But it was the Modern Family-inspired episode of the 2010s in the final episodes that Olsen related to the most because that's where her mental states were the closest.
"I just was so fricken tired," Olsen remembered, describing how it was right around Christmas time. "I just felt that way, I just felt like, 'Well I'm gonna try this, and if it doesn't work, who cares!' That's was kind of my attitude, which is kind of the attitude of that genre. That felt easy enough in some ways."
All of Olsen's comedy shines through in the series, and she said that she's been begging someone to send her over comedic scripts for a while now. And with this show over, she definitely wants to do more comedy going forward. 
RELATED: 'WandaVision': Either Elizabeth Olsen Gave the Show Away Years Ago or She's a Really Good Guesser
Source: Read Full Article